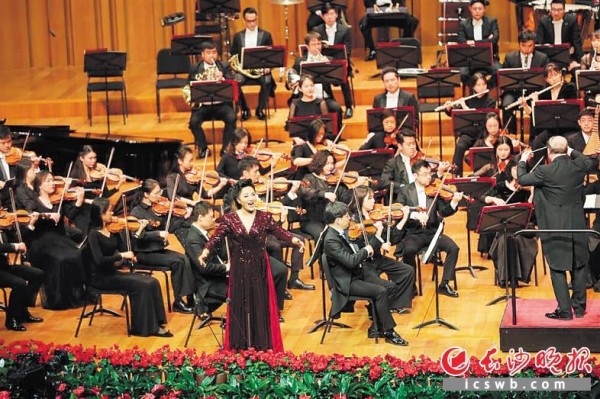 File photo: The Shanghai Symphony Orchestra gives a performance.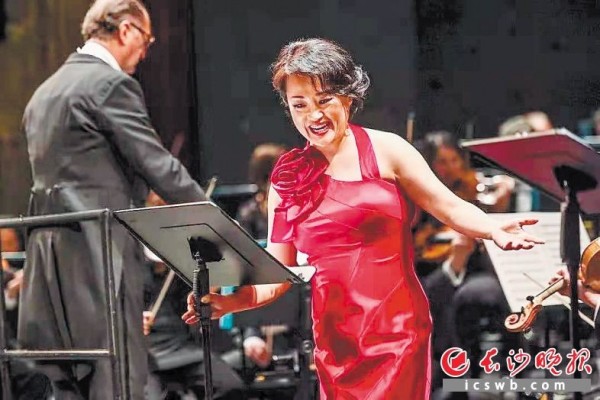 File Photo: The soprano Guo Sen. (Above photos/Changsha Concert Hall)
A variety of colorful art performances will be staged at the Changsha Concert Hall during the upcoming May Day holiday. For instance, renowned Chinese composer and conductor Tan Dun and the 142-year-old Shanghai Symphony Orchestra will bring performances.
Concert Featuring Classic Red or Revolutionary Songs
Founded in 1879, the Shanghai Symphony Orchestra is the oldest Chinese symphony orchestra dating back to the Qing Dynasty (1644-1911). The orchestra is led by renowned conductor Yu Feng, who is also president of the Central Conservatory of Music. It will stage a concert featuring classic red or revolutionary songs for Changsha audience on May 3 evening. The soprano Zhou Xiaolin and the baritone Yang Xiaoyong have been invited to perform during the concert. Classic red songs will be performed, including "The Ode to the Red Flag", "The Ode to the Red Plum", "The Story of Spring", and "The Ode to Yan'an". Three new music works will also be performed. They are: Yu Yang's "The Ode to China"; Hao Weiya's "Together We Race to the Sea and Look Up at the Starry Sky"; and, Yang Fan's "Elder Generation" .
"The Martial Arts Trilogy" Concert
On May 1 evening, renowned Changshan-born composer and conductor Tan Dun will join hands with the Changsha Symphony Orchestra to stage a concert featuring the classic work "The Martial Arts Trilogy". Film music by the composer for the three greatest contemporary romantic martial arts films--"Crouching Tiger Hidden Dragon" directed by Ang Lee, "Hero" by Zhang Yimou, and "The Banquet" by Feng Xiaogang, will be performed. Film clips will also be played, to give the audience an audio-visual feast.
Children Musical "Frozen"
Duration: May 1 and 2, 15:00; 19:30
This is a performance that children and their parents will love to see. The film song "Let It Go" will be performed.
Chinese-foreign Classical Vocal Music Concert by Soprano Guo Sen and Baritone Wang Yunpeng
Date: May 3, 19:30
Soprano Guo Sen and Baritone Wang Yunpeng will perform Chinese and western classic works.
A solo percussion concert by Yu Yue
Date: May 4, 19:30
Yu Yue is the youngest tenured professor of percussion music in the UK.
Concert Featuring Ancient Tang Music
Date: May 5, 19:30
The music and dance achievements of the Tang Dynasty culminated during the Flourishing Kaiyuan Reign Period. The Tang Dynasty Rituals and Music Restoration Group is devoted to researching, restoring and performing the court music and dance of the Tang Dynasty, so that more people today can see the original appearance of ancient Chinese traditional music and dance thousands of years ago.
Source: en.changsha.gov.cn