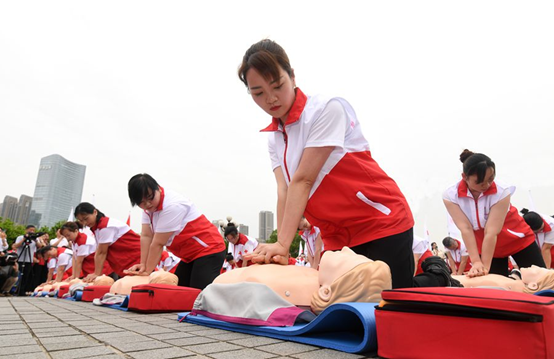 On May 6, the Red Cross Societies of Changsha, Zhuzhou, and Xiangtan jointly carried out joint performance of CPR AED on-site first aid.
On the same day, the signing ceremony of the Changsha-Zhuzhou-Xiangtan (CZT) Integrated Development Red Cross Campaign and the launching ceremony of the 2021 "Red Cross Fraternity Week" were held at the Orange Isle.
The Red Cross Societies of the three cities signed an agreement to form a deeply integrated partnership, so as to jointly promote the integrated and high-quality development of CZT Red Cross undertakings. (Photo/Tian Chao and Dong Hao, Hunan Daily)
This article is from Hunan Provincial Government www.enghunan.gov.cn.
Translator: Yu Jiangjiang
Chinese source: hunan.gov.cn