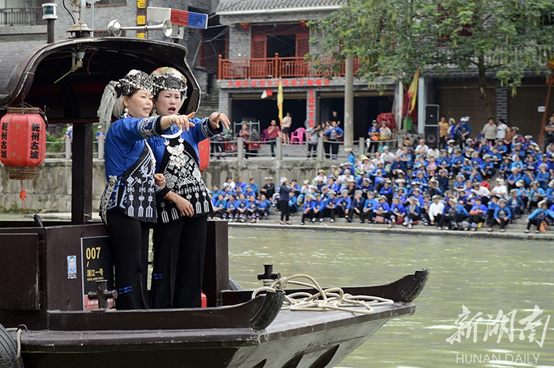 On May 20, two Miao minority singers sang on a boat in the Wanrong River, Qianzhou Ancient Town, Jishou City. The intangible cultural heritage shows, such as Miao feige, a type of unique local song, Miao tiaonian dance (a dance praying for good weather), Xiangxi flower lantern and Miao cross stitch, Miao painting, Miao silver forging techniques, were staged in the ancient town on the same day.
This aimed to showcase the unique charm of Xiangxi's intangible cultural heritage, promote cultural ecological protection and the integrated development of culture and tourism. (Photo/Yao Fang)
This article is from Hunan Provincial Government www.enghunan.gov.cn.
Translator: Yu Jiangjiang
Chinese source: hunantoday.cn