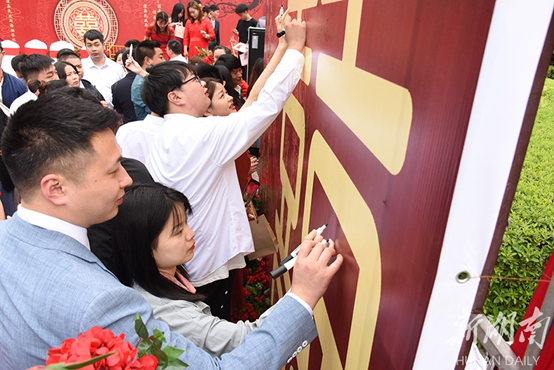 The photo, taken on May 20, shows couples signing their names on a wall to promise that wedding be promoted to update outmoded and undesirable habits and customs at the marriage registration office of Lixian Civil Affairs Bureau.
On the same day, the county held a ceremony for marriage certificate presentation for 38 newly-married couples. The event aimed to encourage the public to steer clear of high betrothal gifts and carry forward civilized and frugal wedding ceremony.
The county has been approved as a national wedding customs reform pilot area by the Ministry of Civil Affairs this year. (Photo/Bai Yipu, Xie Yuzhu)
This article is from Hunan Provincial Government www.enghunan.gov.cn.
Translator: Xiao Juan
Chinese source: hunantoday.cn