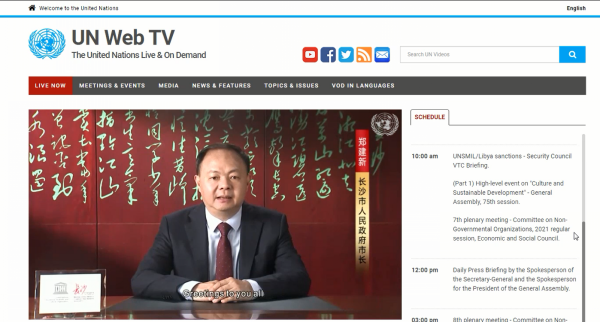 May 21 marked the World Day for Cultural Diversity for Dialogue and Development. The United Nations Educational, Scientific and Cultural Organization (UNESCO) held a high-level event on culture and sustainable development at the United Nations Headquarters in New York on May 21 and 22. Zheng Jianxin, deputy secretary of the CPC Changsha Municipal Committee, mayor of Changsha, and secretary of the CPC Working Committee of the Hunan Xiangjiang New Area, delivered a video speech on behalf of Changsha, one of the 14 UNESCO Creative Cities in China.
The year of 2021 is the International Year of Creative Economies for Sustainable Development. This event, with the theme of "Building back better: towards a more resilient and impactful culture sector throughout COVID-19 and the Decade of Action", aims to place culture in the mainstream of SDG implementation plans at all levels, and strengthen overall support for creative and cultural industries.
The UNESCO Creative Cities Network is a flagship cultural project launched by UNESCO, with the highest level, the most extensive scope, and the greatest influence in the field of cultural and creative industries in the world. Changsha joined the network in 2017, becoming the first Chinese city to be recognized as a UNESCO Creative City in media arts.
Changsha held the International Youth Forum on Creativity and Heritage Along the Silk Roads (IYF) in 2017. Over the past four years, the event has attracted youth representatives from 111 countries to discuss sustainable development. In 2020, Changsha held an IYF Special Dialogue to share the efforts of global youth in combating COVID-19, and released the "C+C" Global Youth Innovation Partnership Plan. This fully demonstrated Changsha's role in building a community with a shared future for mankind.
Mayor Zheng said in his video speech that, culture is the soul of a city, and the pillar for sustainable urban development. In recent years, Changsha has been committed to culture-driven urban development to boost industries and deliver real benefits to the people. It has been integrating innovation and creativity into all aspects of urban construction, industrial development, and living environment. In particular, the deep integration of media arts and traditional industries has nurtured emerging creative industries including creative fireworks, digital video, etc., attracting more than 250,000 talented people of all kinds to engage in innovation and entrepreneurship in Changsha every year. Now, the total output of Changsha's cultural industry has exceeded 200 billion yuan (about 30.84 billion USD). Changsha will usher in the new era of culture and creativity through technological innovation, internet interconnectivity and digital transformation, contributing to sustainable urban development. By upholding the principles of extensive consultation, joint contribution and shared benefits, we will join hands to build a heart-to-heart bonding and create a better tomorrow for cities around the world!
Source: en.changsha.gov.cn