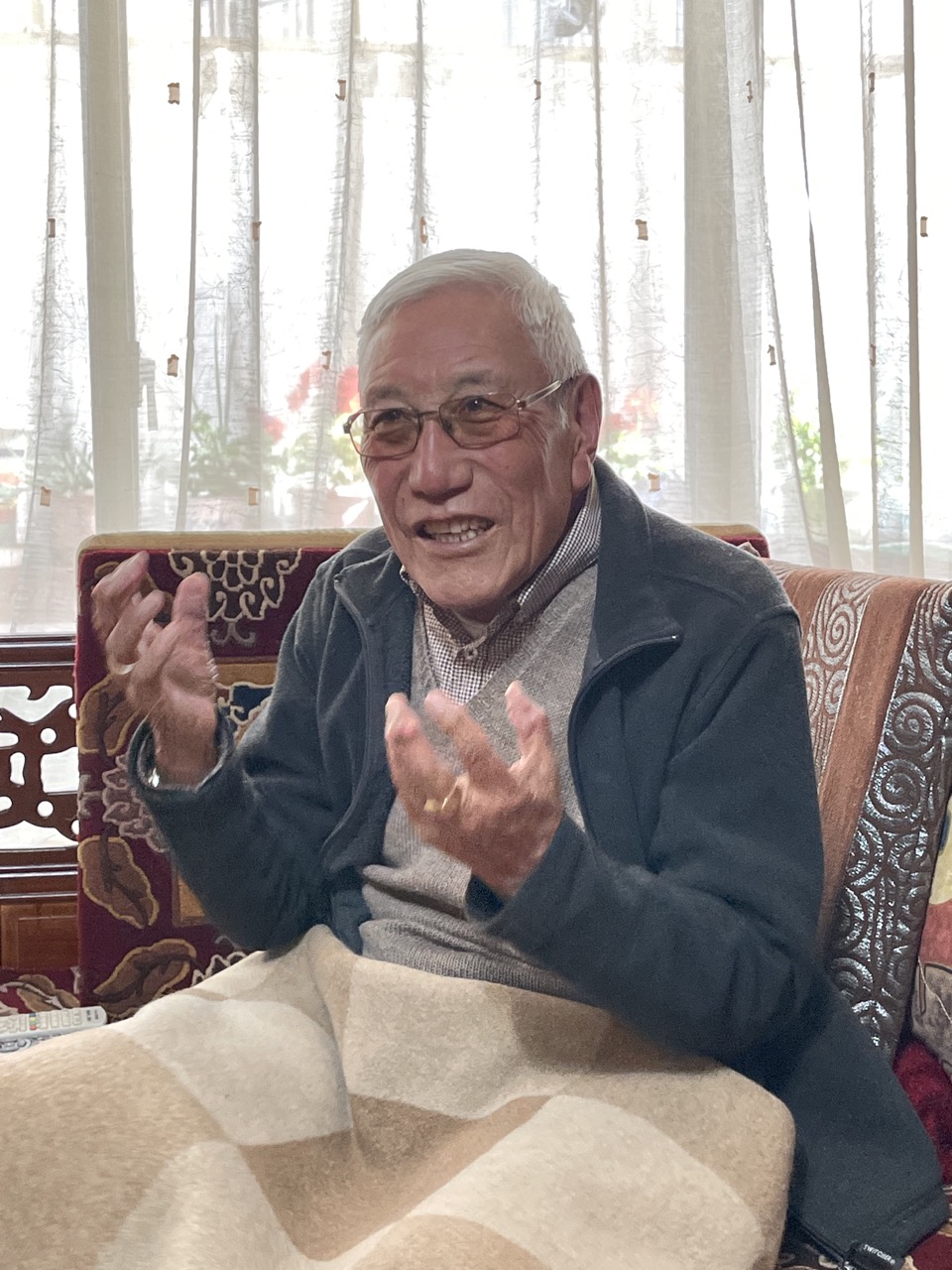 Shagkor Yeshe Palden
Shagkor Yeshe Palden, an 83-year-old living in Lhasa, capital of the Tibet autonomous region, makes WeChat calls every day to his two daughters and grandchildren in Switzerland, where he lived for nearly 30 years.
During the calls, he updates them on what's been going on in Tibet since he returned to China in 1994.
Shagkor Yeshe Palden was once a Living Buddha at the Drepung Monastery, one of the "great three" Gelug, or Yellow Hat sect, monasteries of Tibetan Buddhism in Lhasa, but his peaceful studies were disrupted in 1959. Aged 20 at the time, Shagkor Yeshe Palden witnessed that year's brutal rebellion against the central government.
"Bombs were going off around Drepung Monastery. One of my friends was killed by rebel forces," he said. Fearing for his life, he fled to Lhokha city and then eventually to India, where he met his father, who had also fled.
With limited supplies and a language barrier, Shagkor Yeshe Palden sheltered in a refugee camp at the border, where 40 to 60 people lived together in bamboo rooms.
"The scorching heat was unbearable, and I worried about my mother and sisters who were left behind in Lhasa," he recalled. "Realizing there was nothing I could do to help, I had to force myself to stop thinking about them."
A month later, Shagkor Yeshe Palden and his father left for Kalimpong, in eastern India, and tried to make a living selling calendars and astronomy booklets. But they never settled down, and seven years in India led to a longer journey to Europe.
In 1967, Shagkor Yeshe Palden moved to Switzerland and was given a job in a paper mill as an apprentice by the Swiss Red Cross. He had to start life again. He taught himself German and changed careers several times.
Meeting other Tibetans in Switzerland from time to time became Shagkor Yeshe Palden's way of finding a sense of belonging. It was during this period that he decided to resume secular life. He married a Tibetan woman and had two daughters.
But family life didn't cure his homesickness. "I missed Drepung. I missed my mother. But before China's opening-up in 1978, news from my homeland barely reached me in Switzerland, let alone me finding a way back to Tibet," he said.
Shagkor Yeshe Palden observed Tibetan traditions in daily life. He drew up a set of rules for the house. For example, his daughters were required to speak Tibetan when they came home after school, and he passed on Tibetan traditions.
"In Switzerland, people don't grow highland barley, the principal grain used to make tsamba (a traditional Tibetan staple dish) and alcohol. So we searched for another kind of grain, similar to highland barley, to grind flour to make tsamba," he said.
In 1984, as a result of opening-up and the policy of welcoming Tibetan people overseas, Shagkor Yeshe Palden visited Lhasa for the first time since he'd left 25 years earlier. Setting foot again in his homeland, he said that he was surprised to see that great changes had taken place in society and in people's minds. He stayed in Lhasa for 10 days and in his ancestral home in Garze Tibetan autonomous prefecture in Sichuan province for another 14 days.
"Even though things had changed a lot, the intimacy remained. When I was there, I felt I belonged," he said.
Because his daughters were still quite young, Shagkor Yeshe Palden returned to Switzerland to care for them, but he didn't apply for Swiss nationality during his 28-year stay. "Fallen leaves return to the roots," he said. "Leaving Tibet was not my choice. I wanted to return as soon as possible."
In 1994, after 35 years overseas, Shagkor Yeshe Palden finally returned to Lhasa. "I told my neighbors that I was going back in China. They all felt happy for me because they knew that after so many years I was finally going home," he said.
He has been living in Lhasa for the last 27 years and has witnessed the development of Tibet. He said that huge progress has been made, especially in terms of economic growth, livelihoods and environmental protection.
At the same time, Shagkor Yeshe Palden has been taking part in building a better Tibet. As a member of the Chinese People's Political Consultative Conference Standing Committee of Lhasa and Tibet, he has put forward a number of proposals, including on waste sorting, underground water protection and cultural preservation.
"Poverty eradication is a once unimaginable success that the Communist Party of China achieved in Tibet. Without the CPC, it wouldn't have been possible," he said.
Shagkor Yeshe Palden often invites his daughters' families to Lhasa. His Swiss sons-in-law tell their friends in Switzerland the truth about Tibet. "They see Tibet with their own eyes. What they see may be different from what the media portrays in Western countries, but the most important thing is that what they see is real," Shagkor Yeshe Palden said.