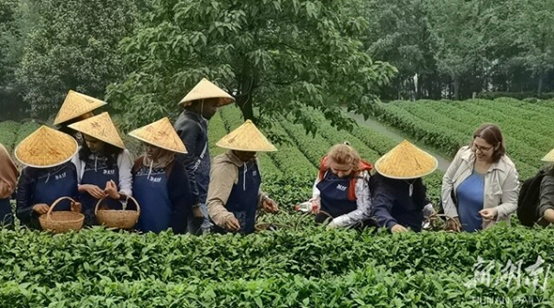 Hunan Library organized a tea-making experience activity for foreign readers at the Jinjing Tea Garden, Changsha County on May the 24th. It is one of this year's many "Chinese Corner" events for foreigners living in Hunan Province. It is said that more than twenty foreign readers participated in this event.
Amid a drizzling rain, the tea garden was greener, the air was fresher, and the spirits were high. Under the guidance of the tea garden staffers, international friends put on the traditional bamboo hats, carried bamboo baskets on their backs before they arrived promptly to the tea fields. This was their first time ever to pick tea leaves. Julia, who is from Italy, has been working in Changsha for eight years. She shared her ideas about tea in perfect fluent Chinese, "I like Chinese tea very much, especially green tea. In my country, tea bags are used a lot. They taste better with honey, milk and sugar. Chinese tea tastes good without adding anything."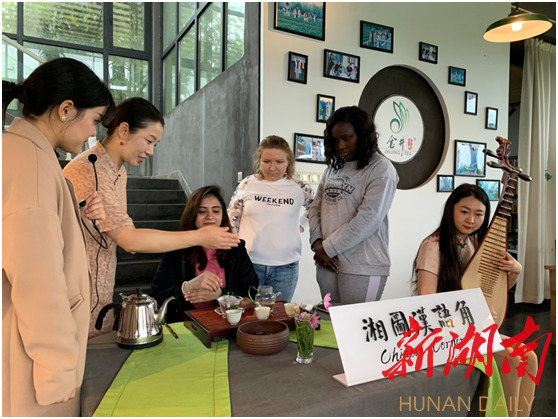 Tea leaf picking was followed by eight important and precise working procedures for tea leaf frying. When the tea leaves were heated, they brought out the strong but familiar fragrance. The learners followed the tea makers' instructions, so that they themselves could try their hands on the tea-making process. They marveled at the extensive and profound Chinese culture after being told about many stories on the tea ancestor of Emperor Shen Nong, the God of agriculture, and Chinese tea culture.
Then they learned how to brew and drink tea from the knowledgeable tea masters. After this, they took part in some amusing and fun quiz games including "guessing the names of tea by fragrance smelling and tasting" and "guessing word meaning". Here, this just added to the deeper understanding of beautiful Chinese tea culture. Faiza from Pakistan, said it was a magical day, and she learned a lot.
In recent years, the "Chinese Corner" has organized many hands-on activities for foreigners involving intangible cultural heritage, Peking Opera, traditional Chinese instruments, and traditional Chinese festivals, to make them understand and fall in love with China. Friendships are forged whilst memories are made. The "Chinese corner" hosts more than just fun interesting events, it helps cultures and people from around the world meet and share experiences that will hopefully be remembered for a long time.
This article is from Hunan Provincial Government www.enghunan.gov.cn.
Translator: Kuang Zhenzhen
Chinese source: m.voc.com.cn