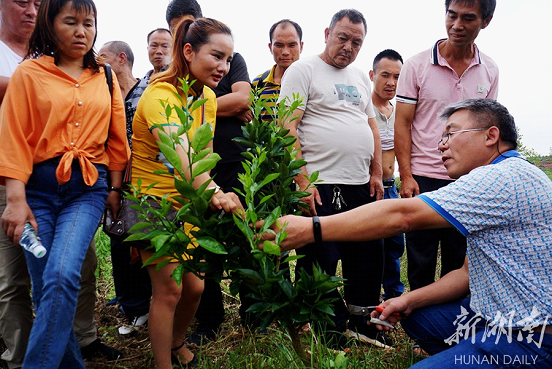 On May 27, Dr. Li Xianxin (1stR front) showed the fruit growers how to beautify citrus tree at the citrus industrial park of Jifeng Agriculture Co., Ltd., Ningyuan County. The planting area of the citrus trees reached ten-thousand-mu (667 ha.).
Li is a researcher from the Hunan Institute of Horticulture Research and an expert of the Hunan Citrus Industry Expert Group. He offered practical solutions for fruit farmers on difficulties in citrus production.
Since the launch of this year's science and technology week, the Ningyuan County Science and Technology Expert Service Group, the Society of Agriculture, and other organizations have sent experts to the agriculture industrial bases, to provide point-to-point technical services and help boost industrial development. (Photo/Le Shuiwang)
This article is from Hunan Provincial Government www.enghunan.gov.cn.
Translator: Yu Jiangjiang
Chinese source: hunantoday.cn