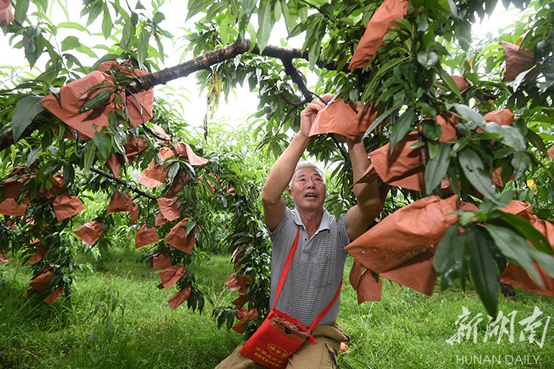 The photo, taken on June 3, shows a fruit farmer bagging yellow peaches at Zhongcun Village, Zhongcun Yao Township, Yanling County.
Yanling yellow peach is a national geographical indication protection product and a leading industry for local people to get rid of poverty and become rich. Up to now, the county has planted a total of 89,000 mu (5,933 ha.) of yellow peaches trees, of which about 60,000 mu (4,000 ha.) of yellow peaches trees are bearing fruits. In order to improve the quality of the fruit, this year the county started bagging the peaches in late May and it is expected to be completed before June 10. Yanling yellow peaches will enter the market for sale in mid-to-late July. (Photo/Tian Chao, Huang Tingting, Hunan Daily)
This article is from Hunan Provincial Government www.enghunan.gov.cn.
Translator: Xiao Juan
Chinese source: hunantoday