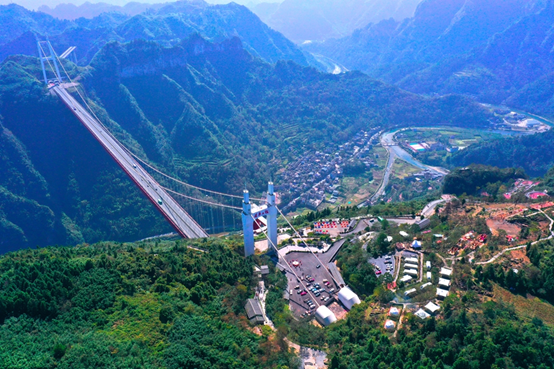 The aerial view of the Aizhai Bridge and nearby folk dwellings.
The Ministry of Culture and Tourism announced on June 11 that Aizhai-Shibadong-Dehang Canyon Scenic Area in Xiangxi Tujia and Miao Autonomous Prefecture, Hunan Province, was officially added to the 5A category, the highest rating for Chinese scenic spots. Hunan Province now has 11 5A-level tourist attractions.
Aizhai-Shibadong-Dehang Canyon Scenic Area is located in the deep core area of Xiangxi Geopark. It consists of Aizhai Bridge of Jishou City, which is known as "Mount Qomolangma" in the international bridge circle; Shibadong Village of Huayuan County where the idea of "targeted poverty alleviation" was initiated; and, Dehang Canyon of Jishou City which is dubbed as the "hometown of the drum" and a "natural oxygen bar". The linkage of the three parts to form a whole is a highlight of this newly-promoted 5A-level scenic spot. In recent years, through resource sharing, complementary customer sources, and market promotion, the tourist delivery rate among Shibadong Village, Aizhai Bridge, and Dehang Canyon Scenic Area has reached over 80%. Now it has become a "three-in-one" national 5A-level tourist attraction, truly achieving united development.
Xiangxi Tujia and Miao Autonomous Prefecture boasts rich tourism resources. It has more than 300 national ecological and cultural tourism brands, 28 intangible cultural heritage items on the national protection list, 12 4A-level scenic spots, and 23 3A-level scenic spots. It has attracted tourists from the Province and surrounding provinces. Its tourism industry has a strong growth momentum and broad development space.
This article is from Hunan Provincial Government www.enghunan.gov.cn.
Translator: Yu Jiangjiang
Chinese source: hunan.gov.cn