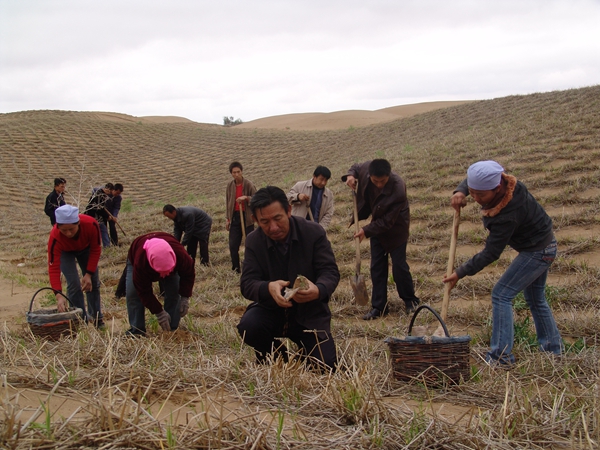 Wang Youde (center), a role model leading local people in the fight against desertification for more than three decades, makes straw checkerboard barriers along with his colleagues to control sand encroachment from the Maowusu Desert in the Ningxia Hui autonomous region in 2007.[Photo provided to China Daily]
Stoic Party member's lifelong mission to reclaim his hometown from the encroaching Maowusu Desert pays off, Wang Ru and Hu Dongmei report.
Wang Youde remembers a time when his hometown in Lingwu city, Northwest China's Ningxia Hui autonomous region, was covered in sand. "Back then, we lived near the border of Maowusu Desert. The expansion of the desert occupied our farmlands, houses and hometown, and tens of thousands of people had to move away," recalls Wang.
Wang's family was among them, which formed in him a resolve to dedicate himself to fighting against desertification, and "regain the land robbed by the desert".
In 1985, when he worked as deputy director of Baijitan National Nature Reserve in Lingwu, he began his mission, leading his colleagues into battle against the sand. Later he became director of the reserve.
Planting trees in Baijitan was an arduous task, since "it is very dry with an annual rainfall of less than 200 millimeters", according to Wang. What's worse, the battle requires the effort of a large number of people, but few are willing to engage in the painstaking cause.
As a result, Wang reformed the income distribution system of the reserve, enabling people to earn more according to the results of their work. He also proposed an annual target: everyone was set the task of making 10,000 straw checkerboard barriers, digging holes for and planting 10,000 trees over an area of 6.67 hectares. By doing so, they could gain an annual income of 10,000 yuan ($1,569) from sand control activities.
He and his colleagues developed an effective method to not only control the sand in Baijitan, but also enable people to gain more income from the cause.
At first, they planted sand-fixation forests along the outer reaches of the desert to form the first line of ecological defense, then plant primary forest belts along trunk canals and roads to form a second. With the dual protection, they were able to divert sand and water to create fields, upon which they planted fruit forests and nursery gardens-providing another source of income for people. They also planted grass for grazing livestock and develop animal husbandry, using the manure to help fertilize the fields.
"First we fixed the sand, then planted trees and created fields to develop farming and husbandry. The method enables us to develop in a sustainable way, and has been identified by the State Council (China's Cabinet) as one worth promoting to the public," says Wang.
During the arduous process, Wang often took the lead, working tirelessly in the baking sun. His home was not far from where he worked, but he was so busy that sometimes he didn't return for two or three months at a time.
Speaking to China National Radio, Wang Lijun, Wang Youde's son, recalls: "My father would come back home, take a shower and change his clothes. And when my mother washed them, she found sand all over our washing machine and the floor. My mother would joke to my father, 'you make the reserve green, but bring the desert into our home!'"
Over the years, Wang Youde has led his colleagues in building 42,000 hectares of sand-fixation forests, effectively preventing the expansion of the desert. Baijitan, the poor reserve which had bad ecological conditions and fixed assets of only 400,000 yuan before 1985, has grown to be a national-level reserve with good infrastructure, rich biodiversity and fixed assets of nearly 100 million yuan.
"I feel very proud and happy to see the success of my lifetime's effort. I believe I have lived up to the expectations of the Party and the people," says Wang Youde.
He retired in 2014, but he didn't stop his fight against desertification, continuing to lead people in planting trees on a barren mountain not far from Yinchuan Hedong International Airport-doing so at a rate of 66.7 hectares a year.
His work has contributed valuable experience to the prevention and control of desertification in China. In 2019, Wang Youde was awarded the national honorary title of "people's role model" at the Great Hall of the People in Beijing.
Zhu Lijia, a professor at the National Academy of Governance, tells Guangzhou Daily, "Wang Youde has demonstrated his faithfulness to his dream and the Party with his achievements, demonstrating a Party cadre who is willing to take responsibility and make a contribution.
"Although he is 68, he is still exploring effective ways of combating sand encroachment, demonstrating the pioneering and enterprising spirit of a Party member."