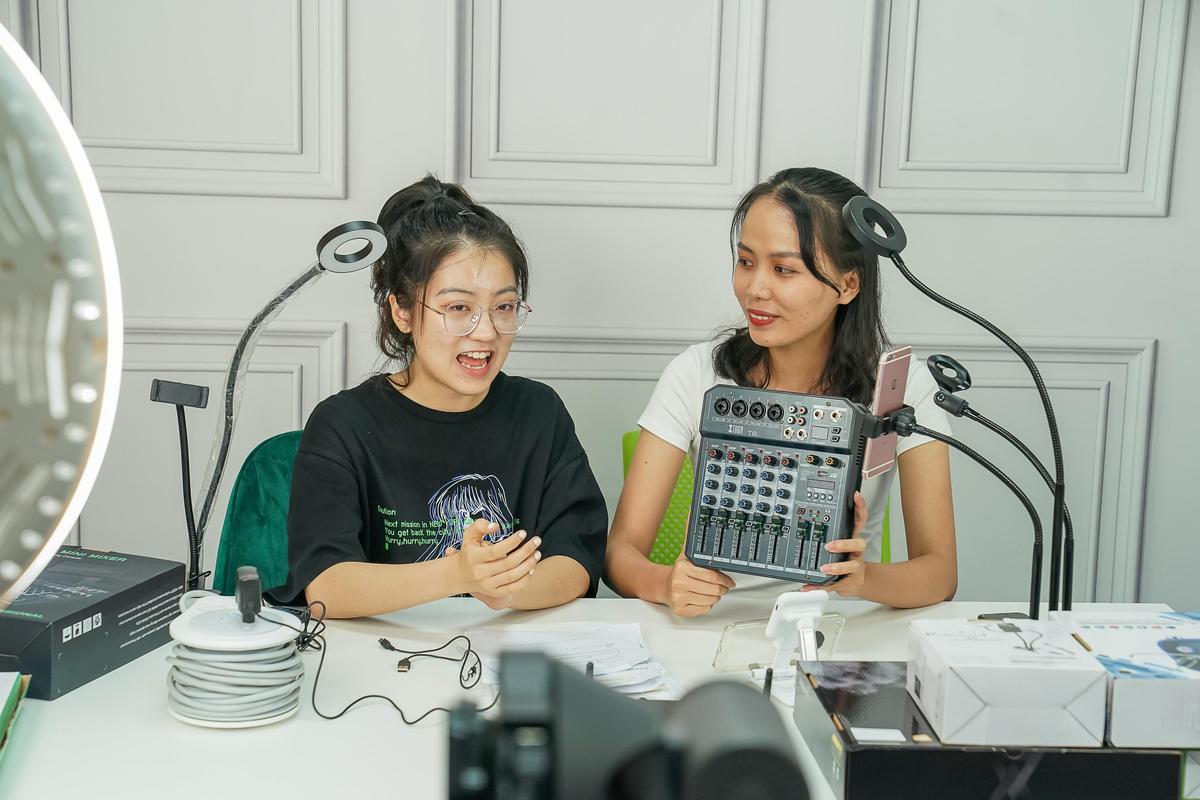 Hosts promote products during a livestream at a service center in Nanning, Guangxi Zhuang autonomous region, in August, 2020. [Photo/China News Service]
As foreign trade maintains strong momentum in growth this year, China saw increasing demand for talent in the sector, with job offerings from January to March rising 11.2 percent year-on-year, according to Zhaopin.com, a job-hunting website.
In the first quarter this year, China's total imports and exports expanded 29.2 percent year-on-year to 8.47 trillion yuan ($1.29 trillion), which marked an increase of 20.5 percent from the same period in 2019.
Cross-border e-commerce also registered 1.69 trillion yuan in total volume in 2020, up 31.1 percent over the previous year.
Hainan turned out to be the frontrunner nationwide in terms of the increase in demand for international trade talent, the report said.
The southernmost province and resort island has been experiencing rapid development after the Hainan Free Trade Port construction plan took effect about one year ago.
In the January-March period, Hainan's demand for such talent surged 42.9 percent from a year earlier, being well ahead of other provinces in the country.
As China continues to enhance cooperation between ASEAN and countries involved in the Belt and Road Initiative, international trade businesses in central and western regions were further boosted.
Statistics showed that total foreign trade volume in central and western China soared 45.1 percent year-on-year in the first quarter, with a growth rate 15.9 percentage points higher than that of China's overall foreign trade volume.
Xinjiang Uygur autonomous region saw demand for international trade talent rising 26.9 percent yearly in the first three months, followed by Gansu, a northwestern province, with the growth rate at 21.9 percent.
The report also said that operational posts in cross-border e-commerce have been in hot recruitment this year, with demand almost doubled in Q1 from the same period in 2020.
Guangdong took the first place nationwide in terms of demand for such talent, accounting for 51.6 percent.
Backed by the advanced supply chain system in the Pearl River Delta, Guangdong demonstrated strong power in the import and export sector.
The government's preferential policies, including encouraging entrepreneurship and offering fiscal subsidies to companies, also ushered in opportunities for foreign trade talent.
In comparison to the same period last year, Shenzhen's demand for operational talent in cross-border e-commerce sector soared 224.3 percent in Q1. Guangzhou took second place, with demand for such talent rising 158.2 percent, the report said.
Wuhan, the central city in Hubei province, is also in urgent need of cross-border e-commerce operation talents, with demand saw a blowout growth of 373 percent year-on-year, in Q1.