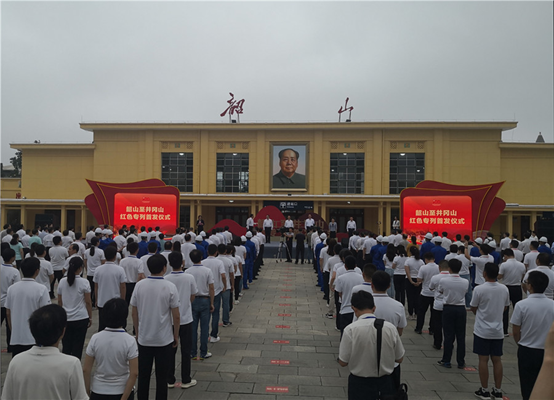 The Shaoshan-Jinggangshan red theme passenger dedicated line (PDL) opening ceremony was held in Shaoshan City on June 18, 2021. Xu Dazhe, CPC Hunan Provincial Committee secretary and Hunan Provincial People's Congress Standing Committee director, announced the departure of the train. Mao Weiming, CPC Hunan Provincial Committee deputy secretary and Hunan governor, delivered a speech.
Provincial leaders Xie Jianhui, Zhang Jianfei, Wu Guiying, and Chen Fei, attended. Shen Jiancong, Guangzhou Railway Group deputy general manager, made a speech. After the ceremony, the provincial leaders were scheduled to take the PDL train to Liling City to attend the Hunan-Jiangxi Border Regional Cooperation Demonstration Zone Construction Promotion Conference.
The Shaoshan-Jinggangshan red or revolutionary theme PDL has a total length of 354 kilometers, connecting the three cities of Xiangtan, Zhuzhou, and Ji'an. It passes through 9 cities or counties in Hunan and Jiangxi Provinces. They are Hunan's Shaoshan City, Xiangxiang City, Xiangtan County, Liling City, Youxian County, Chaling County, and Yanling County, and Jiangxi's Yongxin County and Jinggangshan City. The PDL connects 24 red or revolutionary scenic spots, 20 green or ecological scenic spots, and 18 classic scenic spots. Both the red scenic spots and ecological spots will give visitors a chance to enjoy the nature and feel charm of humanities. It will strongly boost cultural tourism, leisure agriculture, and industries that benefit the people in the areas along the route; consolidate the progress in poverty alleviation; and, further revitalize the countryside. It will also spur people living along the route to start businesses or find jobs, increase income, and become rich.
This article is from Hunan Provincial Government www.enghunan.gov.cn.
Translator: Yu Jiangjiang
Chinese source: hunan.gov.cn