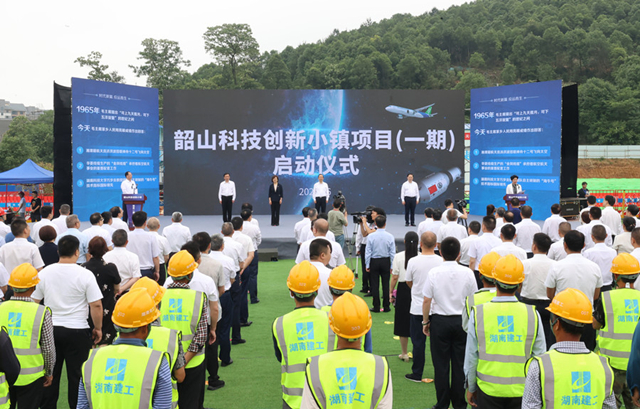 A ceremony to mark the launching of the first phase of the Shaoshan Scientific and Technological Innovation Town was held in Shaoshan on June 18, 2021.
Xu Dazhe, secretary of the CPC Hunan Provincial Committee and director of the Hunan Provincial People's Congress Standing Committee, announced the launching of the project.
Mao Weiming, deputy secretary of the CPC Hunan Provincial Committee and Hunan governor, chaired the ceremony.
Provincial leaders Xie Jianhui, Zhang Jianfei, and Zhang Hongsen, were present.
The Shaoshan Scientific and Technological Innovation Town is located at the intersection of Shaoshan Avenue and Ruyi Road. It will focus on the sci-tech innovation achievements made since the founding of the People's Republic of China, and Hunan's sci-tech innovation progresses. It will integrate science popularization and training functions via exhibitions and training courses, to give public education on patriotism and science popularization.
"We can bring down the moon from the ninth heaven, or catch the giant turtles in the sea." These lines by Chairman Mao Zedong presented his pride and spirit of exploration. To establish such a sci-tech innovation town in Mao's birthplace, aims to combine local revolutionary tradition and innovation culture. It will inspire stronger sense of patriotism and stimulate creative energy of the people, and evoke positivity for implementing the Three Highlands and Four New Missions Strategy, constructing a modern new Hunan, and progressing along the Long March of the new era.
This article is from Hunan Provincial Government www.enghunan.gov.cn.
Translator: Pang Yuehui
Chinese source: hunan.gov.cn