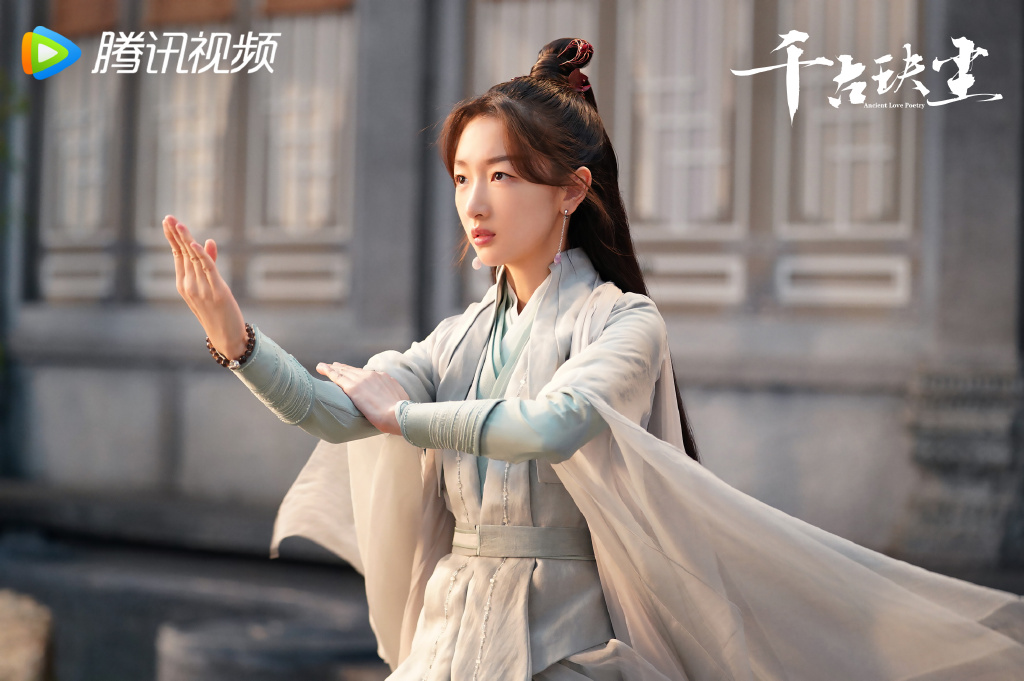 Actress Zhou Dongyu inAncient Love Poetry. [Photo/Sina Weibo of Ancient Love Poetry]
A-list movie star Zhou Dongyu's first fantasy romance drama,Ancient Love Poetrybegan streaming on Tencent Video from June 17, becoming one of the most popular series over the weekend.
Adapted from writer Xing Ling's online novelShang Gu, the fictional tale chronicles the bittersweet love of two powerful celestial beings over a course of thousands of years.
Zhou, who shot to fame with director Zhang Yimou's 2010 movieUnder the Hawthorn Tree,he has since acted in some critically acclaimed films, such asBetter Days-- which was nominated for the best international feature film at the 93rd Academy Awards.
Aside from Zhou, the cast features model-turned actor Xu Kai as one of the two lead characters, a god chosen alongside another three gods to safeguard and rule a fantasy world co-existing with celestial beings, monsters, spirits and gods.
The series has also caught attention overseas, exemplified by earning 8.8 points out of 10 on Mydramalist.com, an overseas aggregator for Asian drama fans.
Yang Xiaopei, the drama's chief producer, said the crew traveled over 2,000 kilometers from Hengdian in Zhejiang province to Dunhuang in Gansu province, obtaining aesthetic inspirations from flying apsaras -- celestial dancers flying in air in mural paintings found in historic sites such as Mogao Grottoes, according to New Series Review.
In order to bring to life the fantasy world depicted in the novel, the prop and setting departments constructed several soundstages and outdoor facilities covering a total area of 90,000 square meters.
Currently, hashtags of the series have accumulated 650 million clicks on the popular social platform Sina Weibo.