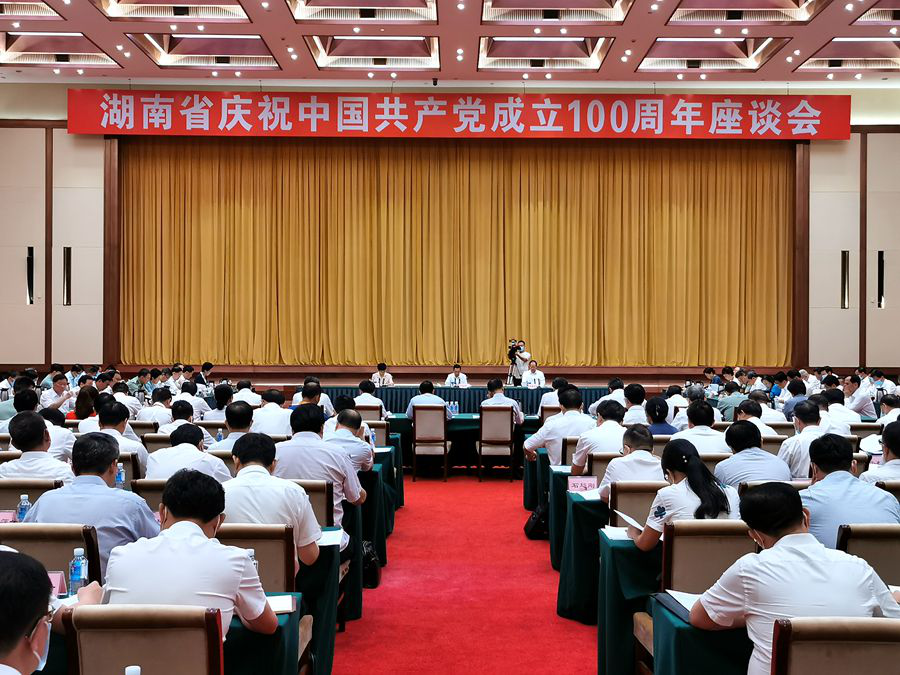 Hunan Province held a symposium to celebrate the 100th anniversary of the founding of the Communist Party of China in Changsha on July 2, 2021. Xu Dazhe, CPC Hunan Provincial Committee secretary and Hunan Provincial People's Congress Standing Committee director, attended and delivered a speech. Mao Weiming, CPC Hunan Provincial Committee deputy secretary and Hunan governor, presided over the meeting. Yu Yuemin, Leader of the Central Publicity Group's Fourth Group on Party History Learning and Education, gave guidance. Li Weiwei, CPPCC Hunan Provincial Committee chairwoman, attended.
Wu Lan, Yang Zhengwu, Hu Biao, Huang Lanxiang, Wang Shuangquan, Xie Jianhui, Zhang Jianfei, Feng Yi, Li Dianxun, Wang Cheng, Wu Guiying, Liu Lianyu, and other provincial leaders and veteran comrades, attended.
Six representatives made speeches at the meeting. They are:
-Ai Aiguo, winner of "July 1 Medal" and welding consultant of Hunan Valin Group Xiangtan Iron & Steel Co., Ltd.;
-Shi Jintong, national outstanding Party member, Party Branch secretary and director of the CPC Shibadong Village Committee, Shuanglong Town, Huayuan County;
-Liu Dafei, provincial outstanding Party member and chairman of the Trade Union of Dafu Dermatology Prevention and Treatment Institute, Yiyang City;
-Peng Zhongqiu, recipient of the "Memorial Medal for 50-year Party Membership" and former director of the Military Political Work Research Office, College of Political Science, National University of Defense Technology;
-Wei Jing,  student of Class 2017 at the College of Life Sciences, Hunan Normal University; and,
-Chen Zhenjiang, political instructor at the 75841 Troop of the Chinese People's Liberation Army.
This article is from Hunan Provincial Government www.enghunan.gov.cn.
Translator: Yu Jiangjiang
Chinese source: hunan.gov.cn