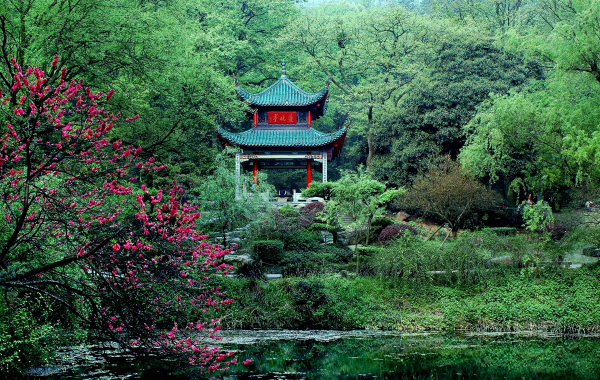 Aiwan Pavilion, one of four famous pavilions in China, was scheduled to start renovation on July 5, according to the Lushan Scenic Area Management Office. The project is expected to be finished before this year's National Day.
Brief Introduction to Aiwan Pavilion
Aiwan Pavilion is located at Qingfeng Gorge on Yuelu Mountain, Changsha.
As one of the four well-known pavilions in China, Aiwan Pavilion (Aiwan, literally to enjoy the evening) is a pavilion of ancient style built in the Qing Dynasty. It is square in form with gilt columns and painted red inside.
The original name of Aiwan Pavilion was Hongye Pavilion and the present name is derived from the poem Strolling in the Mountain written by Du Mu (a poet of Tang Dynasty). In 2013, Aiwan Pavilion was listed in the seventh batch of national key cultural relic protection units by the State Council.
Aiwan Pavilion is not only a scenic spot, but also an important site of treasured memories of Mao Zedong (also known as Chairman Mao), who at one time studied in the area. There is a tablet with the poem Qinyuanchun Changsha written by Mao in the pavilion.
It has also become a symbol of international friendship. Changsha's sister cities, Kagoshima in Japan and Sao Paulo in the United States, both had a replica of the pavilion to symbolize friendship. The two replicas were named "Gongyue Pavilion" and "Xiangjiang Pavilion" respectively.
This article is from Hunan Provincial Government www.enghunan.gov.cn.
Translator: Kuang Zhenzhen
Chinese source: icswb.com