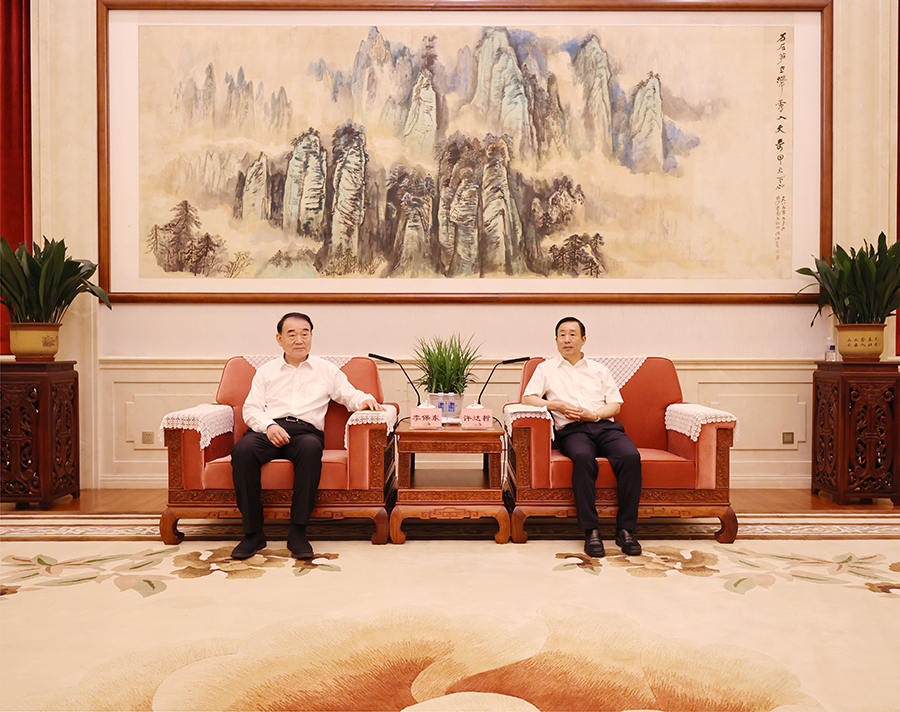 On July 13, Xu Dazhe, secretary of the CPC Hunan Provincial Committee and director of the Standing Committee of the Hunan Provincial People's Congress, met with Li Baodong, secretary general of the Boao Forum for Asia (BFA) in Changsha. He came to attend a promotion conference for the BFA's First Global Economic Development and Security Forum (GEDS).
Provincial leaders Wu Lan, Zhang Jianfei, and Wu Guiying, attended.
Secretary Xu welcomed Secretary General Li and his entourage, and thanked BFA for its care and support for Hunan's economic and social development, especially for the opening up. He said that in recent years, Hunan has continuously expanded high-level opening up, and made good use of such opening up platforms as the China-Africa Economic and Trade Expo and the Hunan Pilot Free Trade Zone. Its open economy development has achieved remarkable results, and new development momentum has been continuously enhanced. The whole province now has insisted on combining the study and implementation of the spirit of President Xi Jinping's speeches delivered at the ceremony marking the centenary of the CPC on July 1 with the implementation of his important instructions on Hunan Province; carried forward the Three Highlands and Four New Missions Strategy to build a modern new Hunan; and, forged ahead towards the second centenary goal. He continued, "Forging ahead on a new journey, it is necessary to give full play to the role of various opening up platforms and continue to expand international exchanges and cooperation. We will take a longer-term and broader perspective to actively prepare for the first conference of the BFA's First GEDS, to ensure that the forum has its own characteristics and make practical results. Meanwhile, we will use this high-quality platform to deepen exchanges and expand collaboration with other countries, and make Hunan's contributions to promoting the prosperity and development of Asia and building a global community of shared future."
Secretary General Li believed that the BFA's First GEDS is highly compatible with the requirements of the "three new developments" of grounding work in this new stage of development, fully and faithfully applying the new development philosophy, and fostering a new pattern of development. It aimed to explore solutions for the sustainable development of Asia and the world. Hunan has a rich history and outstanding people. In recent years, its high-quality development has achieved fruitful results, and it has shown great vitality in expanding its opening up to the outside world. He promised to go all out to host the forum well, tell Hunan's story well, and present a true, multi-dimensional, and panoramic view of Hunan Province to the world, so as to contribute to the building of Hunan into a hub of reform and opening up in inland regions.
This article is from Hunan Provincial Government www.enghunan.gov.cn.
Translator: Yu Jiangjiang
Chinese source: hunan.gov.cn