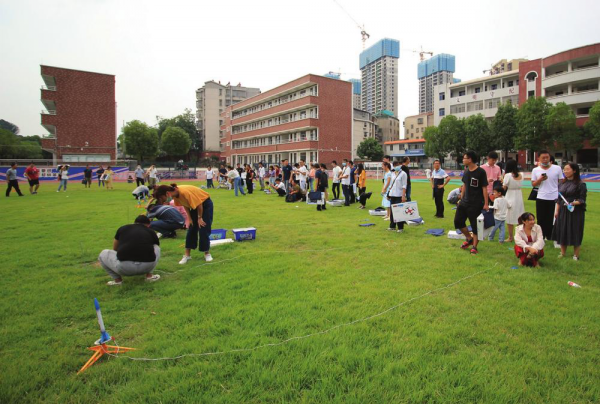 Recently the Yueyang Science and Technology Museum launches 50 activities in seven categories during the summer vacation to enrich the cultural life of citizens, especially primary and middle school students, promote scientific spirit, and increase scientific literacy.
A variety of events are organized, including technological production; Rubik's cube puzzle; and, popular science-themed shows, lectures, and study tours. They feature physics, chemistry, biology, food safety, and emergency popular science. During the summer vacation, regular guide services will be carried out every day, enabling visitors to have better understanding of aerospace and navigation exhibits. There are five exhibit experience activities, including VR experience, spacewalk interactive experience, simulated return capsule, 6-DOF aircraft VR experience, and star warship interactive simulated shooting experience. Visitors who are interested could get coupons at the information desk on the first floor. Rationed couples are handed out every day.
The Yueyang Science and Technology Museum will open to the public free of charge from July 10 to August 20 (closed for maintenance every Monday).
Opening hours: 9:00 -12:00; 13:30-16:30
How to participate: online appointment and registration
Admission fee: free
This article is from Hunan Provincial Government www.enghunan.gov.cn.
Translator: Xiao Juan
Chinese source:Voice of Hunan