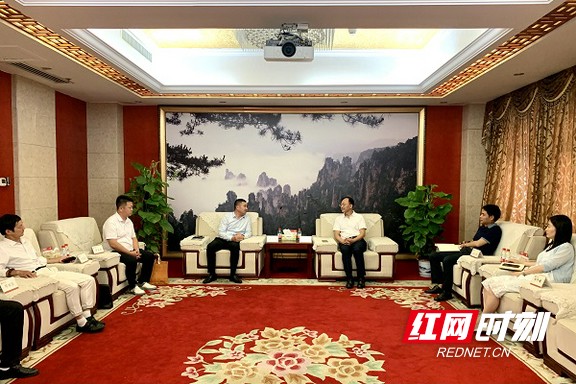 Li Zuyuan (third from right) met with Laos Hunan Chamber of Commerce

On July 19, a delegation from Hunan Chamber of Commerce of Laos visited Hunan FOC. Li Zuyuan, member of the leading Party group and vice chairman of Hunan FOC, met with the delegation.

Li Wenke, president of the Laos Hunan Chamber of Commerce, expressed gratitude to Hunan FOC for supporting anti-covid-19 supplies during the epidemic period, and introduced the inoculation of members of the Chamber of Commerce and the current development of the chamber. Li wenke hoped that Hunan FOC would, as always, care about and support the work of the Chamber, strengthen the guidance of relevant work, strengthen the communication and exchanges between the two sides, and play a positive role in promoting the exchange and development of Hunan and Lao.

Li Zuyuan welcomed the arrival of the Laos Hunan Chamber of Commerce. He pointed out that as this year marks the 100th anniversary of the founding of the Communist Party of China (CPC), he hoped the Chamber would actively organize its members to learn the spirit of General Secretary Xi Jinping's important speech on July 1, and at the same time, carry out party history study and assist the Provincial Federation of Overseas Chinese in ideological guidance.The chamber of Commerce should continue to promote friendly exchanges and cooperation between Hunan and Laos in the fields of economy, science, technology and culture, spread China's voice and tell Hunan stories well.We should do a good job of serving overseas Chinese, guide members to abide by local laws and regulations, customs and habits, do business legally, and at the same time actively respond to the legitimate interests of overseas Chinese, and earnestly safeguard the rights and interests of local overseas Chinese.The chamber of Commerce should strengthen the contact with other overseas Chinese leaders and overseas Chinese groups, unite overseas Chinese groups organizations to pay attention to the development of their hometown, and contribute to the friendly exchanges between Hunan and other countries.