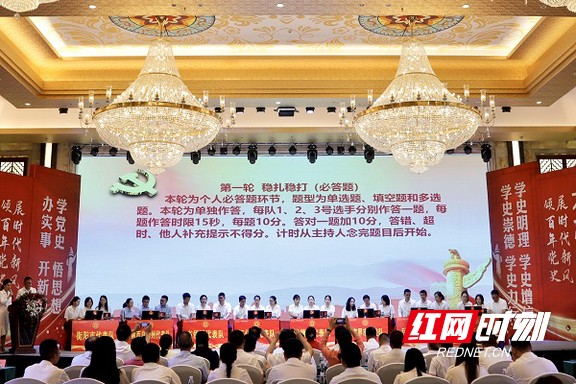 Hunan FOC held a party history and party law knowledge contest to celebrate the 100th anniversary of the founding of the CPC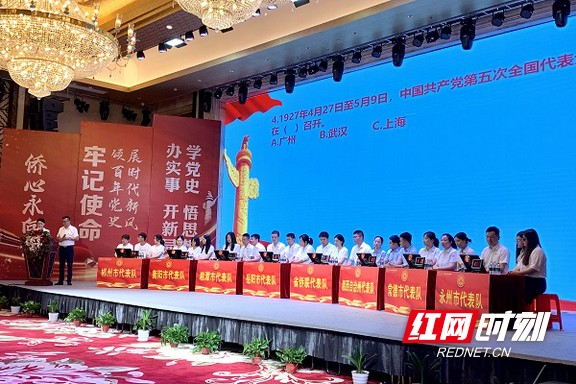 The contestants are actively answering questions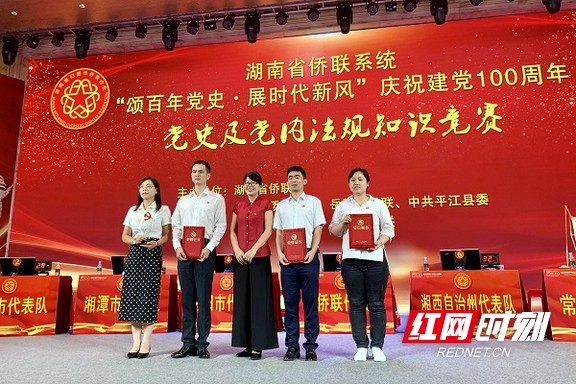 Huang Fang (middle) presented an award to the first place winner of the competition from Yueyang FOC

On July 22, a competition to celebrate the 100th anniversary of the founding of the Communist Party of China (CPC) was held in Pingjiang County, Yueyang City, Hunan. Fifteen teams from the federations of overseas Chinese in the province participated in the comtest. Huang Fang, party secretary of Hunan FOC announced the start of the competition. Li Zuyuan, member of the party group and vice chairman of Hunan FOC, Wang Sixin, executive vice minister Yueyang Party Committee united Front Work Department attended the ceremony.

This activity was hosted by Hunan FOC, undertaken by United Front Work Department of Yueyang Municipal Committee, Yueyang FOC and Pingjiang County Party Committee of the CPC, and co-organized by United Front Work Department of Pingjiang County Party Committee and Pingjiang County FOC. All the contestants were calm and witty, quick in thinking, and answer smoothly, showing rich knowledge reserve of party history and good teamwork spirit, and the atmosphere of the competition was hot.

After a fierce rivalry, Yueyang federation won the first prize, Hunan FOC, Changde federation, and Xiangxi FOC won the second prize, Chenzhou federation, Hengyang federation, Xiangtan federation, and Yongzhou FOC won the third prize, Changsha FOC, Zhangjiajie FOC, Huaihua FOC, Loudi FOC won fair-play prize,Yueyang FOC, Yiyang FOC, Zhuzhou FOC and Shaoyang FOC won the award of Excellent Organization.

Huang Fang expressed her warm congratulations to the winning teams and members.She pointed out that the conclusion of the knowledge contest on party history and party laws and regulations means that the province's overseas Chinese Federation system has successfully concluded a series of activities to celebrate the 100th anniversary of the founding of the Party.It is hoped that in the process of carrying out the party history learning education, the overseas Chinese Federation system in the province will continue to teach the Party history and overseas Chinese history to the overseas Chinese community, learn the "four histories" well, and draw wisdom and strength from them, so that the overseas Chinese community and the cadres of the Overseas Chinese Federation can truly learn history with understanding, credibility, ethics and practice.The cadres of the overseas Chinese Federation should implement the achievements of party history study into the practical activities of "I do practical things for the masses" and make greater contributions to the strategy of "three high schools and four new".

This competition was not only a "great training" for cadres of the FOCs, but also a "great review" of party history knowledge.Through the party history and the party laws and regulations knowledge competition, strengthen the enthusiasm of the staff of FOCs to study the Party history, deepen the understanding of the party history of the cadres of the Federation of Overseas Chinese, earnestly do "study the Party history, strong faith, follow the Party".