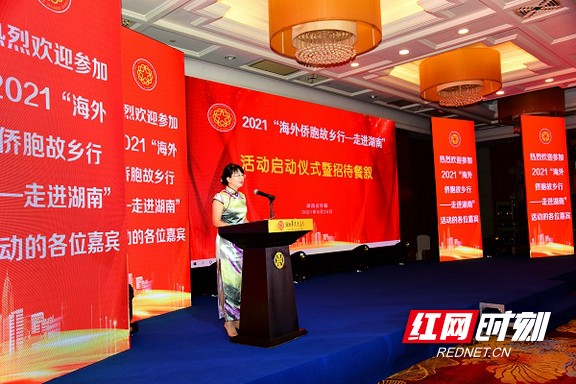 2021 Overseas Chinese hometown visits in Hunan was launched in Changsha.

The launching ceremony of the 2021 "Overseas Chinese Hometowns Tour -- Into Hunan" activity was held in Changsha, on September 24. Over 100 overseas Chinese wouldl visit Changsha, Xiangtan, Hengyang and other places to feel the new changes in Hunan and talk about the new development of their hometown. Huang Fang, Party Secretary of Hunan FOC, attended the event and spoke;Sun Minsheng and Li Zuyuan, party member and vice chairmen of Hunan FOC, attended the ceremony.

Huang Fang briefly introduced the situation of Hunan nd the work of Hunan FOC since this year.She pointed out that for a long time, the majority of overseas Chinese have been concerned about the development of the motherland, and have done a lot of work in promoting the economic cooperation between Hunan and other parts of the world and public welfare undertakings, which is an important force to promote the economic transformation and upgrading of Hunan and the transformation of economic development mode.I hope that you can better understand hunan's development and change and development environment, seek opportunities for cooperation, and contribute to hunan's efforts to build an important national advanced manufacturing industry, scientific and technological innovation with core competitiveness, and reform and opening up in inland areas.Provincial federation will also be looking to development and changes, the unity earnestly boot, service activities of the returned overseas Chinese and overseas Chinese painting nation biggest concentric circles, to further implement the strategy of "four new" coagulation hearts meet force, truly the overseas organization construction become the home of the unity of the returned overseas Chinese and overseas Chinese, as the struggle, the warm home.

This year is the sixth time for Hunan FOC in overseas Chinese hometowns tour activities, the campaign aims to open, cities, economic and trade, cultural exchanges, to illustrate the vigorous development of the country and Hunan.