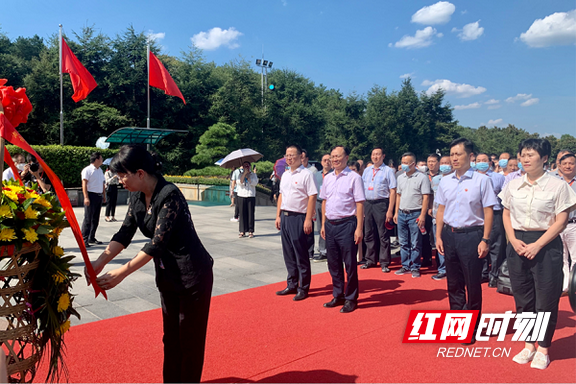 In the bronze statue square of Mao Zedong, overseas Chinese leaders venerated the glorious image of the great man and presented flowers.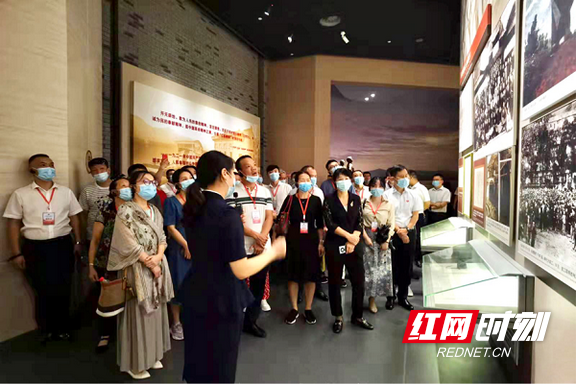 Visiting Mao Zedong Memorial Hall.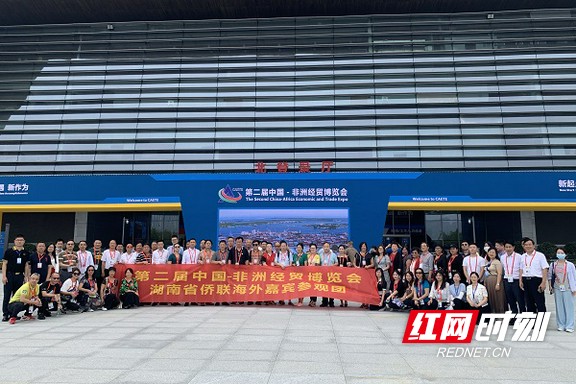 Visiting the Exhibition Hall of the China-Africa Economic and Trade Expo.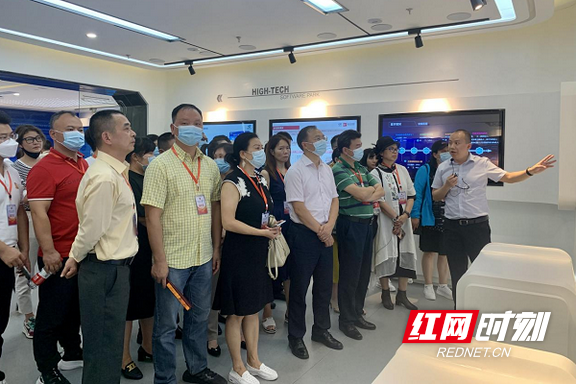 Conduct investigation and exchange in Hengzhou Avenue digital economy corridor.

These days, there are a group of overseas Chindese guests from afar to visit Hunan. They toured into Changsha, Xiangtan, Hengyang and other places, with the pace of measurement of the development and change of hometown.

From September 24 to 28, 2021 "Overseas Chinese Hometown Trip -- into Hunan" activity was successfully held.More than 100 overseas Chinese from Thailand, France, Canada, Cambodia, Laos and other more than 40 countries and regions gathered in Hunan to feel the great changes in their hometown and learn about the new achievements of Hunan's economic and social development.

Explore red memory:the first thing when returning to Hunan

As overseas Chinese who have been living overseas for a long time, their first stop was to visit Shaoshan, visit comrade Mao Zedong's former residence, listen to the lecture "Learn personality Charm from Mao Zedong", watch the live performance "China Produced a MAO Zedong", appreciate the style of the great man.

In Hengyang, more than 100 overseas Chinese have visited the Nanyue tour dry class exhibition hall, Zhonglie Ancestral hall, feeling red culture, inheritance of red genes.

In Changsha, the guests visited Hunan Provincial Museum, the international cultural exchange base for Overseas Chinese in China, to learn about the origin of Huxiang culture and feel the profound deposits of Huxiang culture.

On the fourth member representative conference of Overseas Chinese Associations Associate of Hunan Federation of Overseas Chinese, Huang Fang, secretary of the party group of Hunan FOC made a speech on the history of the Party for overseas Chinese, introducing the hundred-year struggle of the Communist Party of China, so that the majority of overseas Chinese have a deep understanding of the hard-won new China and the hard-won peace and stability of today's environment.

He Yaoqun, chairman of Lao Jin International Wine & Food Import & Export Co., LTD., said, "This trip to Hunan is a journey of learning and recharging.I have the responsibility and obligation to tell the story of the CPC to 100,000 Xiang businessmen in Laos."

Seeking cooperation opportunities

For a long time, overseas Chinese have done a lot of work in promoting the economic cooperation and public welfare undertakings between Hunan and other parts of the world, and they are an important force in promoting the economic transformation and upgrading of Hunan and the transformation of economic development mode.Moreover, the "Overseas Chinese hometown Trip" activity promoted the docking and cooperation between a large number of overseas Chinese and city-state economic and cultural projects.

Investment promotion meeting has always been a necessary project of "overseas Chinese hometown tour" activities.Changsha, Xiangtan, Hengyang overseas Chinese have issued invitations, olive branch, hope overseas Chinese overseas Chinese actively mobilize their capital, technology, market, contacts and other resources, pull the strings, participate in local construction, investment and business return home.

However, the presentation was just the starter.Solid projects and policies are the magic weapon to attract overseas Chinese to invest and develop in Hunan.

In recent years, Changsha has made great efforts to build a highland of reform and opening up in the inland region, improve the level of internationalization, and actively apply for the construction of "returnees town", build a number of international communities, improve the supporting facilities for returned overseas Chinese.All these measures have ushered in more cooperation opportunities and development space for overseas Chinese.

Overseas Chinese have seen business opportunities in the exhibition hall of China-Africa Economic and Trade Expo, the international business platform of Changsha High-tech Industrial Development Zone, the Base of Changsha Overseas Chinese Dream Garden, the Planning and Exhibition Center of Overseas Returnees Town, and the Digital economy Corridor of Hengzhou Avenue.

Huang Fang said that in recent years, the business environment in China has been getting better and better, with more development opportunities and better policies.It is hoped that overseas Chinese will actively take advantage of the "Belt and Road" initiative, the development of Yangtze River Economic Belt, the rise of central China, Hunan Pilot Free Trade Zone, China-Africa Economic and Trade Expo and other opportunities to seek cooperation opportunities, provide a bridge for Hunan enterprises to go abroad, Hunan products to explore the international market, and add new momentum to the high-quality development of Hunan.

Liu Hui, CEO of RUYUKI Pharmaceutical Co., LTD., said that there are many high-tech talents from Hunan overseas, and they all have the hard-working, diligent and enterprising spirit of Hunan people. He hoped that all of them could combine patriotism with practical actions and strive for the realization of the Chinese dream of the great rejuvenation of the Chinese nation.

Telingl the story of China and Hunan well

Overseas Chinese, as participants and contributors of world civilization, have greatly promoted the international dissemination of Chinese culture.

For overseas Chinese, in order to tell Chinese stories well, we must understand the profound connotation behind the stories. Instead of telling stories for the sake of telling stories, we should "see" and "tell" by ourselves, integrate specific details, typical examples and more emotional interaction, so that Chinese stories can be recognized by the international community and overseas audiences.

In the first half of 2021, Hunan achieved a year-on-year growth of 11.7%. The driving force of high-tech industries such as machinery intelligent manufacturing and semiconductor chips continued to grow, and the actual utilization of foreign investment in hunan increased both in quantity and quality.The number of newly established foreign-invested enterprises increased by 41.6% year on year, and the number of actually utilized foreign investment increased by 59.5% year on year, demonstrating strong economic resilience and good development expectations.These tangible achievements are "good materials" for telling good stories about Hunan.

During the five-day trip to Hunan, overseas Chinese saw hunan's "great potential", learned about its development, changes and environment, and felt hunan's profound history and culture as well as its beautiful ecological environment.As overseas Chinese who have the dual advantages of being familiar with the fine Chinese culture and the language and culture of their home country, they can tell Chinese stories well in a way of thinking and expression that is easy to be accepted by the people living in their home country, and play a more important role in promoting the friendly exchanges between China and foreign countries.

"I deeply felt the great changes and achievements my hometown has made in all aspects through the hunan trip, and I will urge local Overseas Chinese to vigorously tell the stories of China and Hunan after returning to China."Said Li Boning, founding president of Cambodia hunan General Chamber of Commerce and honorary president of Overseas Chinese Merchants Association.