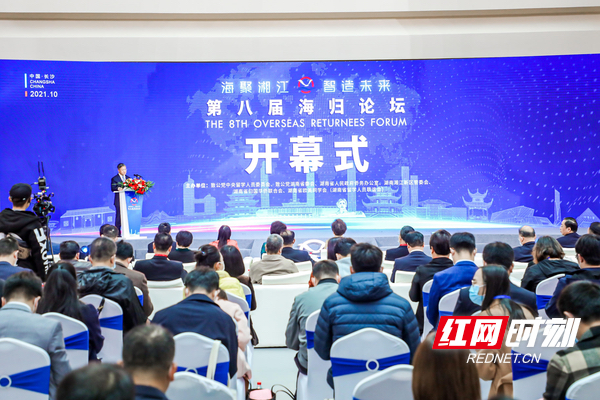 On October 17, the 8th Overseas Returnees Forum was held in Changsha with the theme of "Gathering in Xiangjiang River from overseas, Creating the Future with wisdom". Yan Xiaopei, member of the Standing Committee of the CPPCC National Committee, Deputy Director of the Committee for Hong Kong, Macao and Taiwan Compatriots and Overseas Chinese and Vice Chairman of the Central Committee of Zhigong Party; Huang Lanxiang, member of the Standing Committee of the CPC Hunan Committee and Director of the United Front Work Department of the CPC Hunan Committee attended the meeting and delivered speech; Hu Xusheng, Vice Chairman of the CPPCC Hunan Committee and chairman of the Provincial Committee of Zhigong Party delivered a speech.

Yan Xiaopei said in his speech that the Zhigong Party of China, as a party involving overseas Chinese, has distinctive features of overseas Chinese and returnees. Hunan Committee of Zhigong Party, as a local organization of Zhigong Party, is committed to serving the innovation and entrepreneurship of returned students. For eight consecutive years, it has led the overseas students forum to expand the depth and breadth of Hunan's overall development and achieved remarkable results.

Huang Lanxiang said that Hunan innovative entrepreneurial energy, would be more open to ideas, more favorable measures, more solid work, provide better service and better system mechanism guarantee, hope the broad masses of students studying abroad give full play to their strengths, positive, continue to promote friendly exchanges between China and foreign countries civil ambassador, speak good Chinese story, speak good story of Hunan.

Hu Xusheng said that he hoped that through the elaborate top-level design, with the help of six platforms to strive for full field docking, all-round cooperation, to achieve the service of overseas returnees without closing, online guide will not stop, continue to create a never-ending overseas returnees forum.

During the two days of the forum, there were a series of theme activities, such as Xiang Overseas Returnees Forum, young Overseas returnees company Talk, overseas Returnees Talent talk, overseas Students' Entrepreneurship Support Program, and innovation and entrepreneurship special exhibition. These series of activities focused on serving returned students for innovation and entrepreneurship, telling Hunan stories well, and providing talent support for hunan's "three high schools and four new" strategy.

The forum has become a common value platform for returnees to start their own business in Hunan after seven years of running. Up to now, the Forum has invited more than 700 overseas talents to participate in the activities, facilitated the entry or landing of nearly 150 overseas doctoral students in Hunan, persisted in assisting overseas students to return to Hunan for innovation and entrepreneurship, hosted more than 100 projects to participate in the conference, and facilitated 26 overseas returnees' projects to settle in Hunan.

The eighth returnees BBS was launched by of the central study committee of Zhigong Party, the CPC committee of Hunan, overseas Chinese affairs office of the people's government of Hunan , Hunan Xiangjiang river new district management committee, Hunan FOC, and attracted more than 150 overseas talent to PhD (50).