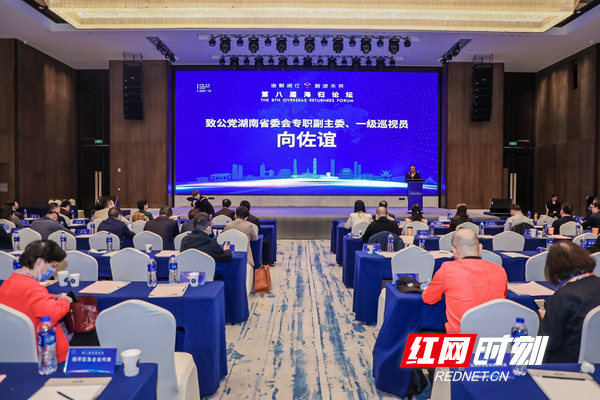 The 8th Overseas Returnees Forum successfully concluded on October 18.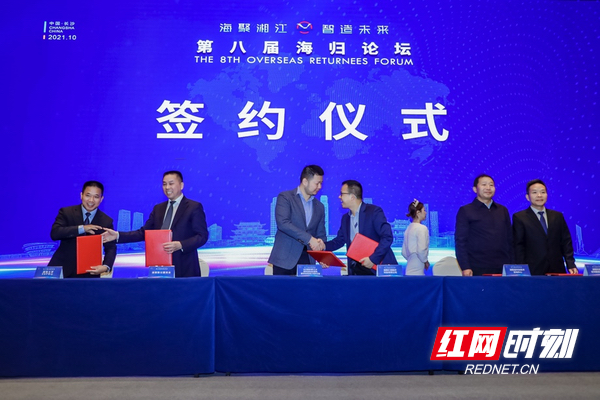 Signing agreement.

On October 18, the 8th Overseas Returnees Forum was successfully concluded in Changsha. Hu Xusheng, vice Chairman of Hunan CPPCC and chairman of Hunan Committee of Zhigong Party attended the meeting.

The forum focused on creating a platform for Hunan to collect suggestions on the strategy of "innovation leading, opening up and rising", a platform to serve Hunan talent demand and attract talents and talents, and a platform to facilitate the exhibition and exchange of returnees' innovation and entrepreneurship, with higher standing, more concrete content and better effects.

For three days, the forum has held a special Changsha high-tech zone 2021 European high-level personnel into the activity and Changsha, Changsha high-tech zone intelligent production of medical innovation BBS, Xiang Overseas Returnees Forum, young Overseas returnees company Talk, overseas Returnees Talent talk, overseas Students' Entrepreneurship Support Program, and innovation and entrepreneurship special exhibition.

The closing ceremony, held a signing project cooperation, a total of eight overseas talents, students studying abroad signed an agreement with each unit of choose and employ persons in our province, 24 intention agreement, and the car zhuzhou institute, changsha rural commercial bank signed a cooperation agreement, in the development of overseas talents with hunan depth fusion has made breakthrough progress. At the same time, awards were also given to the finalists of the 8th Overseas Returnees Forum project Selection Contest.

As a local organization with the characteristics and advantages of overseas Chinese and returnees, Hunan Committee of Zhigong Party has cooperated with other relevant departments to explore and innovate in recent years and actively serve outstanding overseas returnees to start businesses and find jobs in Hunan. Since 2014, it has held eight overseas returnees Forum. After eight years of unremitting efforts, returnees forum now has become a booster returnees talent for hunan "four new" strategic consultation platform, and become a booster returnees entrepreneurial talents in hunan innovation platform, become platform of returnees talent build consensus, become Hunan publicity platform and platform for the communication of the returnees fellowship.