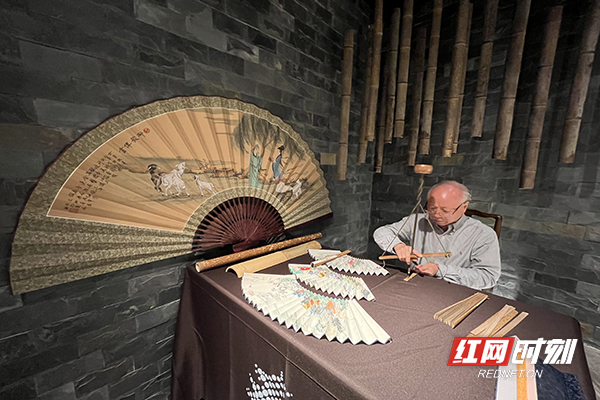 Liu Wenzheng, the inheritor of Yuezhou fan intangible cultural heritage

"What Yuezhou fan is going to be? It really depends on you guys."

Yuezhou was the name of Yueyang city in Tang Dynasty which locates on the north side of Hunan. Yuezhou fan has been created since the end of Ming Dynasty, and now It is four hundred years old. In the seventies, it was considered as one of three most famous fan in China.

In the nineties, because of the economical reform, sales of state-own fan factory in Yueyang was going downward. When the forty years old factory officially closed its door, the general manager hold Liu Wenzheng's hand and told him these words sincerely.

In the next twenty years, through applying his creative sparks on fan crafting Liu Wenzheng revitalizes this tradition. In October 2018, Liu Wenzheng was officially selected as the inheritor of this intangible cultural heritage by Hunan government.

As a seventy years old man, Liu Wenzheng has witnessed tides and waves of the fan industry over a half of century. He will tell us how Yuezhou fan accumulates international fame as a cultural brand in details.

Continuing his father unaccomplished aspiration

The wild area in Weidong never lacks bamboo resource. Moreover, the quality of bamboo here is decent, and it is quite suitable for making the structure of a fan. Many locals are doing the business of dealing these handmade structures.

Liu's father, Liu Rudong had acquired the skill of fan making and joined this local business. Unfortunately, when Liu Zhengwen was two years old, his father had passed away because of illness.

Apprenticeship

In 1966, Liu Zhengwen as a seventh grader suspended his school and became an apprentice on fan crafting. "In here, the height of tortoise-shell bamboo is usually around fifteen meters, and its diameter can be twenty centimeters. The length of individual section is around forty centimeters, and this is exactly the raw material we need to make structures."

Liu was staying with his master in a local farmer family's house. In there, he became familiar with each process of fan crafting. At first, he had to be able to pick five to six years old bamboos as raw materials. After five steps, such as chopping, drilling and so on, dried and unfinished materials would go through a series of procedures, and finally are ready to sell as polished structures for fan. At that time, Liu did not have any second thoughts, and he just want to make money to support his family.

Becoming a important technician in the factory

In 1974, Liu was recruited by Yueyang fan factory as a technician. According to documents, Yueyang fan factory was established at 1960, and fan had already been a popular commodities sold domestically. In the 70s and the 80s, Liu had many apprentices in the factory and renovated product lines. The factory had started with paper fan and invented feather fan, silk fan, and other hundred eighty types in five hundred colors.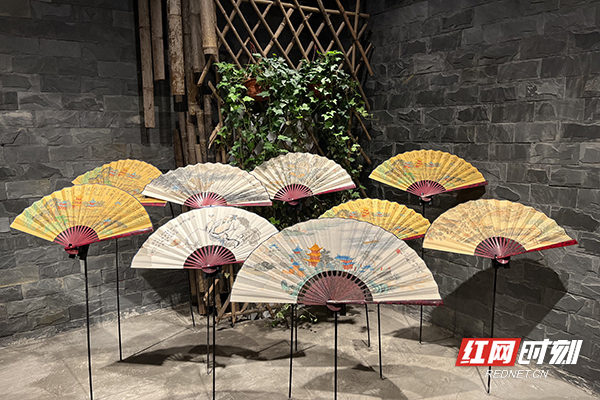 Fans with themes centered on Hunan landscapes

Fan as a cultural form

In the 90s, because electric fan and air conditioners had gained popularity, fan gradually lose its utilitarian value. Yueyang fan factory was shut down. One time, he encountered a short essay titled the art of fan, written by Feng Zikai, and he realized fan belongs to the tradition of painting and calligraphy in China. Since the artistic value of fan is eternal, he decided to concentrate on design of fan. Structure and surface are equally important. Through perfecting on details of fan, it can become classical. Thus, Liu invited local artists to paint different landscapes in Hunan and replicated these artworks on fan. These meticulously designed fan immediately opened another window for Liu Zhengwen.

Spotted bamboo is a type whose surface is mottled by nature. There is an ancient tale of King Shun explaining the origin of this bamboo. There are spotted bamboos in Yueyang and Yongzhou. "Yuezhou fan made of spotted bamboos embodies the spirit of Hunan much better", Liu said. On the last day of October, he just finished the arrangement of his exhibition in Yueyang intangible cultural heritage hall. Majority of works on display are spotted bamboo fans. Others often use glue to stick spotted bamboos and render the structure, but Liu had found his own way of not using glue. This technique characterizes his works. However, proper raw materials of spotted bamboo are rare finds. Sometimes, a decent spotted bamboo worth around ten thousand Yuan, and Liu's small spotted bamboo fans can even be sold at twenty thousand Yuan.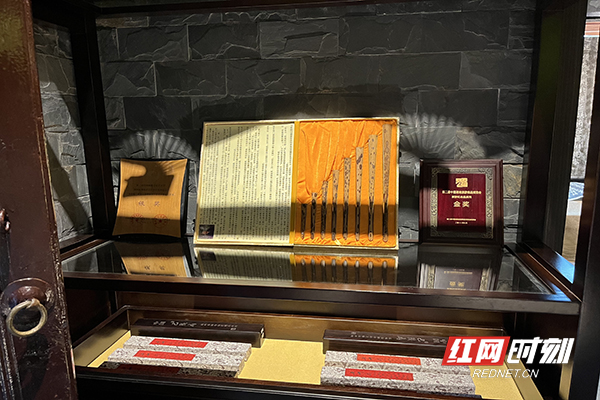 A full set of fans which are made of spotted bamboos

A heritage can be passed down to generations.

Liu Wenzheng has been a fan craftsman for fifty five years. Because his fingers had injuries, now they are even more curly. Liu knew by heart that cultivating future inheritors of this cultural form is the key. Liu Yuejun, his son and a forty five years old, had contacts with fan crafting at a very young age, but he wanted to join the military at first. Liu Wenzheng putted a lots of efforts to encourage his son to accept this craft. Gradually, his son was emotionally touched by him and accepted it as a profession. Now, Liu Yuejun is an accomplished craftsman now. His daughter majored in art. Now, she has a design company in Beijing and actively participate in the design of fan surface. His grandson who is a freshman in college often ask him about the art of fan.

During the interview, there are always two old tools set by his hands. One razor blade is still sharp. In tides and waves of the fan industry, machine-made crafts did not replace handmade ones. This fan crafting tradition persists.