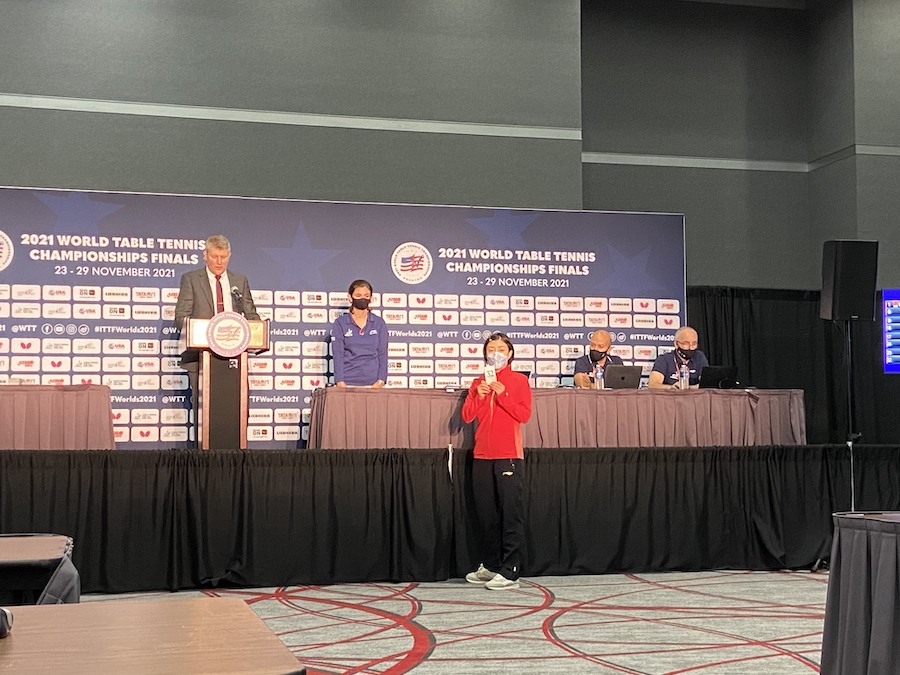 Chen Meng of China shows her number at the lot drawing session during the World Table Tennis Championships Finals in Houston, U.S., November 21, 2021.Photo by CGTN

Chinese and American players will team up for the mixed doubles event of the World Table Tennis Championships Finals that will be held from November 23 to 29 in Houston, said the International Table Tennis Federation on Monday.

China's Lin Gaoyuan and Wang Manyu will partner with American players Lily Zhang and Kanak Jha, respectively.

It will be the first time the competition is held in the United States. The championship features five events this year – men's and women's singles and doubles, and mixed doubles.

Team China will send a group of 11 elite players, including men's world number one Fan Zhendong and women's world number one and two Chen Meng and Sun Yingsha.

Male players: Fan Zhendong, Liang Jingkun, Lin Gaoyuan, Wang Chuqin and Zhou Qihao.

Female players: Chen Meng, Sun Yingsha, Chen Xiongtong, Qian Tianyi, Wang Manyu and Wang Yidi.

"It's a pleasure to be among the world's best players in Houston. All the players are very strong and I wish all of them can get the best result," said Chen after the lot drawing for the games.