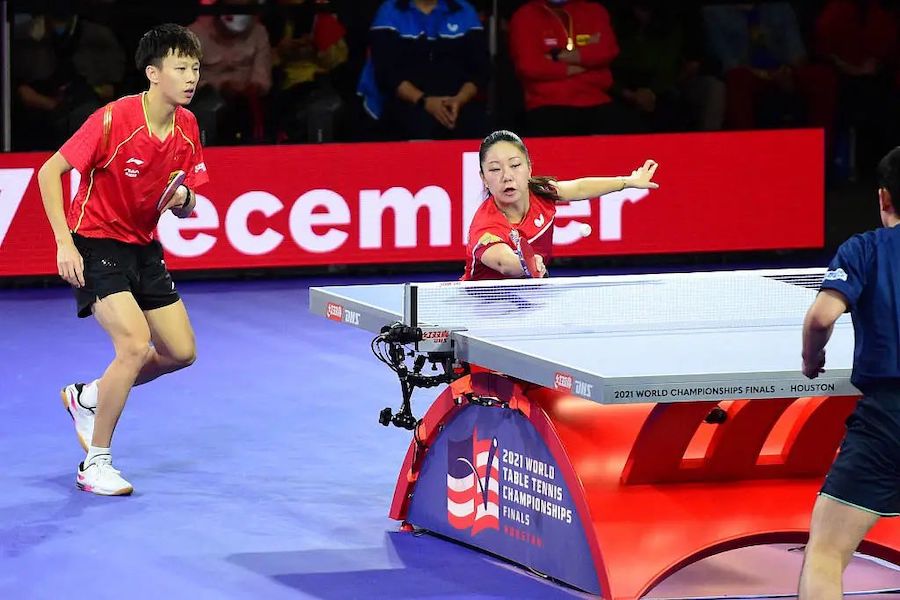 Photo by CGTN

当地时间11月28日,正在美国进行的"休斯敦世乒赛"混双比赛进行了半决赛的争夺。中美混双跨国组合林高远/张安以2比3不敌日本选手张本智和/早田希娜,收获一枚铜牌。

值得一提的是,这枚铜牌是美国乒乓球队继1959年多特蒙德世乒赛后获得的第一枚世乒赛奖牌。

50年前,中美以小小银球为媒,打开中美人民友谊的大门,开启中美关系"破冰"进程。50年后,中美选手混合组队出战世乒赛,奏响"乒乓外交"新篇章。

对此,国际乒联新任主席佩特拉·索林在接受CGTN专访时表示,中美混双组合没有经过长时间的配合,却能打出这么好的效果,让她十分惊讶,并认为他们将成为"乒乓外交"的新案例。

国际乒联集团首席执行官史蒂夫·丹顿则表示,50年前两国是通过乒乓球建立的友谊。50年后的今天,中美选手跨国配对参加休斯敦世乒赛混双比赛,两国再续友谊佳话。

China-U.S. pair Lin Gaoyuan and Lily Zhang made history after winning the mixed doubles bronze medal at the World Table Tennis Championships in Houston, U.S., on November 28th.

The Chinese-American pair lost to Japan's Tomokazu Harimoto and Hina Hayata 3-2 in the semifinal. As there was no third-place match at the tournament, Lin and Zhang were awarded bronze medals along with another pair from Chinese Taipei. Zhang has become the first American to win a World Table Tennis Championship medal in 62 years.

Petra Sörling, the new president of the International Table Tennis Federation (ITTF), told CGTN in an interview that she was surprised that the Chinese and American mixed doubles teams could achieve such good results without a long period of cooperation and that they could become a new example of "Ping Pong Diplomacy."

Steve Denton, CEO of the ITTF Group, said the friendship between the two countries was forged through table tennis 50 years ago. Today, 50 years later, the friendship between the two countries was once again recreated through table tennis when Chinese and American players paired up to compete in mixed doubles at the World Table Tennis Championships in Houston.

同一天,休斯敦世乒赛混双比赛进行了决赛的争夺,中国选手王楚钦/孙颖莎对阵日本选手张本智和/早田希娜。最终,王楚钦和孙颖莎以11比2,11比5,11比8,总比分3比0完胜对手,摘得本届世乒赛中国队的首枚金牌。

昨日(北京时间28日),2021休斯敦世乒赛女单1/4决赛全部落下帷幕,中国队大获全胜包揽前四名。

Chinese pair Wang Chuqin/Sun Yingsha defeated Tomokazu Harimoto/Hina Hayata 3-0 in the mixed doubles final at the World Table Tennis Championship in Houston on November 28th to win the first title for Team China at the tournament.

The women's singles quarterfinals of the 2021 Houston World Table Tennis Championships have come to an end, with China sweeping the top four places. In addition, Lin Gaoyuan reached the semifinals in both mixed doubles and men's doubles.