China won its first medal of the Beijing 2022 Winter Olympic Games in front of a home crowd at the newly introduced short track speed skating mixed team relay event after a dramatic evening on Saturday.

Wu Dajing, who took the last leg for Team China, edged Pietro Sighel of Italy by 0.016 seconds.

"My dream has come true," an emotional Wu Dajing told CMG at the Capital Indoor Stadium. The Chinese short track speed skating athlete had broken the men's 500 meters world record at the 2018 PyeongChang Games.

The team, consisting of Fan Kexin, Qu Chunyu, Ren Ziwei and Wu Dajing, almost did not make it to the final when they finished third in the semifinal.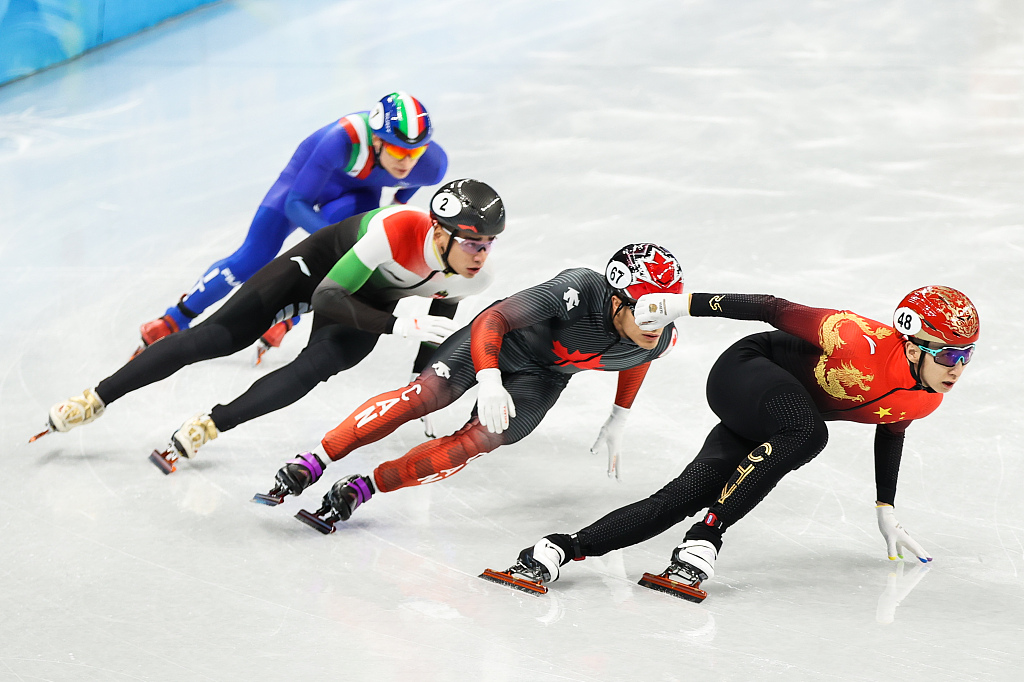 Wu Dajing of China leads during the 2,000-meter mixed team relay finals in short track speed skating at the Beijing 2022 Winter Olympics, February 5, 2022.

But the race was reviewed, with the referees conferring and reviewing the replays. After the review, the U.S. team, which had finished second, and the Russian Olympic Committee, which had come in fourth, were both disqualified for blocking and obstruction.

"We were a bit worked up after the semifinal race, but we stuck together," Wu told media at a news conference.

"It was chaos during the pursuing process. There were a lot of back-and-forth changing of positions," eight-time world champion of short track speed skating Kong Xue told CGTN.

"The athletes inside (those waiting their turn to skate) were not supposed to stand in the way of moving athletes. Team China have been affected by the blocks during the Games, so the referees penalized these countries after watching the replays for some time," she explained.

The short track events will resume on Monday with the women's 500 meters and the men's 1,000m.