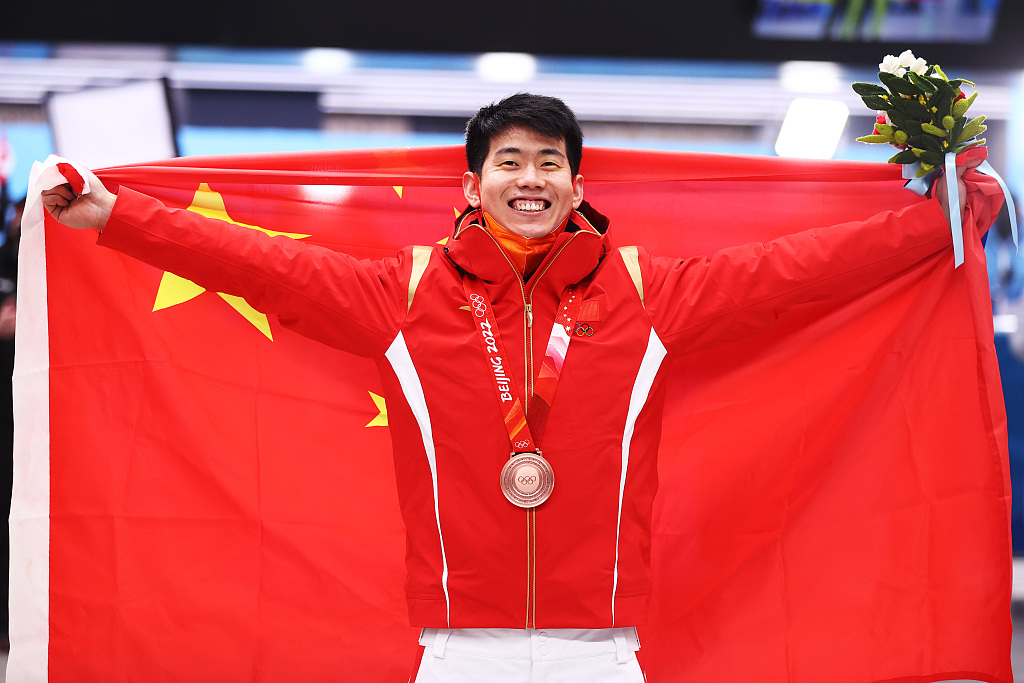 Yan Wengang celebrates with the national flag of China after winning the bronze medal in the men's skeleton event at Beijing 2022 in Yanqing, Beijing, China, February 11, 2022.

Nothing about what Yan Wengang has achieved over the past few days on the 1,615-meter track of the National Sliding Center in Yanqing is normal. Long jumpers do not sparkle at the skeleton events; callow youngsters do not upstage their better-known, seasoned rivals at high-level competitive tournaments; Chinese sliders do not storm into the final and wrap up the day by reaching the Olympic podium on their debut.

However, as Yan vividly demonstrated in his four breathtaking runs in the men's skeleton event at the Beijing Winter Games, the 24-year-old is not an ordinary athlete. In just seven years, he has gone from being a track and field athlete concentrating on refining the technical skills of the long jump to stunning the world by winning China's first-ever Olympic medal in the sliding sports.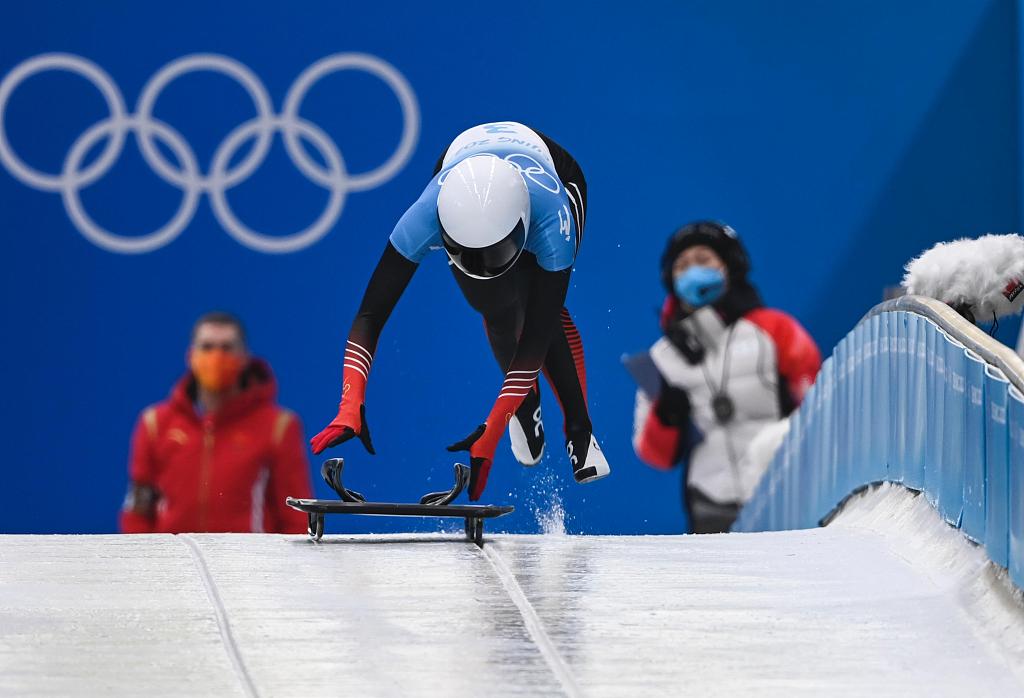 Yan Wengang of China starts his run in the men's skeleton event at Beijing 2022 in Yanqing, Beijing, China, February 11, 2022.

With maturity and poise that belied his relative inexperience, Yan beat off fierce competitions from some of the world's finest sliders and clinched a bronze medal with a sensational total time of 4:01.77 on Friday night, trailing only two German titans Christopher Grotheer (4:01.01) and Axel Jungk (4:01.67). Yan's teammate Yin Zheng also delivered an incredible performance to finish fifth, just behind Sochi 2014 skeleton champion Aleksandr Tretiakov.

"I didn't even think I was able to win a bronze medal. I didn't think I was this strong," beamed an emotional Yan after the race. "Normally, in training I don't make too many mistakes, I think I do quite well."

Yan admitted that he enjoyed a competitive advantage of being more familiar with the track and seized the opportunity to steal a march on his rivals.

"Before the competition today, I told myself not to worry about it, the athletes from other countries have never raced on the track at night before, so heat 3 is when the competition really begins. When heat 4 came around, I told myself to just go for it, and just show what I've been able to do in training," he observed.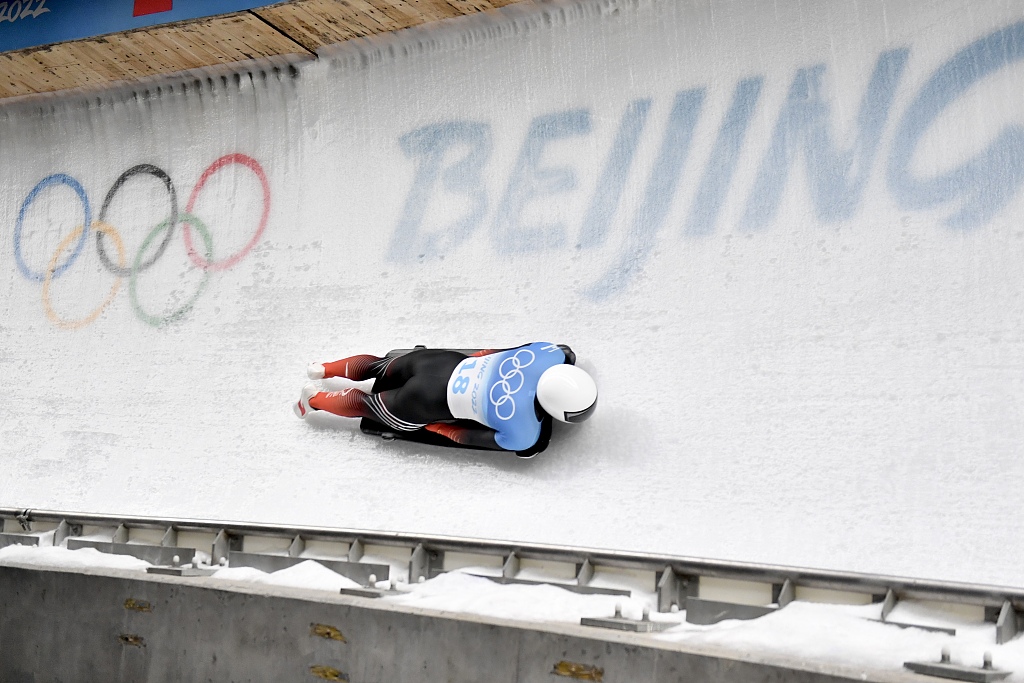 Yan Wengang during the men's skeleton event at Beijing 2022, February 11, 2022.

Born in north China's Tianjin, a municipality that neighbors Beijing, Yan has had explosive strength and raw power since he was a child. The first sport he picked up was the long jump, which has enabled him to develop exceptional body control and coordination.

"In 2015, China formed a national skeleton team, and I was recommended to join the team, thus changing my main discipline from long jump to skeleton," Yan explained. "When I first started training, I knew absolutely nothing about skeleton. I was even scared to play the sport because I've never been on a roller coaster, let alone skeleton."

"I was so scared the first time I raced that I ended up being pushed down the track by my coach," said Yan, smiling. "But as I learned more about skeleton, I gradually became less scared. And after hundreds of training sessions, I now enjoy the feeling of sliding at top speed."

Yan remembers every injury he has sustained on the ice track's most treacherous spots. "I had bruises all over my body because I was not skilled enough. But the next day, I had to continue training, and the swelling and bruises wouldn't go away all winter," said Yan.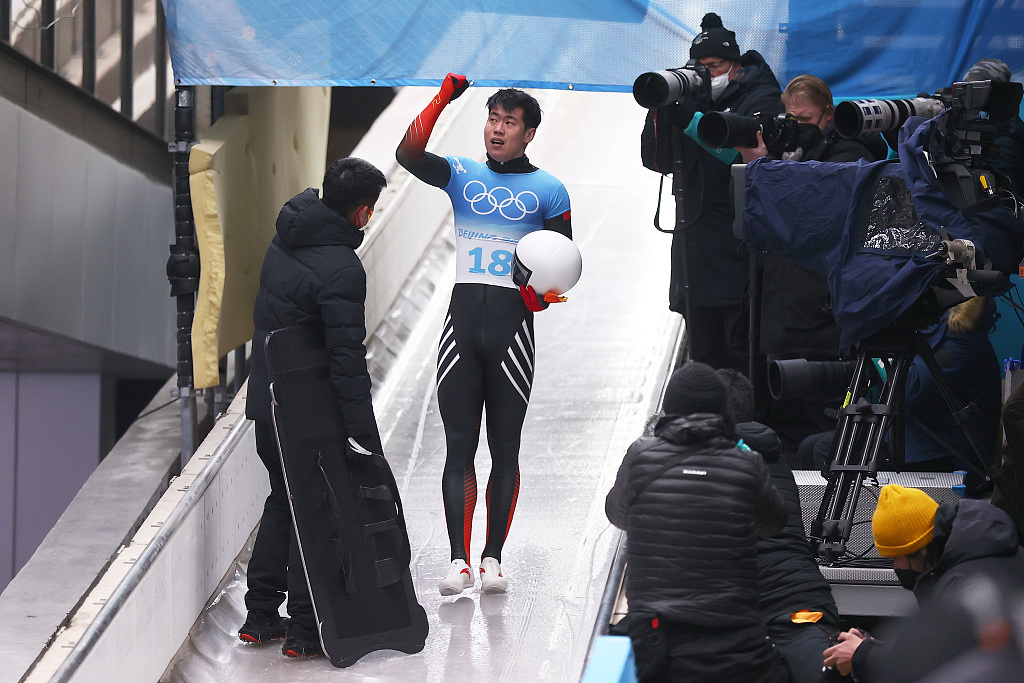 Yan finishes his four runs in the men's skeleton event at Beijing 2022, China, February 11, 2022.

Hours of training on track are clearly paying off. Despite only making his international debut in 2018, Yan continues his steady rise.

In 2018 and 2019, he had two top-10 finishes at successive Junior World Championships. In 2019, he also became the first Chinese athlete to win a race at the Europa Cup in Koenigssee, Germany. In 2020, he managed an impressive sixth place in the mixed team event at the World Championships in Altenberg, Germany.

However, no one could have predicted that within two years, he'd become an Olympic hero in his home country and steal the limelight in a sport largely dominated by European giants.

While Yan has defied his underdog status in completing the impossible, he believed that his breakthrough at the Winter Games could mark the beginning of a new era.

"This medal should make China confident about our future in skeleton," he mused. "We do have the ability to be competitive. I will continue to work hard and try to achieve more."