Special Care Baby Unit (SCBU) in China-Sierra Leone Friendship Hospital was established on 31th March 2022. This Special Care Baby Unit was assisted by Unicef, and most of the medical supplies were donated by China CDC. The project is also partly paid by China South-South Cooperation Fund. The establishment of first SCBU in China-Sierra Leone Friendship Hospital, which was donated from Chinese government, was also a result of Chinese doctors' efforts and contributions.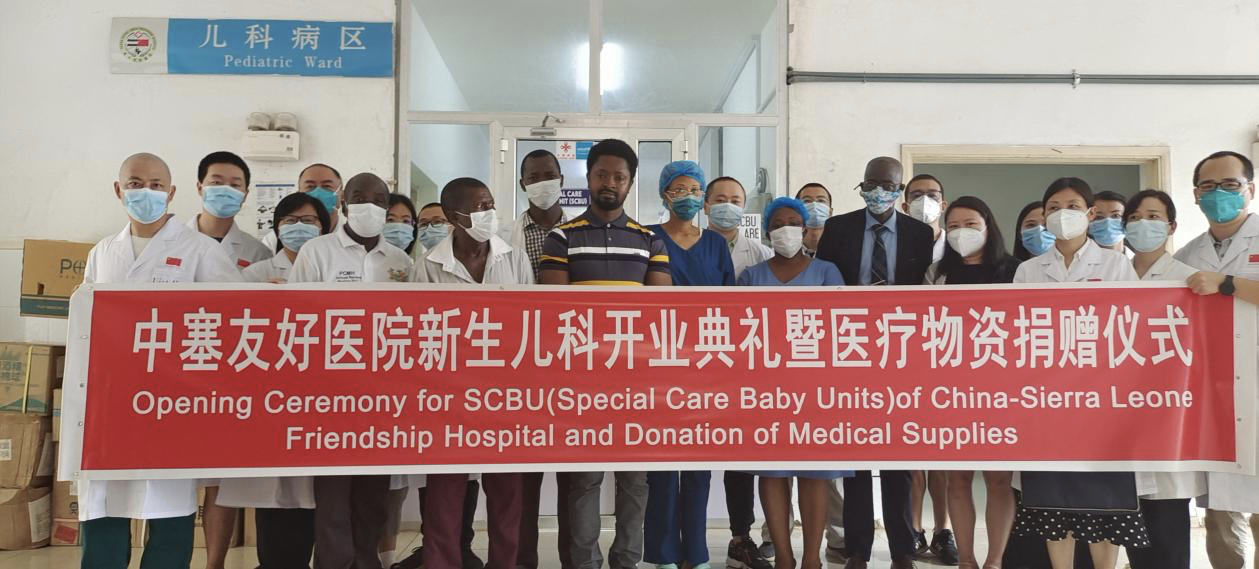 Opening Ceremony for SCBU in China-Sierra Leone Friendship Hospital, group photo for Xia Yinyin, Health commissioner from Chinese embassy in Sierra Leone, members of 23rd batch of Chinese Medical Team and local medical staff

Since 2020, Zhao Mengwen, the pediatric professor, who was from The Third Xiangya Hospital of Central South University, a member of 21st batch of Chinese Medical Team, began to prepare the establishment of SCBU and try to create something out of nothing. During the COVID-19 pandemic, he coordinated the work staff in Unicef, Chinese Medical Team and local medical staff in China-Sierra Leone Friendship Hospital, located the place of SCBU, investigated other neonatal units in Sierra Leone, and took part in the UNICEF meetings about SCBU. Professor Zhao dedicated a lot of time and efforts, created a firm foundation for this project, and even lost weight more than 20kg.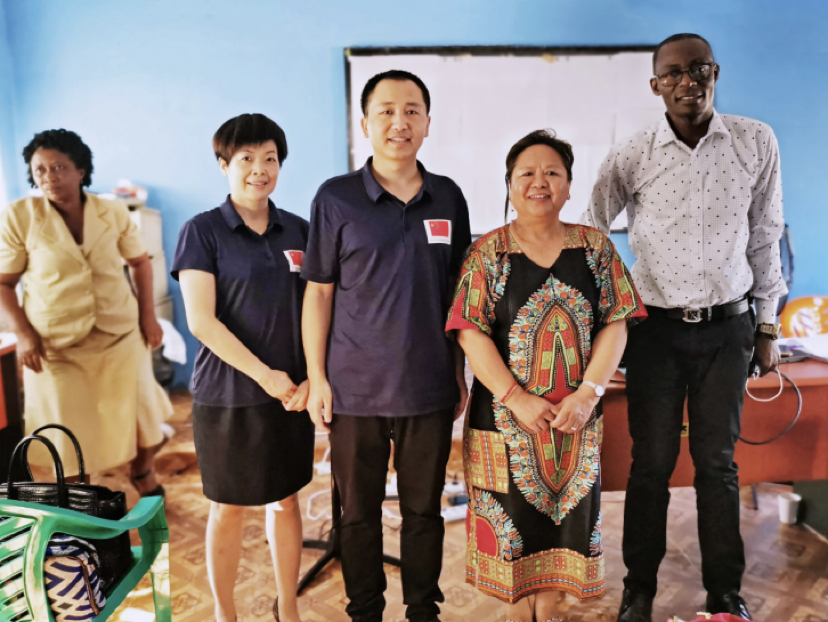 Group photo after UNICEF meeting: Prof. Zhao Mengwen (third from right), Dr. Asha from UNICEF (second from right), Dr. Kabineh (first from right)

After Professor Zhao Mengwen completed his medical task in Sierra Leone, Professor Li Jiang, who was from Maternal and Child Healthcare hospital of Changsha city, the only neonatologist in 22nd batch of Chinese Medical Team, continued previous efforts for shaping SCBU. She devoted herself to the designing of the neonatal ward and kept contact with Unicef work staff. Also she taught the local medical staff about the neonatal knowledge and trained them strictly and comprehensively. She made a great contribution for the operation of SCBU in the future.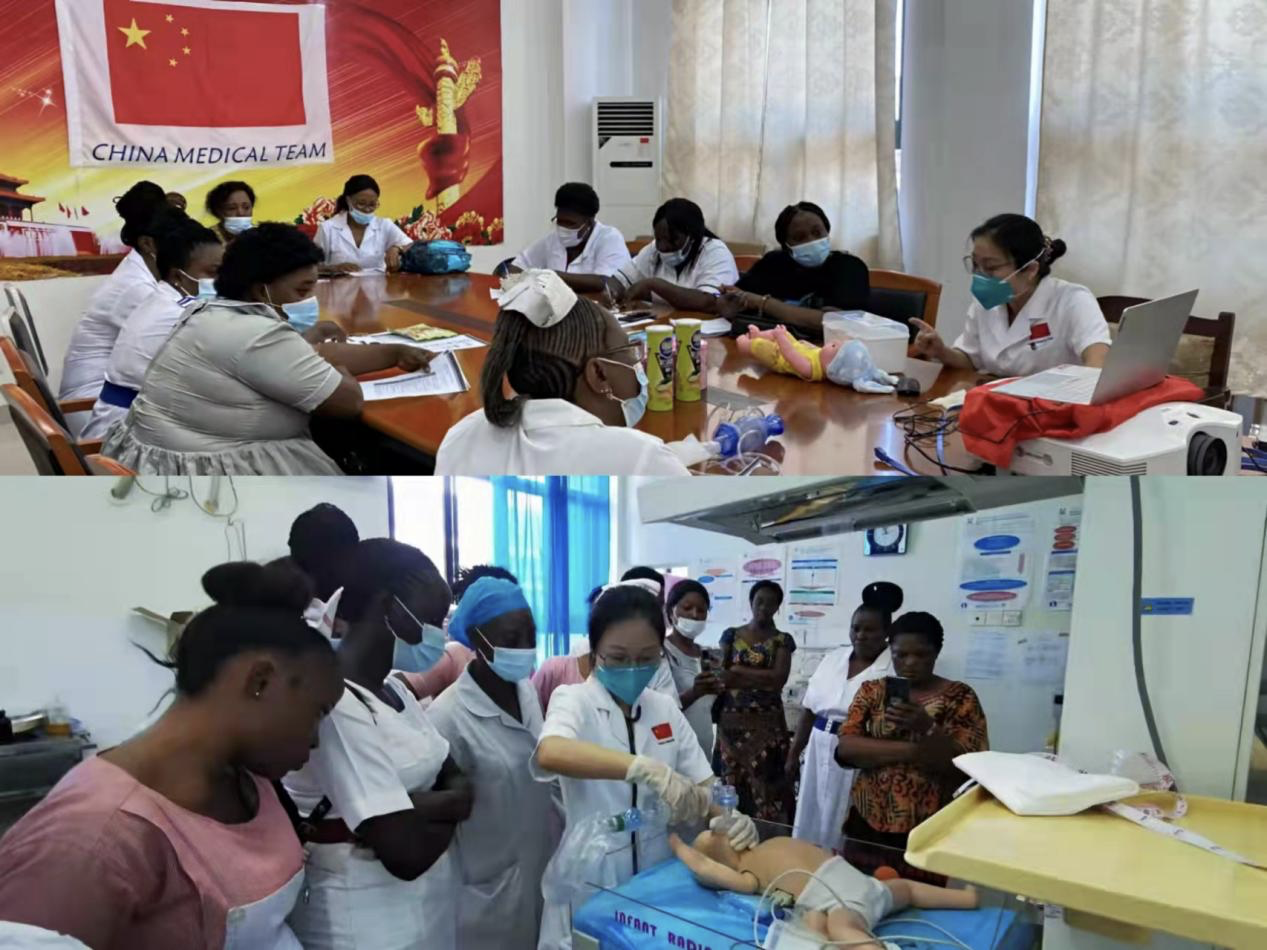 Prof. Li Jiang was teaching and training the local medical staff

After 2 years' training, the 23rd batch of Chinese Medical Team came to this beautiful land, Sierra Leone. Professor He Chao, who came from The First Affiliated Hospital of University of South China University, continued to assist the establishment of SCBU with the help from Prof. Zhouxi (team leader) and Prof. Zhouzhi(Medical leader). In order to prevent nosocomial infectious disease, Prof. He Chao set the different zones in SCBU, such as In-born zone, out-born zone, Rooming-in (Mother and newborn remain together all day). He took part in the medical equipments debugging and made the admission and discharge procedure for patients. Also he mentored local junior doctors and nurses on how to treat neonatal patients and strengthened sterilization and isolation system in the SCBU.
Prof. Zhou Xi and Prof. He Chao in the clinical teaching round

After tremendous efforts from different departments, SCBU was opened on 31th March, 2022. From that day, The SCBU in China-Sierra Leone Friendship Hospital was able to supply neonatal medical services for the local people ,which was unavailable in the vast area around the hospital before.

And there's one thing should be noted specially. Prof. Zhao Mengwen passed away accidentally on 1st April, last year. After the anniversary of his death, the establishment of SCBU would be the best gift for Prof Zhao Mengwen. We won't forget his great dedication, sustaining efforts and great performance for the friendship between Sierra Leone and China.

"Fearless of hardship, willing to dedicate, saving lives and helping the injured, great love has no boundaries." This sentence always keeps in every Chinese doctor's mind, who came to Africa for medical assistance. They will continue to make great contributions for the Africa people's health and wellbeing and promote to build a human community with a shared future.

National Health Commission of China for medical assistance had organized Chinese Medical Team to the Sierra Leone since 1973, which include physicians, surgeries, pediatricians, OBGYs, TCM, doctors, infectious physician, orthopedist, ophthalmologist, ER physician, cardiologist, radiologist, ultrasound physician, lab technician and nurses.