4月21日上午9点,长沙湘春巷里飘来扑鼻的香味,走进吧赫西点面包店,不足20平米的小店里,站满了等待购买面包的顾客。

At 9 a.m. on April 21, the air contains an appetizing smell of freshly baked bread on Xiangchun Lane in Changsha. When entering Bach's Bakery, we will find that the small shop, less than 20 square meters, is full of customers waiting to buy bread.

11年来,这里因为招收听障学徒,给他们提供培训和就业机会,被网友亲切地称为"无声面包店"。

For the past 11 years, it has been given an affectionately name, "Silent Bakery", in the Internet for recruiting hearing-impaired people and providing them with training and employment opportunities.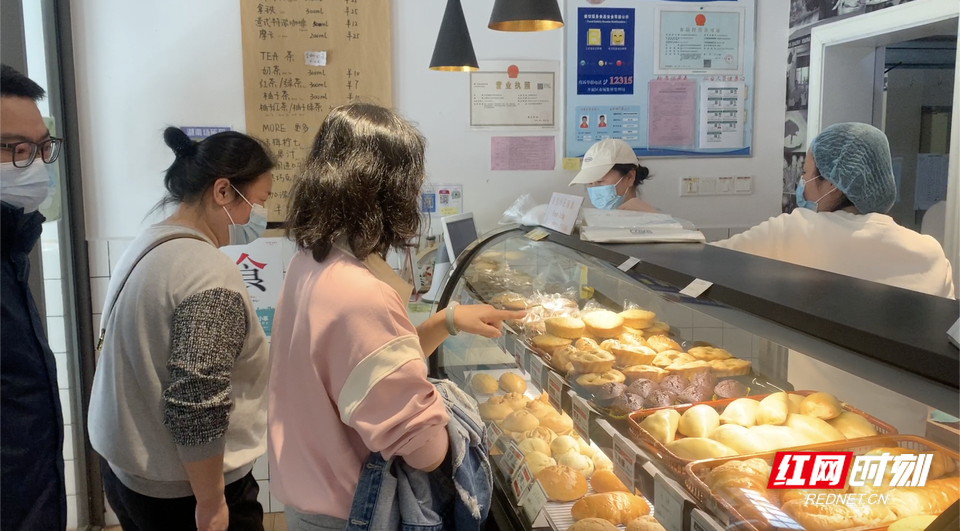 上午9点起,到店买面包的客人就络绎不绝。

From 9 a.m., a steady stream of customers come to buy bread.

2011年,来自德国的吴正荣开始在长沙经营一家面包店。因为"吧赫"是德语面包"Bache"的音译,又与自己喜欢的作曲家巴赫同名,由此取名为"吧赫西点"。

Wu Zhengrong, who is from Germany, opened a bakery at Changsha in 2011.吧赫(Bach) is a transliteration of German word "bache"(bread) and the same name as his favorite composer, Johann Sebastian Bach. That's how the bakery got its name.

为听障人士提供就业、培训机会,用最好的食材满足顾客的味蕾……这里的每一块面包都传递着满满的爱心,温暖着每一位进店的客人。

Bach's Bakery not only provides employment and training opportunities for the hearing-impaired, but also uses the best ingredients to meet customers' needs...Every piece of bread here is made with love, which truly warms every customer here.

这些年来,"吧赫西点"面包店就像黑暗中的一盏明灯,照亮了许多听障人士的从业路。如今,因为思乡心切,吴正荣夫妇选择今年回国,和家人团聚,在家乡继续从事残障人士就业培训工作。而他们付出11年心血经营的这家小店,如今也在委托给ICC(国际关心中国慈善协会)后,通过协会的帮助,找到了新任店长何墨凯,一个跨越国界的爱心接力故事,正在长沙这座城市里温暖上演。

Over these years, Bach's Bakery has become a lighthouse in the darkness that has brought hope for the hearing-impaired's future.Now, because of homesickness, Wu and his wife chose to return to Germany this year to reunite with their families and continue to help people with disabilities to find jobs in their hometown.And the bakery, which they had invested painstaking efforts to run in the past 11 years, was entrusted to ICC (International Concern China Charity Association). With the help of the Association, they found the new manager He Mokai. A moving story across national borders has been brought to the stage in Changsha.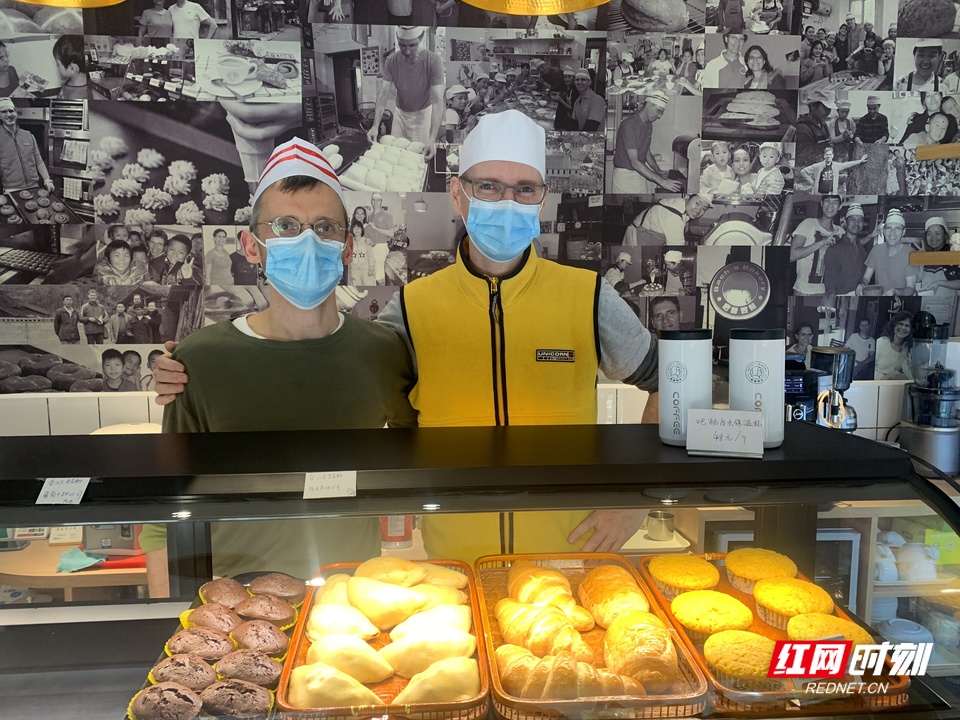 吧赫西点老板吴正荣(右)和新任店长何墨凯(左)。

Wu Zhengrong, the manager of Bach's Bakery (right), and He Mokai, the new manager (left).


"我希望这家面包店继续做下去"

"I hope this bakery can keep operating. "

5月26日,是吴正荣确定的返程时间。自2002年,在德国家乡一家制药厂工作的吴正荣和教师妻子杜雪慧辞掉工作来到长沙,算起来已经有20年了。

May 26, it's the time that Wu Zhengrong plans to leave.It has been 20 years since Wu Zhengrong, a former pharmaceutical factory employee, and his wife, Du Xuehui, a former teacher, both quitted their jobs in their German hometown and moved to Changsha in 2002.

从起初帮助听障儿童做康复训练的志愿者,到"无声面包店"的店长,这对德国夫妇用实际行动温暖了这座城市。

From volunteers who helped hearing-impaired children with their rehabilitation training to managers of the "Silent bakery", the German couple warms the whole city with their actions.

"我们出来太久了,想家了。"吴正荣笑着说,"再过一个月,我们就要离开这座城市了,还是有许多不舍。我们舍不得这里与我们朝夕相处的面包店员工,我太太也舍不得她教的那些学生,但人生聚散终有时,我们会把在这里的所有记忆珍藏在心中。现在这家店交给下一任店长经营,他也是一位德国人,我们很放心。"

"We've been away from hometown for so long that we feel homesick now. " Wu said with a smile, "In another mouth, we are going to leave this city. We have too many memories here that make the departure very hard for us.We will miss all the staff who we spent everyday life with, and my wife will miss the students she taught. But life is made up of gathering and leaving. We will cherish the memories from here forever in our hearts. Now the bakery have its new manager, who is also a German. We feel assured. "

吴正荣坦言,"现在我们已经在和何店长办交接工作了。从如何烤产品开始,告诉他怎样买材料、订材料,安排员工的时间等,他也有认真做笔记,逐步记录下来。"

Wu Zhengrong said frankly, "Now we have been already handing over the work to manager He. Starting from how to bake the products, we will tell him how to order raw materials and arrange the timetable of employees. He takes notes of them carefully and keep records of all the proper steps. "

这11年中,吴正荣夫妇培训了25位听障师傅们,有不少师傅从这里学成离开,向着人生的梦想出发,继续从事面包师职业。"有了技术,他们的工作就会稳定一些。"说起对面包店未来的期待,吴正荣笑着说,"我没有什么太多的要求,只希望这家面包店还能继续做下去,在培训听障人士的同时,让他们在这里安心的工作。"

In the past 11 years, Wu and his wife have trained 25 hearing-impaired workers, many of them have left to pursue their own careers, or continue to work as bakers."With these skills, their jobs will be secured. "Speaking of his expectations for the bakery's future, Wu laughed, "I don't have too many requirements. I just hope the bakery can continue to operate. As it gives proper trainings to the hearing-impaired, let them work here at ease. "


"我在店里感受到了前所未有的平静"

"I felt an unprecedented peace in the bakery "

身着一件墨绿色的T恤,戴着金边眼镜,笑容可亲,是记者见到何墨凯的第一印象。当记者称呼他为何店长时,何墨凯不好意思地回复说,"现在叫我店长不合适,其实现在我是店里所有学徒中,经验最浅的学徒。"

Wearing a dark green T-shirt and a pair of spectacle with metal frame, and a smiling face, these are reporters' first impressions of He Mokai when they first meet with him.When the reporter called him manager He, He Mokai replied bashfully, "It is not appropriate to call me the manager now. In fact, I am the most inexperienced apprentice in the bakery. "

何墨凯每天与吴正荣和其他师傅们一起工作。

He Mokai works with Wu and other bakers everyday.

何墨凯夫妇2019年9月来到中国,原本在宁夏回族自治区银川市当小学老师,他的妻子哈娜是天津人。当时回国后,他们第一选择是妻子的家乡天津。因为何墨凯是博士学位,学的是汉学专业,投递简历后,几所天津的大学都给何墨凯发送了录用信。但是他们没有选择留在天津,而是选择去大西北,去银川当小学老师,因为他们知道,那里更需要老师。

He and his wife came to China in September 2019. They had been working as primary school teachers in Yinchuan, Ningxia Hui Autonomous Region. His wife, Hana, is from Tianjin.After returned to China, firstly they wanted to stay in Tianjin, his wife's hometown. With his doctorate degree in Sinology, he received offers from several universities in Tianjin after submitted his resume.But instead of staying in Tianjin, they chose to go to the northwest and became primary school teachers in Yinchuan, where they knew teachers were more needed.

在宁夏工作两年后,去年9月,那所学校因为经营原因停止办学,何墨凯夫妇便开始在全国重新寻找工作。

After worked in Ningxia for two years, the school closed at last September for operational difficulty. Later, Mr. And Mrs. He began looking for jobs across the country.

"我很喜欢当老师,但是我也觉得在自己有力气的时候,要去尝试一些不同的领域,去做一些有意义的事情。"去年一次偶然的机会,何墨凯夫妇在网上看到,长沙的这家"无声面包店"正在寻找接手人。何墨凯回忆,"从小我就很喜欢做手工工作,看到这家面包店又是给听障人士提供培训和就业机会的特殊面包店,当下我就开始心动了,于是立即给吴正荣店长发送了邮件。"

"I love being a teacher, but I also feel like I need to try different areas and do something meaningful when I am still young."Last year, by chance, he and his wife saw the post on the Internet that the silent bakery in Changsha was looking for a successor.He Mokai recalled, "I have been interested in manual work since I was a child. Seeing this shop was a special bakery that provided training and employment opportunities for the hearing-impaired, I was immediately inspired, so I sent an email to manager Wu. "

在邮件中,何墨凯了解了面包店的详细情况,也得知了吴正荣店长即将回国的消息。"和吴店长沟通后,我觉得这是一件值得做的事情,于是,我们就决定来长沙了。"

In the email, He Mokai comprehended details of the bakery, but also learned that manager Wu is about to return to Germany."After talking to Wu, I thought it's a very worthwhile thing, so we decided to come to Changsha. "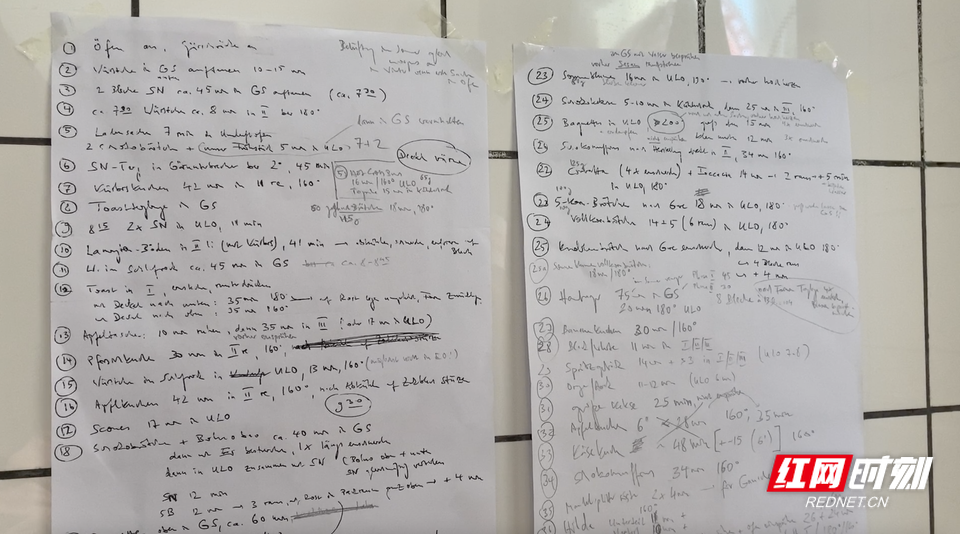 何墨凯将吴正荣告诉他的点点滴滴都记录下来,这成为他日后继续经营小店的"秘籍"。

He Mokai recorded all the keypoints Wu Zhengrong told him, which will become his "secrets" to run the bakery in the future.

2021年12月,何墨凯第一次来到了面包店,实地了解店里的情况。"当时,我一推开门,就被这里温馨的气氛所吸引了,听障面包师傅们揉着面团,空气中混合着曼越莓与香草的香味,在这里,我感受到了前所未有的平静。"

In December 2021, He Mokai visited the bakery for the first time to learn more actual aspects of the bakery."As soon as I opened the door, I was attracted by the warm atmosphere here. The hearing-impaired bakers knead the doughs, and the air smelled like cranberry and vanilla. I felt an unprecedented peace in the bakery."


"我们希望听障人士能在这里发挥出自己的潜力。"

"We want the hearing-impaired to actualize their potential here. "

如今,何墨凯夫妇带着自己的两个孩子,将小家迁来了长沙,从教师到面包师,职业的转换,让何墨凯倍感压力。他笑着说,"这是一个全新的领域,我们现在是'门外汉',要学习的地方还很多。"

Currently, He Mokai and his wife have moved to Changsha with their two children. The career change from a teacher to a baker has given He Mokai pressure."This is a brand new field," Helaughed, "We are not professional now, and we still have a lot to learn."

"今天早上我大概数了一下,每天光做面包,我们要做8—10个不同的面团,每个面团后来变成不同的面包,每个面包它有自己发酵时间,有自己的烘烤时间和温度,用什么顺序做不同的产品,怎样进行原料采购,怎样对员工进行管理,用手语和他们进行沟通,处理好每一个订单,这些都需要学习,对我们来说是一个不小的挑战。"

"I counted roughly this morning. Every day just for making bread, we have to make 8 to 10 different doughs. Each dough will become different breads. Each bread has its own fermentation time, baking time and temperature. Also we have to consider theprocess for making different products, how to purchase raw materials, and how to manage employees. Communicating with them in sign language and dealing with each order are important as well. All these need to be learned, which is not a small challenge for us. "

说起对于长沙这座城市的印象,何墨凯坦言,"长沙是座很活泼的城市,感觉很有力量,也十分多元化,蕴含着很多创造力,我很喜欢这里。"

Speaking of his impression of Changsha, He Mokai said frankly, "Changsha is a lively city, which makes people feels very energetic, and it is a city with diversity which contains a lot of creativity. I like it very much. "

"现在我们想先试着用吴店长的模式继续经营,先保障稳定运行。"何墨凯说,"因为经营者不一样,面包店也会有些许变化,下一步,我们准备尝试做一些新的产品,但在大的方向上不会改变:这家店存在的主要目的,就是给听障人士提供就业和培训的机会,让他们能在这里发挥出自己的潜力。"

"Now we want to continue manager Wu's operational model and ensure the stable operation at first."He said, "Because of the change of managers, the bakery also will have some changes. In the next step, we will attempt to bring some new products, but the general direction will not change: the main purpose of this bakery is to provide employment and training opportunities for the hearing-impaired people, so that they can actualize their potential here. "

采访现场,何墨凯仔细翻看着吴老板传授给他的"秘籍",他笑着说,"目前,我们没有开一个很大连锁店的想法,就想把现在的小店经营好,让听障师傅们在这里安心工作,用心做好每一个面包,以此来回馈这座城市里,每一个支持与信任我们的人。"

During the interview, He Mokai carefully looked through the "secrets" that manager Wu told him. He smiled and said, "At present, we don't have the idea of opening a large chain store. We just want to run this small bakery well, so that the hearing-impaired bakers can work here at ease and make every piece of bread wholeheartedly. Thus, we could give back to everyone in this city who supports and trusts us. "