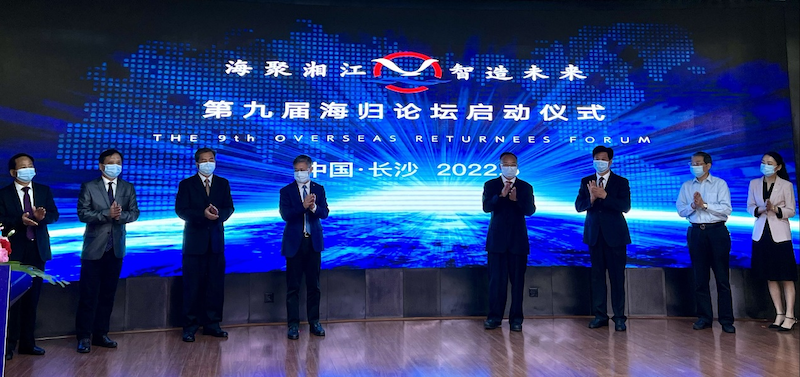 On May 7, the opening ceremony of the 9th Overseas Returnees Forum was held in Changsha. Photo by Tang Yaxin

The launching ceremony of the 9th Overseas Returnees Forum was held in Changsha on the morning of May 7, 2022. Hu Xusheng, vice chairman of the CPPCC Hunan Provincial Committee and chairman of the Hunan Provincial Committee of China Zhi Gong Party (CZGP), attended.

The forum aims to keep introducing talents for the development of Hunan Province, and actively serve overseas returnees to innovate and start businesses here. It has become an important platform for Hunan to attract and gather outstanding overseas talents. The 9th Overseas Returnees Forum will be held in Changsha between September 15 and 17 this year, with the theme of "talents gathering in Hunan to create the future with intelligence". During the forum, there will also be activities such as the Overseas Returnees Talk, the Youth Overseas Talents Dialogue on Development, the Overseas Returnees Fair, the Final of the Overseas Returnees Innovation and Entrepreneurship Competition, and  special promotion conferences.

It was learned that this year's forum will continue to build consensus with an inclusive and open attitude, and guide overseas talents to give full play to their own advantages to find employment and start businesses in Hunan. It was expected that with the help of this platform, more excellent overseas projects and talents will be introduced into Hunan, to accelerate the transformation of scientific and technological achievements, to serve the Strategy of "Strengthening the Provincial Capital", and to contribute to the high-quality development of Hunan.

Representatives of returned overseas enterprises and talents made speeches about their experience at the ceremony. The relevant person in charge of the Changsha High-tech Industrial Development Zone specified and recommended a talents introduction program.