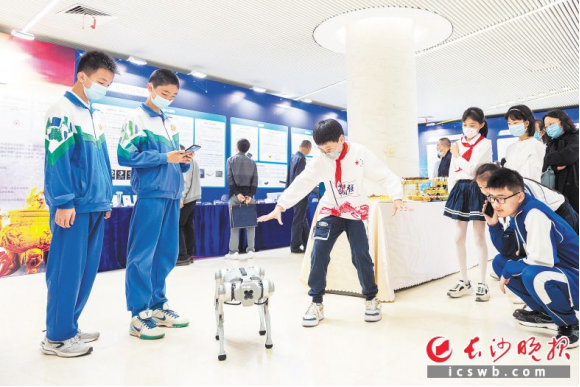 The 2022 Changsha Science and Technology Week was launched at the China Electronics Corporation (CEC) Software Park in Changsha on May 22. In the following week, 28 municipal-level themed activities will be hosted. Districts, counties (including county-level cities) and national science parks in the city will organize 90 science popularization activities simultaneously. Liu Jingnan and Chai Liyuan, both academicians of the Chinese Academy of Engineering, attended the launch ceremony.

During the week-long event, following the principles of "government making planning, public participating, highlighting characteristics, and focusing on innovation", a series of activities in various forms closely related to Changsha's economic and social development will be arranged. The activities include the Beidou navigation technology innovation and integration publicity activity, the National New-generation Independent Secure Computing Industry Cluster Innovation Achievements Exhibition, and the 2022 Changsha University-Changsha High-tech Zone Sci-tech Achievements Transformation and Matchmaking Activity.

A number of science education venues will be open to the public free of charge, including the Planetarium of Hunan Normal University, the Exhibition Hall for Science, Technology and Culture Integration of Malanshan Chuangzhi Park, and the Science Education Base for Clean Incineration and Power Generation of Household Waste.

Youth sci-tech innovation activities and science popularization activities in the fields of hygiene, culture, food safety and environmental protection will be held.

During the launch ceremony, Academician Chai Liyuan awarded medals and certificates to 10 outstanding young sci-tech innovation talents of Changsha City in 2020-2021. Plaques were conferred to 15 municipal professional science education venues or bases including the Science Education Base for Youth Quality Education and the Liuyang Art and Technology Museum. A signing ceremony of "Beidou Navigation Industry Integration Ecosystem" of Changsha City was also held on site. Six strategic alliances including the Changsha Beidou Navigation Industry Technology Innovation Strategic Alliance will join hands to promote the in-depth integrated development of Changsha's Beidou navigation industry.

The event is sponsored by the Changsha Municipal People's Government, undertaken by the Changsha Science and Technology Bureau and the Changsha High-tech Zone Management Committee, and co-organized by the Changsha CEC Software Park Co., Ltd. and the Changsha Beidou Navigation Industry Technology Innovation Strategic Alliance. With the theme of "walking together into science and technology", it aims to extensively publicize sci-tech laws and regulations and Changsha's major sci-tech innovation achievements, and promote sci-tech innovation achievements and science popularization activities to benefit the people.