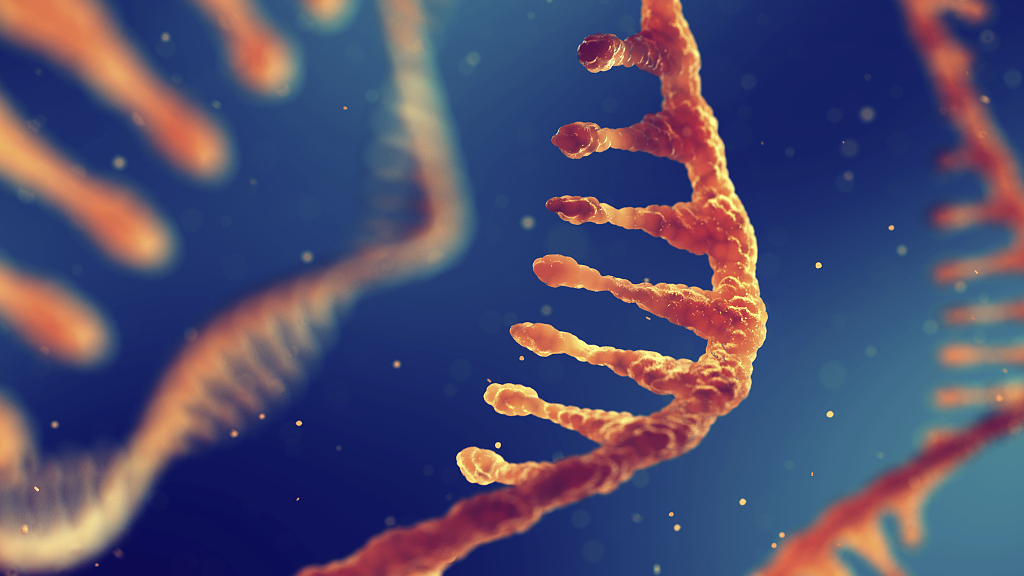 A medical illustration of RNA strand. Photo by CFP

Since the beginning of the pandemic, China has been developing COVID-19 vaccines from five different approaches. It has so far approved seven COVID-19 vaccines based on inactivated virus, viral vector and recombinant protein. Three of them have been approved for emergency use by the World Health Organization (WHO), with CanSino's Convideciavalidated on May 19.

Chinese vaccine developers are still exerting efforts to make their own messenger ribonucleic acid (mRNA) vaccine, the type that's more widely embraced by other countries around the world,with at least 10 candidates in the pipeline.

CanSino and CSPC Pharmaceutical recently rolled out Phase-I and -IIclinical trialsfor their mRNA COVID-19 vaccines after obtaining approvals from the National Medical Products Administration of China (NMPA) in April.

Why does China want to develop its own mRNA vaccine?

mRNA was discovered in the early 1960s and research into how it could be delivered into cells began in the 1970s. It wasn't until 1990 that mRNA flu vaccines were tested in animals, and only during the past decade did investment start to favor mRNA as a tool in the fields of vaccine development and protein replacement therapy.

However, China did not start to explore this technology until the late 2010s, and most pharmaceutical companies started from making therapeutical products, such as those for immuno-oncology, according to Wang Haomeng, the deputy general manager of CanSino (Shanghai) Biological Research Co., Ltd.

"Most mRNA technology is protected by patents owned by western enterprises as they were the first to research on it," Wang told CGTN. "Therefore the challenges for Chinese pharmaceutical enterprises are to break through these global patent barriers, build independent intellectual property rights, and become innovative enterprises in this field."

Wang said that for most innovative enterprises that are investing in mRNA technology, the vision is to use it well to help more countries in need, whether research is carried out in China or internationally.

Unlike other types of vaccines that use weakened or inactivated components of the virus to activate the body's immune response, mRNA vaccines do not carry any piece of the virus. Rather, the RNA transcript is wrapped in packages that can be delivered into our body to teach our cells how to produce antibodies specific to the virus, like a messenger.

"The coronavirus outbreak actually pushed forward the technological development of mRNA in China," Wang said, adding that the country also boosted the industry with targeted policies and updated procedure guidance from the NMPA.

The development of the mRNA vaccine platform is also important for the rapid design of antigens and potentially fast, inexpensive and scalable manufacturing, as it simply requires changes on untranslated regions'(UTRs) sequence to elicit different expressions of protein for specific purposes.

"We only need to edit on the UTRs to complete the procedure from design to verification. It's very much like a streamlined production," said Wang.

How are China's mRNA COVID-19 candidates performing?

At least 10 mRNA COVID-19 vaccines are being developed in China, and all of them are still at clinical trial stages given the difficulties such as recruiting acceptable volunteers.

The first to enter Phase-III clinical trials is the two-dose ARCoV from the Academy of Military Medical Sciences, Suzhou Abogen Biosciences and Walvax Biotechnology. It was approved for clinical trial in June 2020, and preliminary trial data shows it to be safe, well-tolerated and effective, according to a study published on the Lancet Microbe journal in January.

Shanghai based Stemirna Therapeutics, the first biotechnology company to bring mRNA therapeutics and nanoparticle formulation platforms to China, has a candidate that has been designed to target the Delta variant of the coronavirus. It is in a mid-stage clinical trial in Laos and the company is applying for trials of an updated version that it said showed early promise against variants such as Omicron.

AIM Vaccine Corporation, after acquiring Liverna in 2021, also has a candidate that was approved for clinical trials in March 2021. The company shared its early-stage trial data analysis of its candidate LVRNA009 in January and said that it appears safe and able to trigger an immune response.

China also has the world's first lyophilized mRNA vaccine, which was developed by Rhegen Bio. Three lyophilized vaccines targeting wild-type, Delta and Omicron SARS-CoV-2 variants were found to successfully induce high-level neutralization response, according to a pre-clinical study published on the preprint server bioRxiv.

The lyophilized mRNA-LNP nanoparticle vaccine is delivered by an LNP delivery system that can remain stable between 4to 25 degree Celsius with the company's self-developed lyophilization technology. The vaccine can be stored and transported in conventional cold chain conditions, greatly improving accessibility.

China's mRNA vaccines, including those from ARCoV and CanSino, are designed to remain stable between 2 to 8 degrees Celsius for at least six months. The western vaccines of similar kind, including those from Pfizer-BioNTech and Moderna, can be stored at the same temperature but for only a month.

"It is particularly important to develop an mRNA vaccine that can be transported in conventional cold chain and be stored at 2 to 8 degrees Celsius, or at room temperature stably for broad application," CanSino said.

Other candidates such as those from RiboBio, Sinopharm and RNACure, which partnered with Walvax, are at early stage or applying for clinical trials in China.

How soon can we expect mRNA COVID-19 vaccine in China?

A clinical trial involves implementation, sample evaluation and a result report that normally takes 12 to 14 months plus one year of follow-up interviews, and that's after candidate recruitment.

"Our biggest challenge right now is to recruit 'blank samples,'" Wang said, meaning those who have not been inoculated with any COVID-19 vaccine. It is difficult in China as nearly 90 percent of the country's total population has been fully inoculated as of May 6, according to data released by the National Health Commission.

Like CanSino, many of the aforementioned companies have readied their mRNA vaccine production lines, but it is hard to provide an exact timeline given the uncertainties during clinical trials.

China is yet to approve any foreign-made mRNA vaccines, such as those from Moderna and Pfizer-BioNTech.