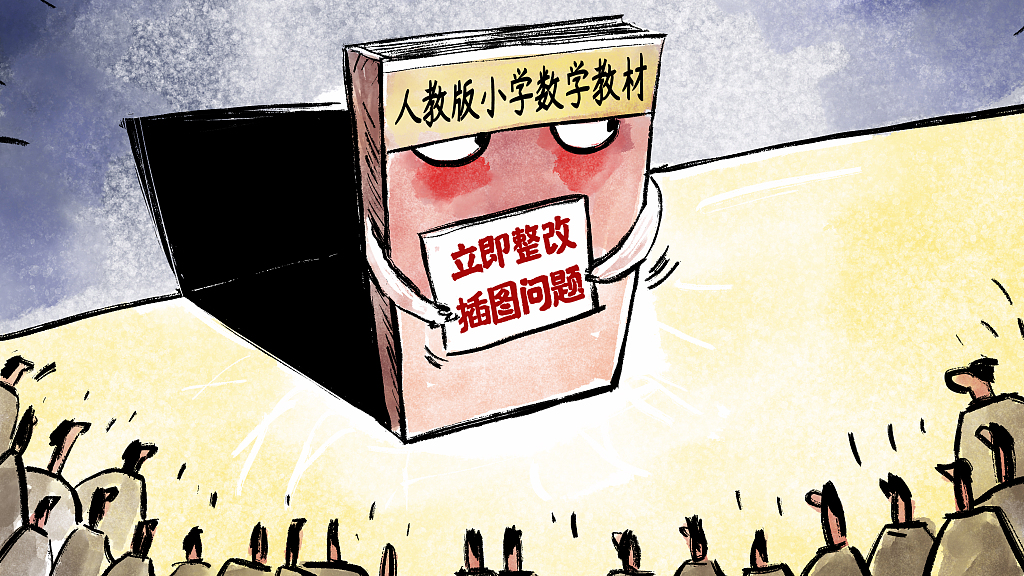 China's Ministry of Education orders review of textbooks for universities, middle and primary schools across the country. Photo by CFP

China's Ministry of Education has set up an investigation team to probe into the recently reported problems with illustrations in primary school mathematics textbooks.

Those questioning textbooks went viral in the past few days due to inappropriate illustrations showing children in odd poses, including crooked mouths, tongues sticking out, and squinting eyes. Some wore clothes that imitated the American flag.

Netizens pointing out that some illustrations therein are not only different from conventional aesthetics, but also contained sexual connotations.

People's Education Press – the publisher of the books in question – apologized and announced a recall of all the textbooks involved, but this does not end the anger.

Many people suspect that the textbooks have not been properly reviewed.

Some netizens suspected that there was a transfer of interests between the publisher and the illustrator Wu Yong, and asked the authorities to thoroughly investigate their relationship.

The Ministry of Education responded on it's official website on Monday, saying that those responsible for violations of discipline and regulations will be held accountable, seriouslydealt with in accordance with laws and regulations, and will not be tolerated.

The results of the investigation will be announced to the public in a timely manner.

At the same time, the ministry is checking textbooks for universities, middle and primary schools across the country to rectify any problems found and severely deal with those responsible for violations.

The ministry said on May 28 that it had instructed the publisher to immediately rectifythe issues, arrange experts to make textbook illustrations, and ensure that new textbooks are used in the fall semester this year.