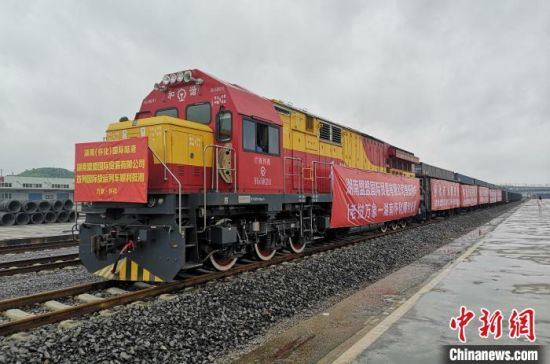 A train of China-Laos Railway carrying 395 tons of cassava flour arrived in Huaihua, Hunan. Photo by File photo

The Changsha Open Economy Symposium and Major Projects Signing Ceremony were held in Changsha, Hunan on June 20th. The China-Laos Railway "One Railway and Two Parks" International Economic and Trade Cooperation Platform project was signed at the site, which will serve as a trade bridge for Lao agricultural products to enter the Chinese market.

The cooperation platform is Changsha's representative project to dovetail with the Regional Comprehensive Economic Partnership (RCEP) agreement, and a landmark project to promote the cooperation between Hunan Province and the Lao Ministry of Agriculture and Forestry. The project will rely on the China-Laos Economic Corridor and the opening of China-Laos Railway, with the modern agricultural industrial park in Vientiane, Laos as the base. It will closely cooperate with Changsha Jinxia Economic Development Zone to build an international economic and trade platform connecting China with Laos, even with other ASEAN countries.

The project is mainly managed by Hunan Xuanye Ecological Agriculture Development Co., Ltd., Hunan Grain Group Co., Ltd., and Hunan Jinxia Development Group Co., Ltd. Taking the China-Laos Railway as the industrial chain, the project will help explore Lao agricultural product market and agricultural resources, and develop a China-Laos economic and trade route that will promote Lao agricultural products to come to China and Chinese industrial products to enter Laos.

According to the agreement, in 2022, main agricultural products imported through this platform are rice, bananas, and corn. It is planned to launch a "China-Laos train + trade" model. From 2022 to 2025, the annual import of agricultural products is expected to increase from about 100,000 tons to 1 million tons, with a cumulative import volume of about 2 billion USD.