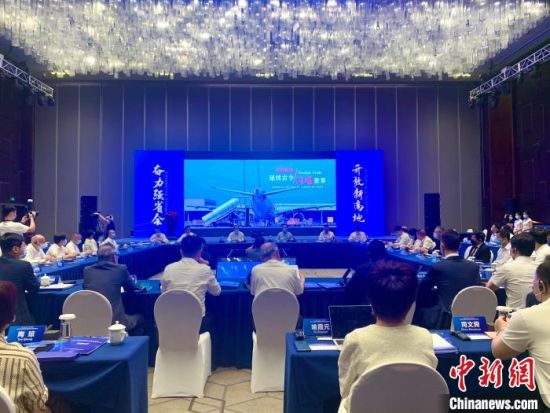 The Changsha Open Economy Symposium and Signing Ceremony for Major Projects opened in Changsha, Hunan on June 20th. Photo by Lu Yi

The Changsha Open Economy Symposium and Signing Ceremony for Major Projects were held in Changsha on June 20, 2022. Officials of the Changsha Municipal People's Government and related departments, and representatives from the foreign trade enterprises, foreign institutions, and foreign-funded companies in Changsha, participated and discussed Changsha's open economy development.

Changsha's "speed" and "warmth" are highly praised by the attendees.

"It took only one year and two months from the launching of construction to the start of operation of the first phase in our factory. It is a record of Sumitomo Rubber in building factories in China,"said Mr. Kiyoshi Funahara, general manager of the Sumitomo Rubber (Hunan) Co., Ltd. "Changsha speed is beyond our expectation,"he added that, "We made the right choice to start up business in Changsha."

Renewable energy giant BASF SE was attracted by Changsha's favorable business environment and its superiorities in lithium battery anode material supply chain in China and even the world. In 2021, it established a joint venture – BASF Shanshan Battery Materials Co., Ltd. in Changsha, and set up its Asian R&D headquarter for lithium battery material and China administrative headquarter for anode material in this city. "BASF entered China market in 1885, and has been maintaining a loyal partnership with China. We hope to grasp the crucial opportunity of Changsha's development of open economy," said Mr. Marc Poetzsch, deputy general manager of the BASF Shanshan Battery Materials Co., Ltd. At present, BASF Shanshan is preparing for constructing an intelligent factory for ternary (NCM & NCA) cathode material production in the Changsha Hi-tech Development Zone.

"Changsha's business environment and talent policy is attractive for international capital and personnel. Its measures to tide over difficulties of enterprises, and visits to the foreign institutions in Changsha enabled us to feel 'warmth' of this city," said Mr. Si Byung Yun, chief representative of the Gumi (ROK) Representative Office in China.

We always concern about enterprises'concerns, and strive to solve their difficulties, said Zheng Jianxin, deputy secretary of the CPC Changsha Municipal Committee and also Changsha mayor. In spite of multiple pressures, Changsha has distinct superiorities in being involved in several national strategies, including the Belt ad Road Initiative, the Yangtze River Economic Belt, and the China-Africa Economic and Trade Cooperation Pilot Zone. The implementation of the "Strengthening Provincial Capital" Strategy and the featured industries are also Changsha's advantages. Changsha will explore better mechanism for open economy development, provide stronger support, create favorable business environment, make use of platforms, and expand the circle of friends and partners.

Six major projects were contracted on that day: the sterile fruit beverage project invested by Coca-Cola; the CECport Eachain Changsha Hub project invested by the China Electronics Information Industry Group Company (CEC); the China-Laos Railway "One Railway, Two Parks" International Economic and Trade Cooperation Platform; the China-Tanzania Contract Farming Cooperation; and, the TK Southeast Asia Cross-border E-commerce Operation Center based on the TikTok platform.