Approved by the Changsha Municipal People's Government, Changsha Metro Line 6 (Xejiaqiao Station to Huanghua Airport T1 & T2 Station) is scheduled to be put into initial operation at 13:58 on June 28, 2022, with the last train running at 23:00 on the same day. Starting June 29, the operating hours of Line 6 are from 6:30 to 23:00.

Basic Information About Changsha Metro Line 6

Line Direction

Line 6 is an east-west backbone line. It starts from the Meixi Lake International New Town in the west and ends at the Changsha Huanghua International Airport West Station in the east.

Line Scale

With an estimated total investment of 36.943 billion yuan, Line 6 is 48.11 kilometers in length. There are 34 stations on the line. The average distance between stations is 1.44 kilometers. The line passes through 5 districts and one county in Changsha.

Line Features

Line 6 has the longest span and the most transfer stations and covers the most expansive areas in Changsha. It features wider car bodies with larger passenger capacity. It is Changsha's only metro line that can directly reach the Huanghua International Airport terminals. There are 12 transfer stations on the line, connecting it with the existing five metro lines.

Train Features

Line 6 is Changsha's first metro line to use A-type car bodies with six sections per train. The primary color of trains on Line 6 is blue. Its maximum passenger capacity is 2,592 people per train, which is more than 20% higher than the existing metro lines. Its maximum operating speed is 80 km/h.

Station Names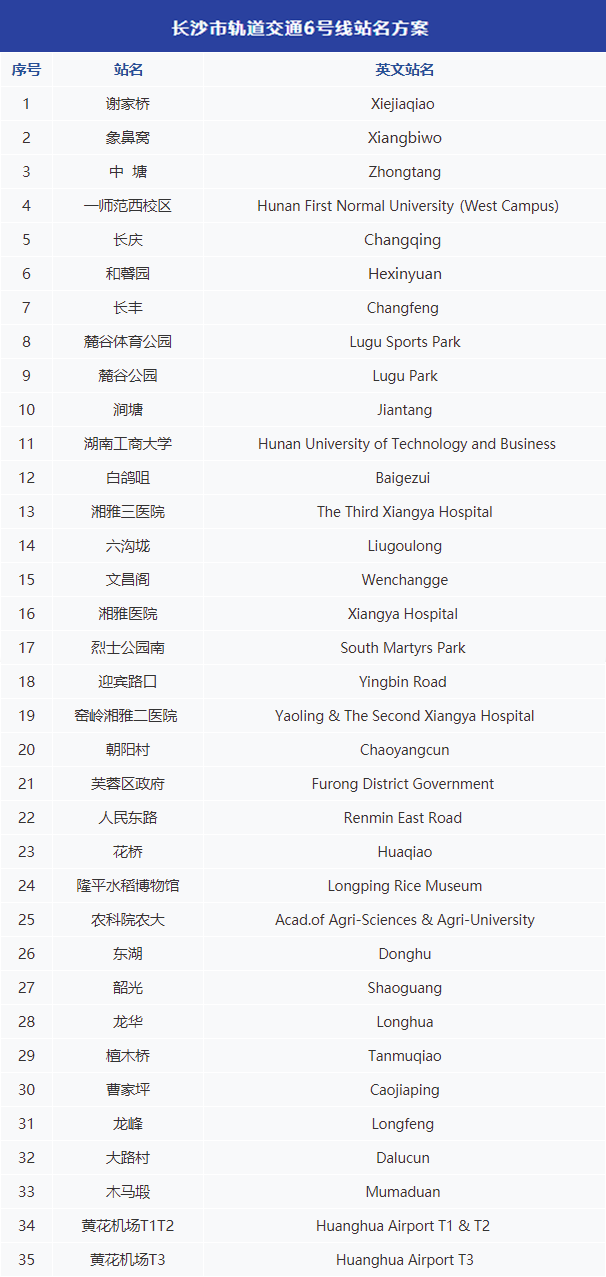 Photo by Changsha Metro Group

Ticket Price

Line 6 will follow the pricing principle of existing metro lines, with the maximum ticket price set at 8 yuan.

Significance

Line 6 will effectively strengthen the connection between the Hexi (the west side of Xiangjiang River) sub-center and the city center, link the Hexi intercity rail hub with the Changsha Huanghua International Airport, relieve the east-west traffic pressure, and facilitate the city's orderly development.