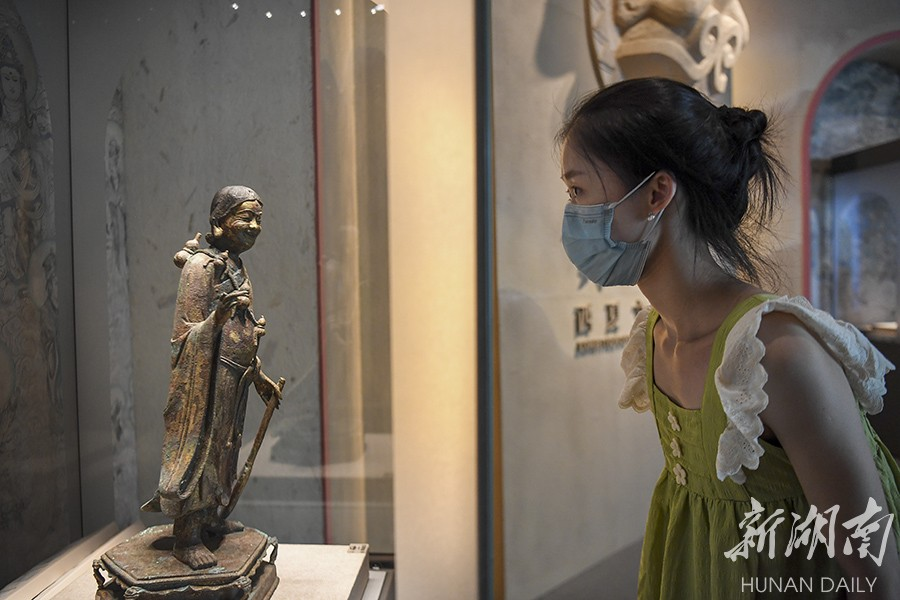 The photo, taken on June 30, shows a visitor viewing an exhibit during a cultural relics exhibition at the Changsha Museum. The exhibition, entitled "Legend at the Foot of the Helan Mountain -- Exhibition on the Relics of the Western Xia" opened that day. It was hosted by the Changsha Municipal Bureau of Culture, Tourism, Radio and Television, and undertaken by the Changsha Museum and the Ningxia Museum. A total of 146 pieces of Western Xia-era cultural relics unearthed in the Ningxia Hui Autonomous Region are on display, comprehensively reflecting the achievements of the Western Xia in culture, economy and architecture. (Photo/Gu Pengbo, Liao Huiwen, Hunan Daily)

Western Xia (1038-1227) was established and ruled by Tangut people in Northwest China.

Tips:

Duration: June 30 to August 21, 2022 (Closed on Mondays except national statutory holidays)

Venue: Special Exhibition Hall 2, second floor, Changsha Museum

Ticket price: free of charge

Visitors are required to make an appointment via the official WeChat account of Changsha Museum, carry their ID cards or other valid documents, wear a mask, show their health QR codes, and cooperate with the staff to have temperature measured before entering the museum.