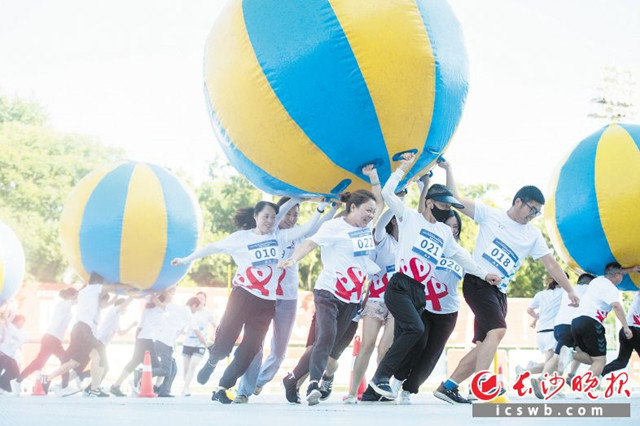 August 8, 2022 marks the 14th National Fitness Day. Changsha held a National Fitness Day performance event at the Helong Sports Center on August 7 morning. The Citizen Sports Skills Challenge was held simultaneously.

During the event, a team of 350 performers staged the performances of eight events including square dance, line dance, Rouliqiu ball, shuffle dance, fancy rope skipping, roller skating, extreme BMX and freestyle basketball. The performers, covering all age groups, were recommended by the Changsha Square Dance Association, the Changsha Line Dance Association, the Changsha Social Sports Instructors Association, the Changsha Fancy Rope Skipping Association, the Changsha Ice and Snow Sports Association, the Changsha Extreme Sports Association, and the Changsha Basketball Association.

The Citizen Sports Skills Challenge was held afterwards. There were four team events, including the 4×50m head-on relay race, and six individual events, namely, archery, football shooting, table tennis receiving and serving, Frisbee, cushion ball (balloon volleyball) and basketball shooting. Fifteen community teams demonstrated their strong teamwork in team events, while the citizens present showed their skills in individual events.

In 2022, Changsha will strive to start the construction of the Changsha International Sports Center Project within the year, rebuild 200 outdoor sports fields, create an upgraded version of "15-minute fitness circles in urban areas", vigorously increase standardized sports venues in rural areas, improve the quality of "30-minute fitness circles in rural areas", and constantly meet the people's fitness demand. It will organize the 10th National Fitness Festival, the 10th Changsha Senior Citizen Sports Meeting, the 2nd Changsha Sports Consumption Festival, the Changsha Marathon, the Changsha Open Tennis Tournament, the Xiangjiang Marathon and other competitions.

At the event, Changsha-born outstanding athlete Sun Wenyan, who is also a sports ambassador of Hunan for health promotion, was invited to read a national fitness proposal.