"Traveling, walking and seeing and writing all the way, we can say that 'Happy Hunan' lives up to its name." said Yin Shan, editor-in-chief of Macao International Trade Herald, who recorded the trip in Hunan with short videos in recent days, and received numerous likes on social media.
The open ceremony held in Changsha on the evening of July 18th

From July 18 to 23, the 2022 "Chasing Dreams of China-Happy Hunan" Overseas Chinese Media Interview Tour in Hunan, which was guided by China Overseas Chinese Federation and sponsored by Hunan Overseas Chinese Federation, left Changsha in six days. The interview group of overseas Chinese media from Malaysia, Germany, Canada, Egypt, Venezuela and other 9 countries and regions and some central government media (hereinafter referred to as "the interview group") went to Yiyang, Changde, Zhangjiajie and Xiangxi for field interviews.

In October 2021, the "Chasing Dream of China" activity went into Hunan for the first time. With this theme, it conducted field interviews in Changsha, Zhuzhou, Xiangtan and Shaoyang City to see the development achievements of Hunan economy, science and technology, culture and other aspects. This year, "Chasing Dream of China" entered Hunan again, and chose Hunan as the "first stop".

Why did this activity come to Hunan continuously? Is this an opportunity for Hunan? RedNet reporter followed along the way and collected some comments from overseas Chinese media.

Why can Hunansuccessfully make it twice?

In recent years, under the leadership of the Party group of the China Federation of overseas Chinese, the information and Communication Department of the China Federation of overseas Chinese has taken the brand of "Chasing the dream of China" as the starting point, and told the stories of China in the new era in the form of network theme activities, interview tours, seminars and other popular forms of the overseas Chinese community, condensed the strength of the overseas Chinese community for the new journey, and made positive contributions to strengthening the great unity of the Chinese people, and achieved good results. As an important part of the brand, the "overseas Chinese media interview" has been successfully held for more than 10 times since 2018, and has become an activity widely concerned by overseas Chinese media and overseas Chinese related central media.

"Xiaoxiang (Hunan) is a land with beautiful scenery, which has fascinated people since ancient times." Zuo Zhiqiang, director of the information and Communication Department of the China Federation of overseas Chinese, said in his speech at the launching ceremony. The visit of interview groups to Hunan has built a platform and bridge for Hunan to further integrate into the world, and will enhance Hunan's international popularity, reputation and influence.

Hunan has been famous in the world for itsbeing hometown of great people for a long time. RedNet reporter believes that the activities of "Chasing the dream of China" have entered Hunan for two consecutive years, mainly due to the profound cultural heritage of Hunan.

Back to the main topic, What impression did Hunan leave on the interview group in six days?

Hunan is a village full of culture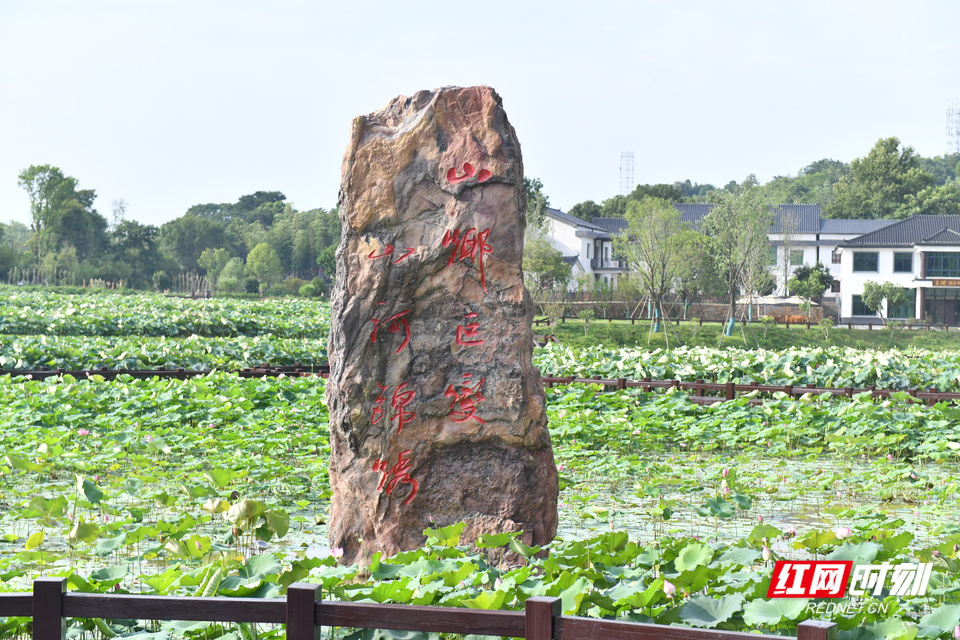 Qingxi village

"As soon as I got off the bus, I felt a strong cultural flavor coming over me. The place is ecologically beautiful, the scenery is wonderful, and everywhere is filled with a new atmosphere of prosperity." Zheng Haiyan, vice president of "Venezuelan Overseas Chinese Newspaper", said with emotion while holding up her cell phone to take pictures.

After visiting Qingxi Book House, Liu Guijiang, editor-in-chief of the "German Overseas Chinese Newspaper", spoke highly of it. He said that this village casts its soul with literature, shapes trip with culture, and highlights literature through travel. This practice of combining local culture with study and education, etc., building outdoor expansion bases, driving the development of tourism industries, and forming a complete tourism service industry chain, is highly recommended.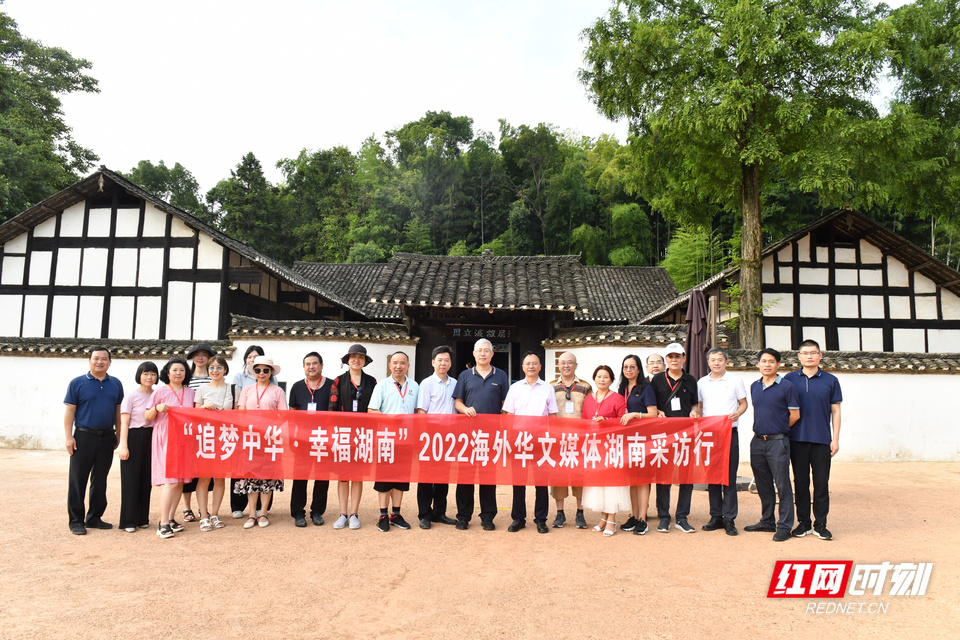 The interview group took a group photo in front of Zhou Libo's former residence.

During the visit to Zhou Libo's former residence, the interview group said that they would visit the footprints left by Zhou Libo, to explore the stories of him, and feel the spiritual heritage of a Chinese countryside under great changes. "I want to learn from old Mr. Zhou Libo and write more positive works to spread Chinese culture." Wang Chuanming, president of Euphoria Voice, even said.

Hunan is a "Peach-Blossom Source" with idyllic scenery

The second stop, the interview group came to Changde. In Changde, the interview group wentto the Chinese overseas international cultural exchange base of Taohuayuan, visited a lots of tourist attractions, and gained an in-depth understanding of the cultural lineage, historical accumulation, characteristic highlights and development of there.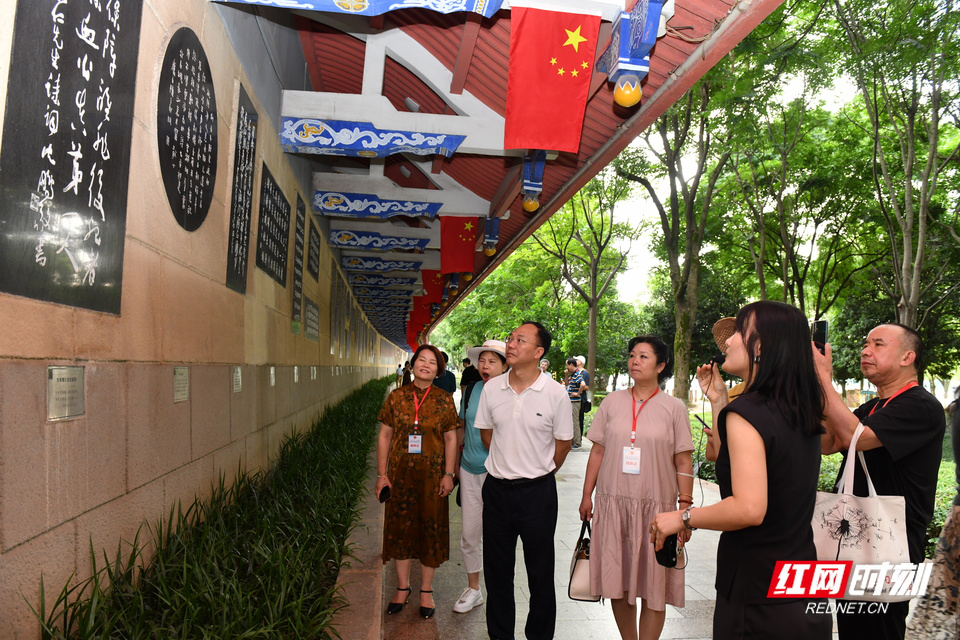 The interview group visited the Poem Wall in Changde.

Zhu Jianying, director reporter of CCTV, said, "Through this trip to Changde, I fully feel that Changde has profound cultural heritage, rich cultural and tourism resources, warm and simple folk custom, good economic development, high people's happiness index, a beautiful city for living and working, and Changde is worthy of being a star on the land of Xiaoxiang (Hunan)."

Hunan is a splendid and magnificent picture of humanity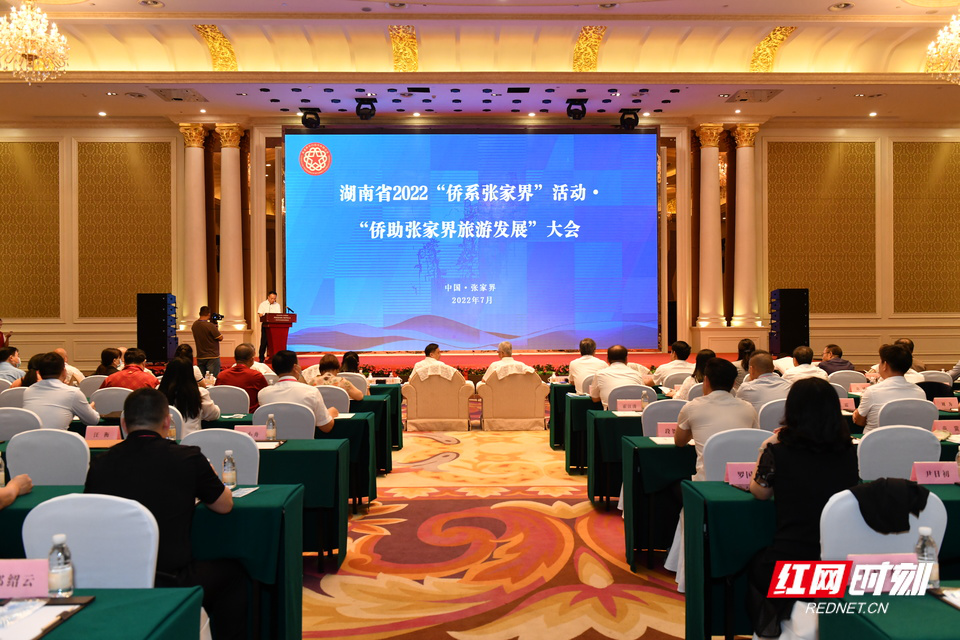 The interview group participated in the 2022 Hunan Province "Overseas Chinese with Zhangjiajie"activity · "Overseas Chinese Help Zhangjiajie Tourism Development"conference.

After leaving Changde, the interviewgroup came to Zhangjiajie and participated in the 2022 "overseas Chinese care about Zhangjiajie" --- "overseas Chinese help Zhangjiajie tourism development" conference in Hunan Province. It discussed with Chinese businessmen from all over the world and domestic experts and scholars how to further enhance Zhangjiajie's tourism influence and promote local development.

"The fairyland of Zhangjiajie, the peaks of which fascinate the whole world. The scenery of Zhangjiajie is worthy of this praise." Zhu Xin'e, deputy director of Egypt newspaper China weekly, said that she had been thinking about it for many years. This time, she finally came to Zhangjiajie, where she felt like she was in a dream. As a tourist, she was shocked by the uncanny workmanship of nature; as an overseas Chinese media person, she wants to do her bit to promote its beauty. Zhu Xin'e suggested that now that the network is developed, it is hoped that the scenic spot can often hold some prose, poetry and photography competitions, as well as the participation of Tiktok, Kwai, so as to increase everyone's interest, with a view to increasing greater publicity.

"If you don't visit Zhangjiajie, you absolutely don't know where the top of China's mountain scenery is." During the travel, Wang Chuanming, President of the German Euphoria Voice, sighed. He believes that the next step of Zhangjiajie's tourism development should be to integrate with the international market, more strategic cooperation with overseas Chinese media, orderly expansion of publicity, production of classic promotional films, and let Zhangjiajie go global.

Hunanis a provinceeager to innovate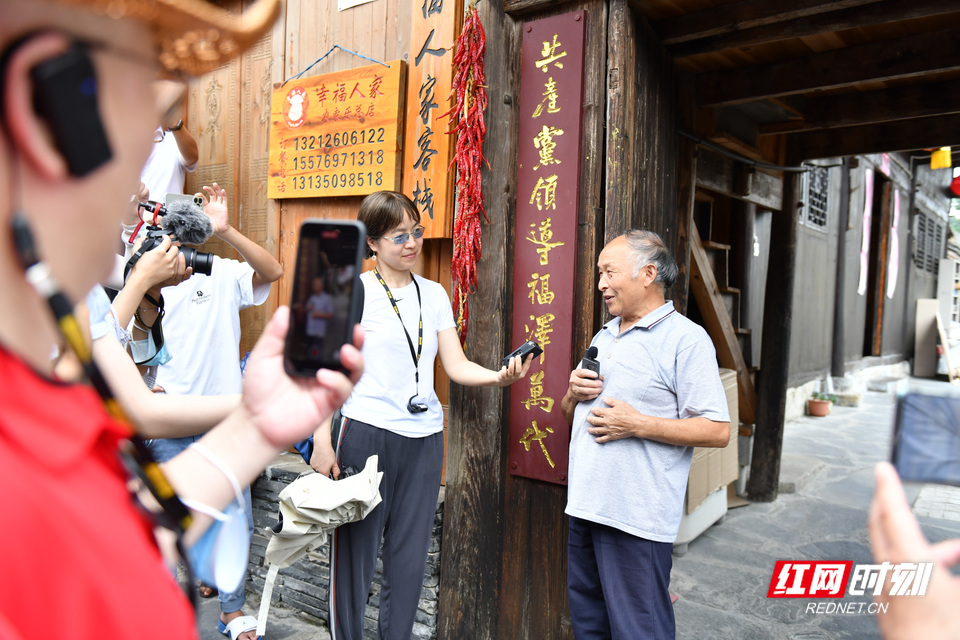 The interview group interviewed Shibadong village villagers Yang Dongshi.

What they saw and heard in Shibadong village gave the interview group the truest and most real feeling of the CPC's strategic deployment of targeted poverty reduction and rural revitalization, as well as confidence, and pride to the motherland's sustainable and stable development prospects and the vision of building a moderately prosperous society in all respects.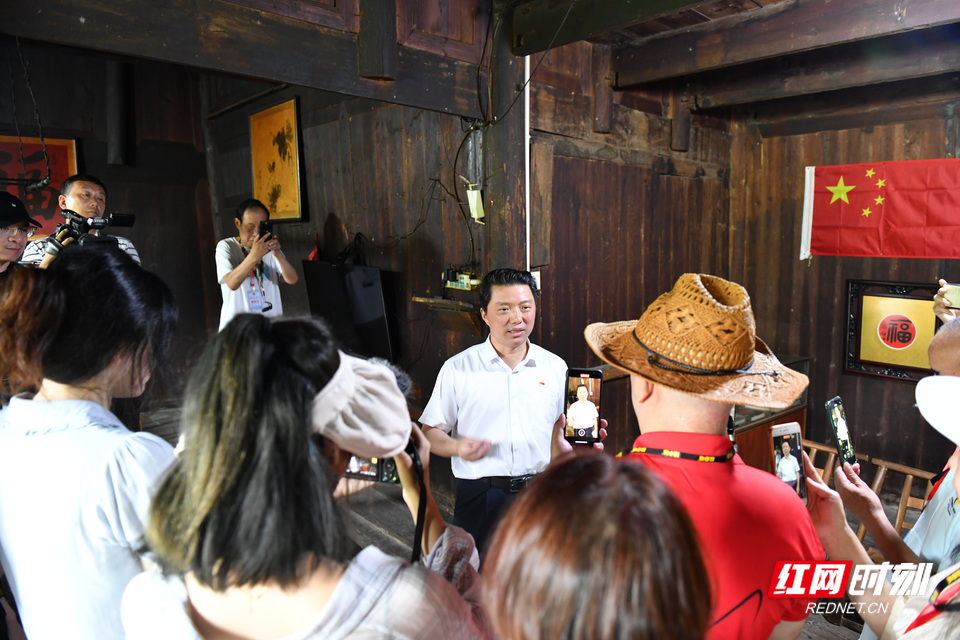 The interview group interviewed Liao Lianghui, deputy secretary of Xiangxi State Committee and Secretary of Huayuan County Committee.

"It is our responsibility to spread the happy scenes, spectacle and mentality here to all over the world." Xu Bingyi, president of Malaysian magazines at home and abroad, said that he would tell the touching stories he heard in the Shibadong village to overseas Chinese, and foreigners, so that they could better understand China and Hunan.

"We must take these details abroad to let them know more about how the Communist Party of China has led the people step by step to get rid of poverty and become rich." After visiting and interviewing Shibadong village, Dong Yanrong, chief editor of Italian Chinese world, said excitedly.

"For me, I have been looking forward to coming to Shibadong village for a long time. The success of poverty alleviation in Shibadong village shows that targeted poverty alleviation is a model that can be copied and used for reference. The exploration and experience of Shibadong village profoundly reflects the internal requirements and basic laws of poverty alleviation in poor areas," said Wen Huazhou, deputy editor in chief of the Chinese version of France China Net.

"In the newspaper in early August, we will introduce the achievements of Hunan's cultural and tourism integration development and the new 'great changes in mountain villages' in a full page." Liu Guijiang, chief editor of the German overseas Chinese newspaper, said that as an overseas Chinese media, he will carry out extensive publicity in Germany to let overseas Chinese and local people understand a real and comprehensive Hunan and publicize Hunan to the world.