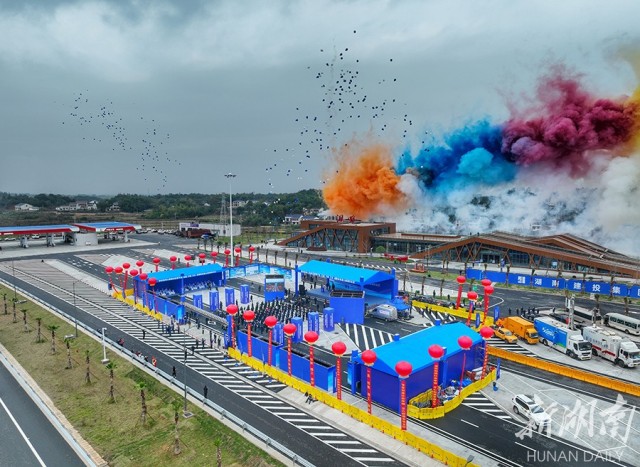 On November 28, Pingjiang-Wushi Expressway, Wushi-Yiyang Expressway, Ningshao Expressway, Jiangshan Expressway, and Chenglingji Expressway opened to traffic. The five expressways have a total length of 247 km, with a total investment of 34.4 billion yuan.

Pingjiang-Wushi Expressway stretches from Shiniuzhai Town, Pingjiang County to Wushi Hub of Wushi Town, Pingjiang County. With a total length of 95.537 km, it connects the Xiushui (Jiangxi Province)-Pingjiang Expressway. Now the Pingjiang-Wushi Expressway helps reduce travel time between Wushi Interchange of Beijing-Hong Kong-Macao Expressway and Shiniuzhai Scenic Area from 2.5 hours to 1 hour.

Wushi-Yiyang Expressway starts at Wushi Town, Pingjiang County and ends at Bijiashan Township, Heshan District, Yiyang City. With a total length of 83.52 km, Wushi-Yiyang Expressway connects Pingjiang-Wushi Expressway to form Pingjiang-Yiyang Expressway as a whole. Cutting-edge technologies such as big data, internet of things, artificial intelligence, and car-to-road coordination were applied to the Pingjiang-Yiyang Expressway, and smart comprehensive operation and management platform, active traffic management system, and smart service areas were adopted, to ensure traffic safety and efficiency, and make it the first smart highway in Hunan Province.

Ningshao Expressway starts at the northwest of Xianfeng Temple, Henglongqiao Town, Heshan District, Yiyang City. It connects Shaoshan feeder road of Changsha-Shaoshan-Loudi Expressway in Huapitang, Ningxiang City. With a total length of 42.659 km, Ningshao Expressway is an important north-south transport channel in the strategic planning of Changsha-Zhuzhou-Xiangtan integration. It links the Former Residence of Mao Zedong in Shaoshan City and the Former Residence of Liu Shaoqi in Ningxiang City. It serves as an important red or revolutionary tourism trunk road.

Jiangshan Expressway starts at Zhentou Town, Liuyang City and ends at Ganshan Town, Changsha County. With a total length of 20.861 km, the expressway is the expansion line of Changsha-Yong'an section of Hunan's "seven vertical and seven horizontal" expressway network. The opening of the Jiangshan Expressway is of great significance to improve Changsha-Zhuzhou-Xiangtan road network, strengthen connectivity between Hunan and neighboring provinces, and promote regional resource development and coordinated economic and social development.

Chenglingji Expressway is located in Yueyang City. It starts from Yongji Avenue in Chenglingji New Port Area in the north and connects Jinfengqiao Road, Yueyang City. It also connects with Hangzhou-Ruili Expressway after the renovation of the Jinfengqiao Interchange. With a total length of 7.316 km, Chenglingji Expressway is an important transportation infrastructure that links Chenglingji New Port with the expressway network to achieve water-land combined transport and promotes Hunan port economic development along the Yangtze River Economic Belt.

So far the mileage of highways in Hunan reaches 7,330 km. There are 20 highway projects under construction, with a total length of 1,621 km and a total investment of 250.5 billion yuan.