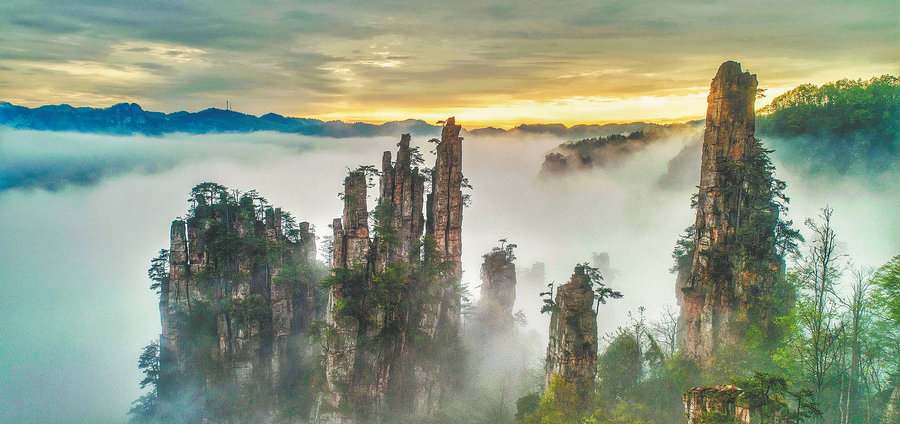 The view of Zhangjiajie, Hunan province.

Photo provided to China Daily

Over the past decade, Hunan province has strived to become a world-renowned destination with profound culture, well-preserved natural beauty and diverse tourism resources.

The province's tourism industry has become a new engine for economic growth with its revenue growing at an average annual rate of 19.3 percent in the past 10 years.

Entering the new era, Hunan has implemented a global tourism plan and accelerated the construction of popular tourist destinations to promote high-quality economic and social development.

The region has made new progress in the protection, utilization and inheritance of cultural heritage, becoming one of the 10 major cultural relic provinces in China.

Zhang Qingwei, Party secretary of Hunan province, said:"Hunan province is striving to become an important engine for high-quality development in the central region and for the development of the Yangtze River Economic Belt."
Shahe village is a red tourism spot in Hunan.

Photo provided to China Daily

Hunan is home to five national archaeological site parks, 39 national historical and cultural cities, towns and villages, and 658 traditional Chinese villages.

The province has 310 Red tourist spots, including 28 national-level Red tourist spots and 57 national A-level tourist spots.

Last year, the number of tourists who visited Hunan's Red tourism spots exceeded 140 million, a year-on-year increase of 25 percent.

The comprehensive income from those visits exceeded 130 billion yuan ($18.26 billion ), a year-on-year increase of 28 percent.

Li Aiwu, head of the Hunan Provincial Department of Culture and Tourism, said that with the goal of building a culturally strong province and a famed tourist destination, Hunan is aiming to achieve a total tourism revenue of more than 1.3 trillion yuan by 2025.

"Our goal is to receive 750 million tourists per year with per capita consumption exceeding 1,500 yuan and the added value of the tourism industry accounting for 6.5 percent of the province's GDP," she said.

"We are shouldering responsibilities and making new contributions to cultural tourism in the construction of a modernized Hunan."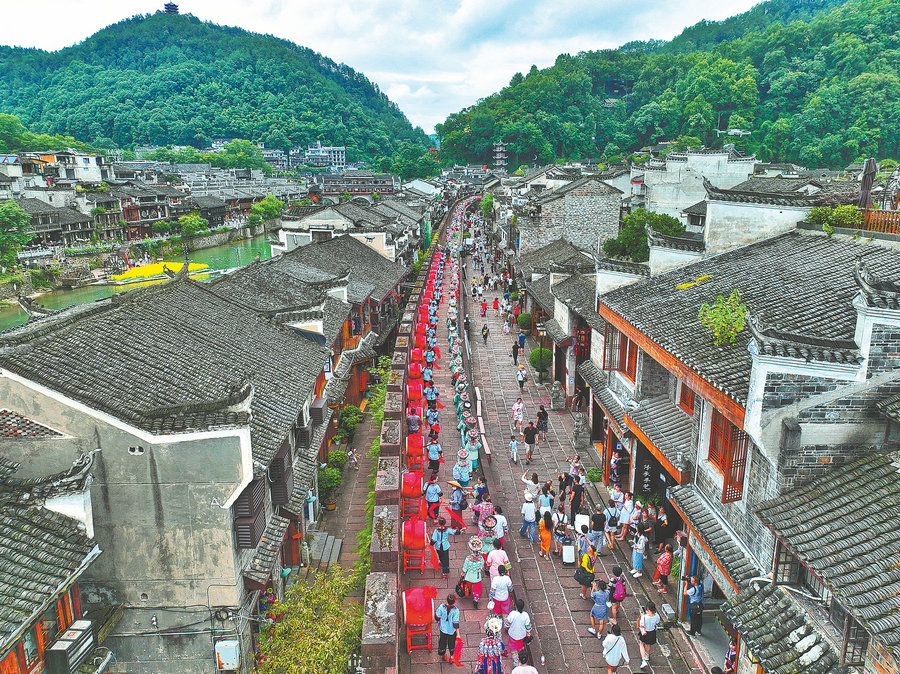 Miao people perform an art performance at Fenghuang ancient town in Hunan.

Photo provided to China Daily

The province is also creating a variety of cultural and tourism intellectual property projects highlighting the region's patina, including Hunan Provincial Museum, Chengtoushan National Archaeological Site Park and Fenghuang Ancient Town.

The development of tourism resources and the construction of infrastructure are advancing rapidly and the urban nighttime economy represented by the provincial capital Changsha is booming across the country.

Hunan's fine art creations have continued to make new breakthroughs. More than 140 large-scale plays have recently been created to celebrate the establishment of a moderately prosperous society and the 100th anniversary of the founding of the Communist Party of China.

Ode to the Earth and Peach Blossoms in Smoke and Rain have been selected among the list of the 12 stage plays for targeted poverty alleviation recommended by the Ministry of Culture and Tourism. The opera Half Red Army Quilt was selected as one of the seven national repertoires of the 2020-21 Chinese National Opera Support Project of the Ministry of Culture and Tourism.

Hunan capitalizing on culture and tourism to become globally recognized.

Phoo provided to China Daily

Hunan culture and tourism have become new indicators of people's happiness in life.

A total of 123 counties and cities have fully completed the tasks and objectives of the province's three-year action plan for the construction of a modern public cultural service system. The completion rates of county-level libraries and cultural centers are 138 percent and 127 percent.

Strengthening publicity, exchanges and cooperation, Hunan has viewed culture and tourism as new forces to promote its opening-up.

It launched the tourism image film Splendid Xiaoxiang and Hometown of Great People - Hunan's Many Charities, and also hosted annual brand festivals such as the China Hunan International Tourism Festival, tourism industry expos and rural tourism galas.