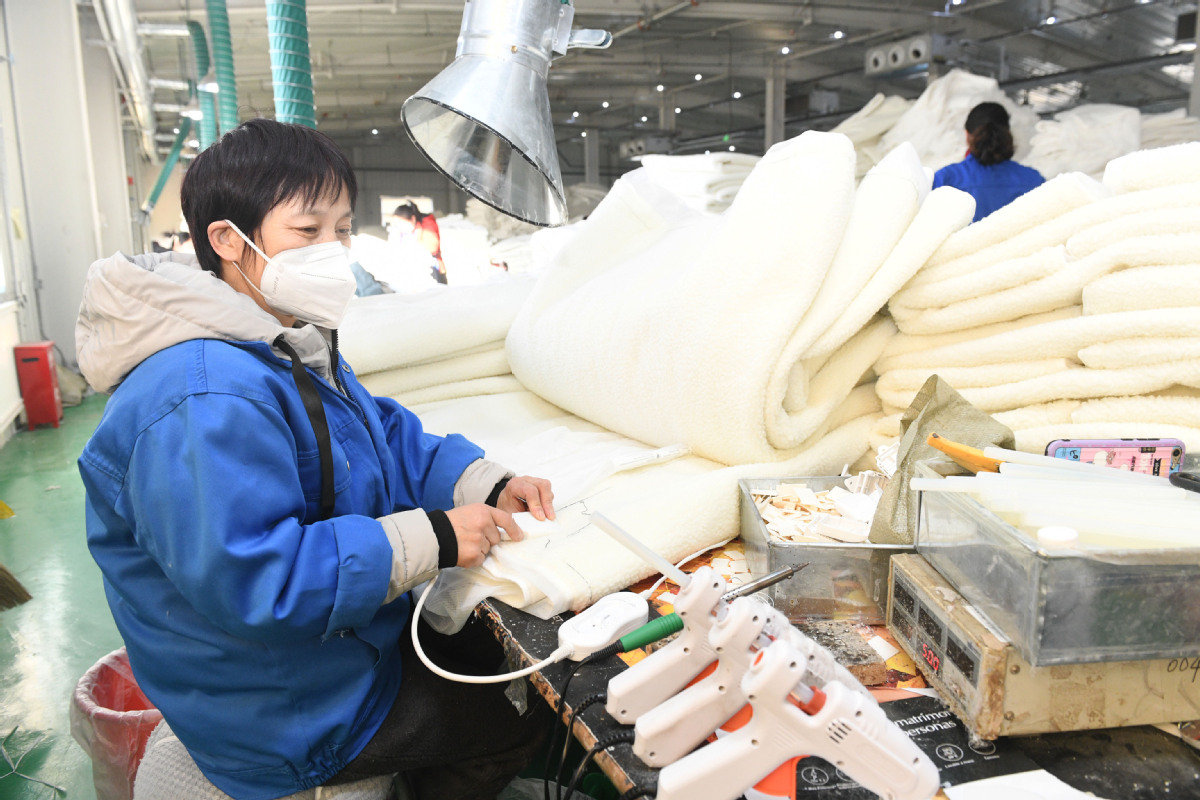 Workers at Shijiazhuang Beijiren Electric Appliance Co in Xinle, Hebei province, produce electric blankets. The blankets will be exported to Australia in January. JIA MINJIE/FOR CHINA DAILY

With the arrival of the winter cold, Bai Fuling, 46, is sending warmth to her customers in foreign countries. Bai makes electric blankets.

She is a solderer at an electric blanket maker in Xinle, Hebei province, about 250 kilometers southwest of downtown Beijing.

As a part of Bai's job, she needs to neatly solder the heating wire of a blanket to its coupler, a key process for making the blanket heat up when it's plugged in.

In nine hours on a typical workday, she can solder connectors on about 600 electric blankets. They'll be exported to Australia in January as part of an order for 80,000 units.

"Our products sell well abroad, which gives me a sense of accomplishment and pride," Bai said, adding that she often hears from salespeople that the blankets were praised by the foreign customers.

"I remember one time when some foreign customers visited our factory and gave a thumbs-up after they saw our production lines," she said.

Bai has been making blankets for over 15 years at Shijiazhuang Beijiren Electric Appliance Co, one of the major electric blanket producers in Xinle. Of the 1.2 million blankets the company makes annually, about 97 percent are exported, including to Europe and South America, according to the company's founder, Niu Rushe, 68.

Looking back, Niu said he never expected that the products from his small factory would one day be widely used around the world.

In the early 1980s, Niu was in the business of making and selling saddles for livestock. But he found that farmers had started using tractors instead of animals for farming on a visit to the Inner Mongolia autonomous region in 1984.

On another business trip — to Harbin, Heilongjiang province, which is one of the coldest places in China — Niu brought back an electric blanket. He liked the idea and started a business manufacturing them.

"My home is very cold in winter, like many places in northern China. I thought this might be a business that could be developed in the long run," Niu said.

As his business grew, Niu expanded his factory in 1999. His company now has more than 170 workers, most of them from nearby villages. Bai lives in Pengjiazhuang village, less than 10 kilometers from the factory in the county of Cheng'an.

"I think it is a great thing to be able to send warmth to the whole world," Niu said.

He began exporting in 2005, with the first order, for 140,000 blankets, coming from Italy.

"But I only accepted 20,000, because at the time, my factory's output could not meet the need," Niu said. Furthermore, the customer had particularly high requirements for quality, he recalled.

"I must make sure the quality meets the need, so I couldn't accept the whole order," he said, adding that his goal was to make his products lead the field in quality, appearance and function.

The company then added technology, such as electronic timers that automatically switch on and off or change temperature.

"Now some of our blankets can be remotely controlled on smartphones," Niu said, adding that blankets with the smart elements are his most popular products.

"I'm confident that my customers will always come back because of the quality, not advertisement," Niu said.

However, he admitted the company is also facing challenges as the industry is labor-intensive, needing a large number of workers.

"Our orders are increasing, so in the next step we will improve our equipment to enhance the automation," Niu said.

As Xinle has become a major production base for electric blankets, the industry has provided jobs for more than 11,000 residents of the city, said Zhang Haibo, head of the city's bureau for market regulation.

A worker like Bai can earn about 5,000 yuan ($715) per month, a relatively ample income for a rural resident.