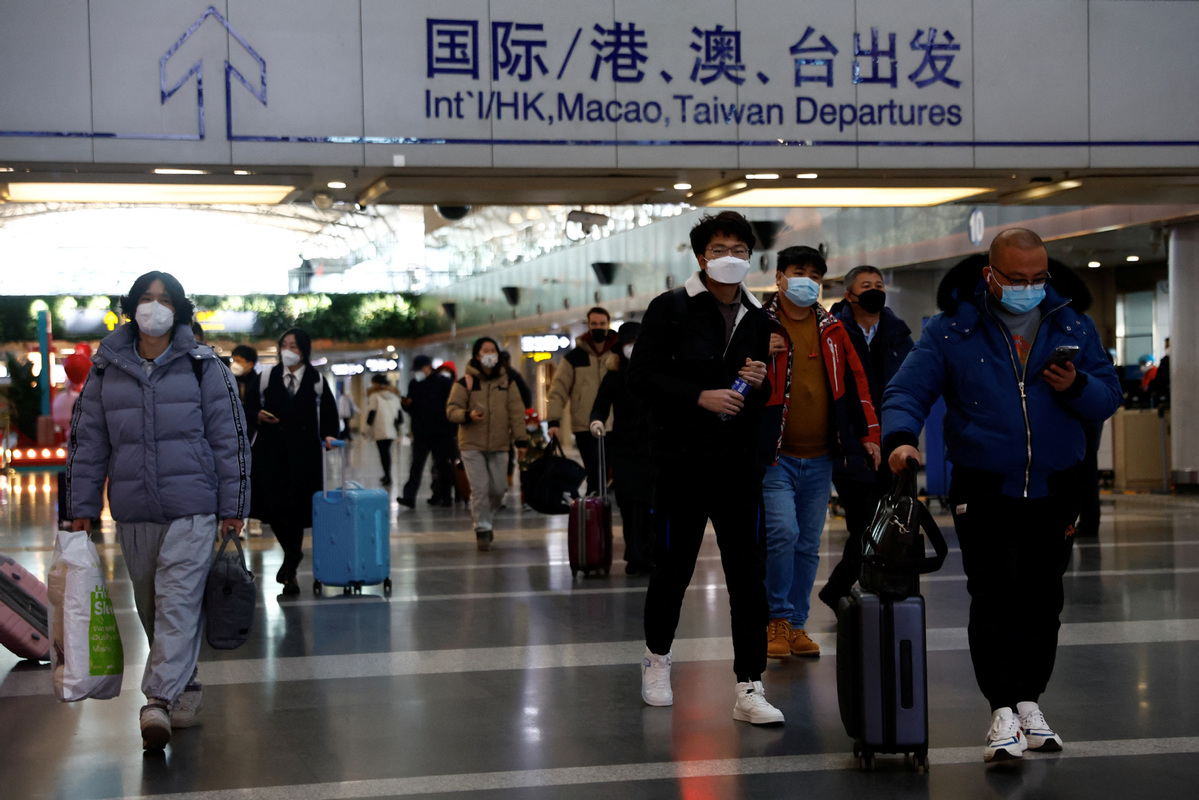 Travellers walk with their luggage at Beijing Capital International Airport in Beijing December 27, 2022.

Photo by Agencies

China's easing of border curbs seen as strong boost to economic recovery

Beijing is to drop its quarantine requirements for inbound visitors, a major step toward easing border curbs that global experts said on Tuesday is a strong boost to global economic recovery.

China's National Health Commission said late on Monday that from Jan 8 passengers arriving from abroad will no longer have to go into quarantine. However, they will still need a negative COVID-19 test result within 48 hours of their departure and to wear masks on flights.

Authorities said they would also streamline visa arrangements for foreigners wishing to come to China for work and study, as well as family visits and reunions.

Wu Haifeng, executive director of the Fintech Center of Shenzhen Institute of Data Economy, said the new rules will no doubt inject big momentum into the global recovery.

In addition to the quarantine being abolished, caps on the daily number of flights allowed into China will be scrapped, Wu said.

"Once put into force, the policy is expected to unleash a huge consumption potential to the global market because the second-largest economy will continue to be the engine that powers economic growth," Wu told China Daily.

Following the announcement of the changes, share markets in Asia reacted favorably on Tuesday, with the Shanghai Composite Index ending the day higher by 1 percent to 3095.57. By Tuesday afternoon, MSCI's broadest index of Asia-Pacific shares outside Japan was up 0.59 percent. China's blue-chip CSI 300 Index rose 1.2 percent and Japan's Nikkei stock index rose 0.16 percent. In Bangkok, the SET Index rose 1 percent, and the Sensex in Mumbai rose 0.7 percent.

Easing border controls would exert a ripple effect, Wu said. The pent-up demand will reignite economic growth expectations for China, which in turn will drive the development of the secondary industry and service industry, with more investment pouring in.

China's full embrace of the international market plays a crucial role as Western economies are forecast to be negatively hit amid high inflation next year, mainly caused by their monetary policies, including interest rate rises, Wu said.

Providing support

"The border-easing measures will not only speed up the recovery of the domestic economy but will also greatly strengthen the global flow of personnel, capital and technology, which serve as a strong support to global supply chains."

The new rules have been welcomed by many who see it as signaling that Chinese citizens will gradually be allowed to travel abroad for tourism again, an important source of revenue for hotels and related businesses in many countries.

Online searches for flights abroad surged after the announcement, with the number of searches on the travel platform Tongcheng rising 850 percent and inquiries about visas rising tenfold.

Chaoping Zhu, a global market strategist with JPMorgan Asset Management, said the latest policy move from China indicated economic activity in most major cities may return to normal quickly, which is very positive for investors.

China's reopening, which also entails resuming outbound visits for Chinese tourists, will lift consumer and service sectors outside the country, particularly those in Southeast Asia, he said.

The number of inbound tourists had recovered 60 percent to 70 percent for many ASEAN countries last month, Zhu said, citing in-house research, but there is still a gap between now and 2019, before COVID-19 broke out.

"This gap will be filled by Chinese tourists," he said. "This is the last piece of the puzzle."

Benny Kong, a travel business owner in Laos, said he is excited and is prepared to welcome more Chinese tourists. The move will boost the tourism industry in Laos and other Southeast Asian countries, and "life will be back to normal soon", Kong told China Daily. "I will be very busy soon."

However, against all this, some countries have reintroduced nucleic acid testing requirements.

Japan's FNN reported on Tuesday that the country will require a negative COVID-19 test for travelers arriving from China as early as this week. India has also mandated a negative test report for travelers arriving from several countries and regions including China, Japan and South Korea.

Agencies contributed to this story.