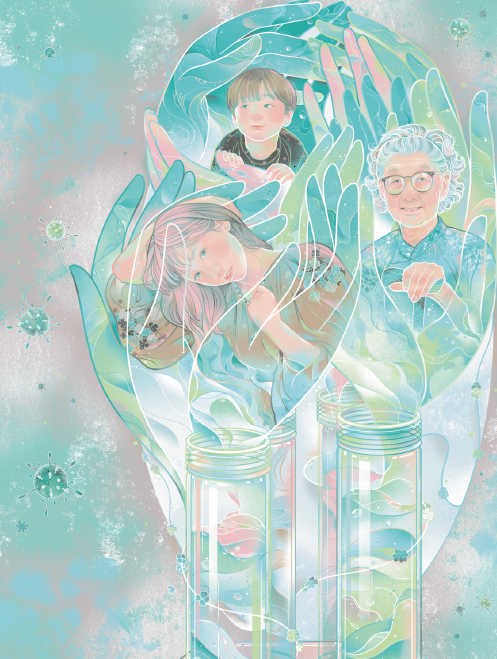 LI MIN/CHINA DAILY

Focus now on vulnerable groups and patients in serious condition

The shift of focus in China's COVID-19 containment strategy signals a new dawn in the battle against the virus, according to officials and experts.

The nation has switched from prompt and precise containment of domestic outbreaks of the disease to shielding the most vulnerable groups and dedicating all-out efforts to treating patients in serious condition.

Wu Zunyou, chief epidemiologist at the Chinese Center for Disease Control and Prevention, said the country will be hit by three waves of COVID-19 this winter, with the first centering on urban areas until the middle of next month.

The second wave will be triggered by increased movement during Spring Festival from late January to mid-February, while the third, from late February to mid-March, will be linked to migrant employees returning to their workplaces, Wu said during a speech titled "How to stride over the darkness before the dawn".

"The three waves constitute the trajectory of this winter's epidemic. By overcoming this winter season, we will see a bright spring," he said.

Zhang Boli, a prominent traditional Chinese medicine expert and an academician at the Chinese Academy of Engineering, said that after infections peak next month and in February, the domestic epidemic situation will stabilize in the spring and life will return to normal.

As Spring Festival approaches, Zhang said, "Family reunions are the biggest wish of Chinese people (during the festival), and combining epidemic control work with heartwarming services will be the direction of future policies."

He said those joining the holiday travel rush face a higher risk of infection and they should continue to take precautions against the virus and practice personal protection.

Many people stayed home during the past two Spring Festival holidays due to virus transmission threats.

Zhong Nanshan, a top respiratory disease expert and an academician at the Chinese Academy of Engineering, said it would be hard to discourage travel during Spring Festival.

"However, I suggest those planning to return to their hometowns during the holiday get booster shots, which will play a positive role in preventing widespread transmission," Zhong added.

Hopeful signs for an end to the pandemic have also emerged on the global stage.

During a news briefing on Wednesday, Tedros Adhanom Ghebreyesus, director-general of the World Health Organization, said the pandemic has declined significantly this year and an end to it is expected to be announced at some point next year.

"We are certainly in a much better place with the pandemic than a year ago, when we were in the early stages of the Omicron wave with rapidly increasing cases and deaths," he said. "Since the peak at the end of January, the number of COVID-19 deaths reported weekly has dropped by almost 90 percent."

However, he said it is still too early to say that the pandemic is ending, partly due to gaps in surveillance, testing and sequencing that have hampered understanding of latest viral mutations, along with uneven distribution of vaccines and limited access to therapies.

Precise control

For most of this year, China adhered to its dynamic zero-COVID-19 policy, which called for prompt and precise control measures to stamp out domestic outbreaks.

However, Li Bin, vice-minister of the National Health Commission, said that since late February, the highly transmissible Omicron strain of the virus triggered frequent and widespread outbreaks, "posing the most severe test since the initial outbreak hit Wuhan, Hubei province, the hardest."

Liang Wannian, head of the commission's COVID-19 response panel of experts, said that in March China entered a new phase in its battle against the disease that required comprehensive and resolute measures to cut transmission of the virus in communities.

He said detecting new infections quickly, expanding the capacity of quarantine facilities, designated and makeshift hospitals, and formulating targeted treatment protocols for COVID-19 patients experiencing the disease with different levels of severity were key to the strategy during this period.

In the second quarter of this year, the protracted fight against the disease as it swept across the economic powerhouse of Shanghai raised concerns over sustainability of the strategy.

In response, Liang said: "China is a huge country with uneven development across its vast regions, and insufficient medical resources. The COVID-19 vaccination rate among the elderly and children is also not high enough. If we abandon virus control measures altogether, our healthcare system will be overstretched, lives of vulnerable groups will be threatened, and the overall development of society and the economy will be disrupted.

"While abiding by the dynamic zero-COVID policy, we are also upgrading virus control measures and seizing the window of opportunity created by the policy to step up preparedness for ultimately triumphing over the disease."

Officials said much of the public discontent with the strategy was due to additional and unnecessary restrictions imposed arbitrarily by local governments.

To deter such malpractices, the National Health Commission set up a message board on its website on June 28 to receive and address public complaints.

By July, 12 government departments and authorities in all 31 provincial-level regions had set up channels to gather complaints about oversimplified disease control measures, the adoption of a "one-size-fits-all approach", or the enforcement of additional restrictions, the commission said.

With the reduced pathogenicity of the Omicron variant, expanded immunization, and the availability of therapeutics, China has gradually adjusted its disease control strategies since November.

Two documents released by the State Council on Nov 11 and Dec 7 outline major changes such as narrowing mass testing, allowing home isolation for patients with mild symptoms, and canceling some restrictions on international flights.

The eased COVID-19 restrictions have inevitably led to a surge in infections recently, as well as a shortage of medication as pressure mounts at hospitals.

Experts said the key to riding out the wave of infections is to reduce the scale of outbreaks to below the full capacity level of medical systems and increase protection for vulnerable members of society.

Under pressure

Wang Guangfa, head of Peking University First Hospital's respiratory illness and critical care department, said hospitals are under pressure to handle a large number of fever cases, people requesting emergency care due to cold weather, and patients with chronic diseases that have been worsened by COVID-19. Infections among healthcare staff members have also increased tension.

"Any country would have to face a rise in patient numbers and overwhelmed medical systems (following the COVID-19 policy change)," Wang told Beijing News. "We are striving to lessen the impact, improve efficiency at key facilities, screen patients in urgent need through triage, and prepare a sufficient number of beds."

Tong Zhaohui, vice-president of Beijing Chaoyang Hospital Affiliated to Capital Medical University, said last week that the hospital's fever clinic now accepts 350 to 400 patients each day, and its emergency care department receives around 500 patients a day. The figures are lower than those during the influenza pandemic in 2009.

As it takes longer to check the condition of elderly patients compared with young adults, Tong said there appears to be a run on emergency care and fever facilities, adding that it is vital to step up attention paid to vulnerable groups and allocate limited medical resources to them.

Introducing more intensive care beds and implementing the triage treatment protocol have also been highlighted in China's latest move to adjust COVID-19 control policies.

The commission announced late on Monday that the disease had been renamed from "novel coronavirus pneumonia" to "novel coronavirus infection", and management of it will be downgraded from category A to category B from Jan 8.

The downgrade will herald a series of changes that include lifting requirements for quarantining and testing for inbound travelers on arrival.

While viral mutations continue, experts said emerging strains will rarely deviate from the Omicron family or become more deadly.

Xu Wenbo, head of the China CDC's National Institute for Viral Disease Control and Prevention, said that as of Dec 18, a total of 709 offshoots of Omicron belonging to five major subvariants had emerged.

"New mutations tend to become more transmissible and more capable of evading immunity, but the chance of them gaining stronger pathogenicity is very small," he said.

Xu added that all the 700-plus strains result in mostly mild and asymptomatic cases, and share similar rates of severe disease and death.

Zhang Wenhong, head of the infectious disease department at Shanghai Huashan Hospital Affiliated to Fudan University, said that in the past year, the range of new mutations narrowed and they all fall into the Omicron category.

"By this month, COVID-19 cases globally had fallen to a low level. The pandemic will likely transition into a seasonal epidemic, with growing immunity established through a mix of infections and vaccination," he said.