On June 19, the initial shipment of overseas exhibits for the third China-Africa Economic and Trade Expo (CAETE) arrived at the Changsha International Convention and Exhibition Center after completing customs clearance procedures.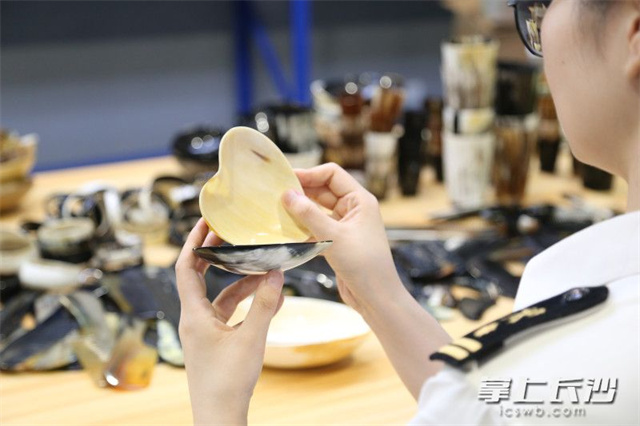 A customs officer checks the first batch exhibits from abroad for the third CAETE in Changsha. (Photo/Lin Jun)

The Xingsha Customs, a branch of the Changsha Customs, dispatched personnel to the site to verify the declaration information of the overseas exhibits. The exhibits included seven categories, such as moisturizing cream from Kenya, baobab fruit powder and marula seed oil from Namibia, and horn craft products from Uganda.
Customs officers check the first batch of exhibits from abroad for the third CAETE in Changsha. 

The Changsha Customs announced that this batch of exhibits adopted an integrated customs clearance mode, after they were transported by air from Africa to the Guangzhou Baiyun International Airport. Relevant enterprises opted to declare their imports through the "Single Window" system with Xingsha Customs. This simplifies port clearance formalities, shortens port clearance time, and greatly improves customs clearance efficiency. Other CAETE exhibits including black tea from South Africa, handicrafts from Uganda, and flowers from Kenya will arrive successively.

According to the Changsha Customs, compared to the previous two sessions of the CAETE, the number of overseas participating countries and exhibits have significantly increased. To date, there have been 1,124 categories of exhibits from 29 countries, an increase of 87.3% over the previous session, and the number is continuing to increase.

To ensure smoother customs clearance for the increased exhibits, the Changsha Customs took proactive measures and released the Customs Clearance Notice for the Third China-Africa Economic and Trade Expo, providing a detailed explanation of the customs clearance process. Based on the needs of enterprises for imported exhibits, the customs authority also guided enterprises in using the "Single Window" to complete exhibits temporary entry registration, customs declaration, inspection and release procedures. A green channel for CAETE exhibits is set up at the customs clearance site, and special personnel are arranged to provide round-the-clock customs clearance reservation services to ensure efficient customs clearance of exhibits.