* The summer grain harvest accounts for a quarter of China's total grain output.

* By June 19, over 90 percent of the annual workload for the summer harvest in China had been completed.

* The bumper summer grain harvest has laid a solid foundation for China's year-round food security and injected confidence into an inflation-plagued world.

TAIYUAN/JINAN, June 24 (Xinhua) -- Rows of harvesters powered through the knee-high wheat in Xinjiang County, north China's Shanxi Province, harvesting over 600 mu (about 40 hectares) in just a few hours.

"The per mu yield of this wheat field is estimated at over 600 kg," said local farmer Chao Zhenliang, who expects another bumper harvest this summer.

As of June 19, the harvested area of winter wheat in China had reached 300 million mu, completing over 90 percent of the annual workload for the summer harvest, data from the Ministry of Agriculture and Rural Affairs shows.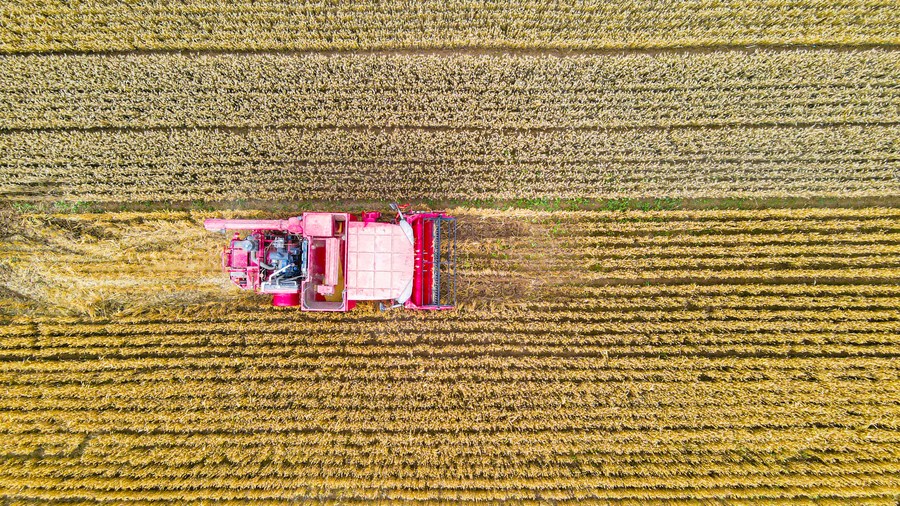 An agricultural machine harvests wheat in Yanhu District of Yuncheng City, north China's Shanxi Province, May 31, 2023. (Xinhua)

"The overall situation is quite optimistic, indicating a bumper harvest in 20 consecutive years," noted Jiang Wenlai, a researcher at the Institute of Agricultural Resources and Regional Planning, Chinese Academy of Agricultural Sciences.

The bumper summer grain harvest, which accounts for a quarter of the country's total grain output, has laid a solid foundation for its year-round food security and injected confidence into an inflation-plagued world.

Data from Eurostat shows that inflation in the Eurozone reached 7 percent in April. In developing countries such as Türkiye and Argentina last year, inflation reached the highest levels in decades.

Inflation has significantly affected ordinary people all across the world. More than nine in 10 Americans are cutting expenses, with two-thirds of polled respondents cutting back on their spending on essential goods over the next six months, according to a survey of more than 4,400 U.S. adults conducted by CNBC and The Morning Consult earlier this month.

Furthermore, nearly 258 million people in 58 countries and territories faced acute food insecurity at crisis or worse levels last year, according to the Global Report on Food Crises 2023 (GRFC 2023) released by the Food and Agriculture Organization of the United Nations (FAO). This was up from 193 million in 53 countries and territories in 2021.

Food is upstream in the global commodity chain, and rising food prices may be transmitted to other commodities, further affecting global inflation.

By the end of 2022, global food prices had declined, but they remained higher than pre-pandemic levels, and food prices in some countries experienced an increase but have yet to decline, the GRFC 2023 said.

The report also pointed out that in 2023, the combination of extreme weather and COVID-19 will continue to cause food insecurity.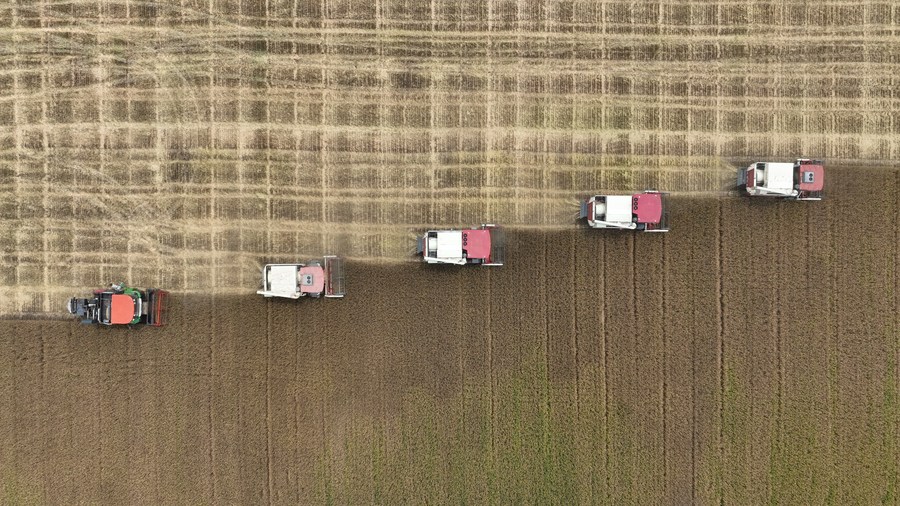 Agricultural machines harvest wheat in Ningyang County of Taian City, east China's Shandong Province, June 2, 2023. (Xinhua)

"Global food production is still shrouded in uncertainty, but as the world's largest grain production and consumption country, China's summer grain harvest has undoubtedly increased the certainty," said Zhang Zhongjun, assistant representative of FAO China.

"Taking up nearly a fifth of the world's population, China's abundant food supply and stable market are great contributions to the suppression of global inflation," Zhang added.

Jiang also noted that, as the "world's factory," China's grain production has stabilized its domestic commodity prices, which enables people around the world to enjoy affordable goods made in China.

Although experts believe that the summer harvest is already "set in stone," achieving this result was by no means easy. Last month, China's main wheat-producing province Henan accelerated progress on the harvest to overcome the persistent rainy weather.

As of 2022, China's grain output had remained above 650 million tonnes for eight consecutive years, owing to China's strong emphasis on food security.

Chinese leaders have repeatedly stressed that "ensuring food security is always a top issue that concerns national development and people's wellbeing."

Work on rural areas and agriculture has been high on the agenda for the past two decades, and this year's "No. 1 central document" again stressed keeping the annual grain output at over 650 million tonnes.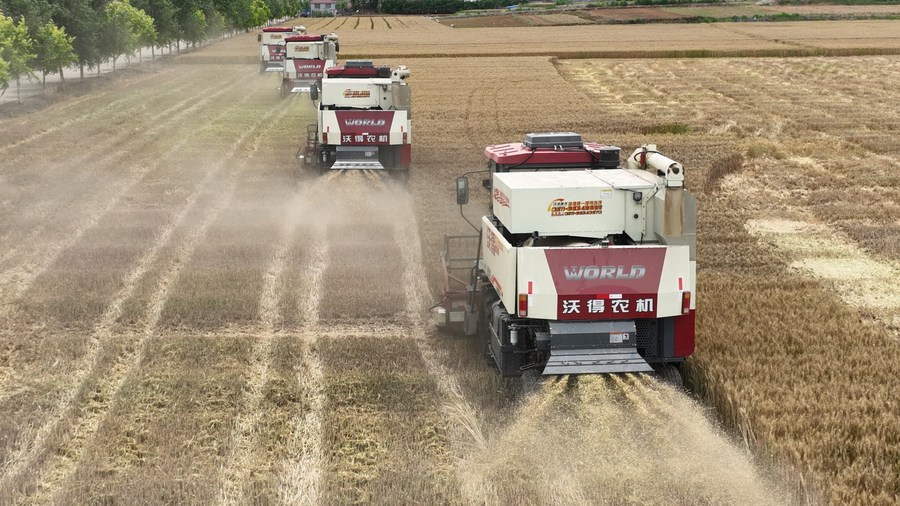 Agricultural machines harvest wheat in Ningyang County of Taian City, east China's Shandong Province, June 2, 2023. (Xinhua)

Food security has been included in the evaluation of local officials. In Shandong, a major agricultural province in east China, grain and soybean production targets are included in the performance assessments of major municipal-and-county level government officials.

"I'm responsible for this wheat field of 500 mu," said Song Yimin, Party chief of Lunzhen Township, in the city of Dezhou, Shandong. "If there is any problem during the harvest, I should be there to take charge and ensure it is resolved."

China has consistently kept its farmland area above the red line of 1.8 billion mu, as a means of ensuring food security. Meanwhile, the contribution rate of agricultural science and technology has increased from 53.5 percent in 2012 to 60.7 percent in 2020, and is expected to rise to 64 percent in 2025.

As the summer harvest progressed this year, Chao did not spend much time celebrating the bumper harvest. Instead, he recently turned his attention to planting corn.

Recent market prices suggest that the corn harvested in the autumn could bring him a net income of about 800 yuan (about 111 U.S. dollars) per mu of farmland.

"After the wheat harvest, we should sow corn immediately. The reason for the recent hustle is to ensure bumper harvests all year round," Chao said.

(Reporting by Xie Yuan, Ma Yujie, Sun Xiaohui and Chai Ting; Video reporters: Xie Yuan, Chai Ting, Sun Xiaohui, Zhu Xiaoguang; Video editors: Yu Jiaming, Zheng Qingbin)