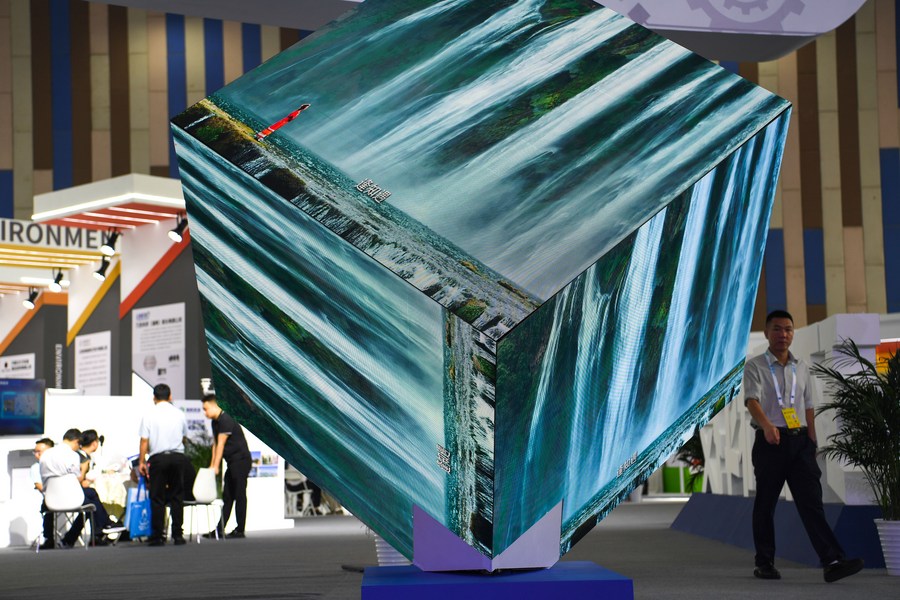 This photo taken on July 8, 2023 shows an installation combined with several screens at Eco Forum Global Guiyang 2023 in Guiyang, the capital of southwest China's Guizhou Province. (Xinhua/Yang Wenbin)

Poverty reduction and environmental improvement must go hand in hand. Ecological civilization entails incorporating environmental considerations into all forms of social progress.

by Xinhua writer Guo Yuqi

GUIYANG, China, July 9 (Xinhua) -- South of the Yangtze River, southwest China's Guizhou Province is a realm of biodiversity, karst landscape and natural heritage. In the province's capital city Guiyang, a two-day global forum on ecological civilization just concluded.

As a national-level global forum themed on ecological civilization, the Eco Forum Global Guiyang 2023, which attracted over 3,200 participants, provided a platform for international discussion on ecological civilization and green development.

FIGHTING CHALLENGES

Guizhou, a mountainous region, has overcome ecological degradation and severe economic distress to become what it is today.

At the forum, participants were welcome to taste the locally-produced Roxburgh rose juice. This small and sweet fruit has a remarkable history of fighting against rocky desertification.

Rocky desertification, also known as "the earth cancer," refers to land degradation where vegetation is destroyed, bedrock is exposed and the surface resembles a desert landscape. Local people would say, "Rocks come to light, no plants survive."

In Guizhou, areas of rocky desertification are often located in impoverished regions. People discovered that Roxburgh roses are relatively cold-resistant, shade-tolerant and have well-developed root systems, making them naturally appropriate for combating rocky desertification.

With government support, local people in areas of rocky desertification areas such as Liupanshui City, Bouyei-Miao Autonomous Prefecture of Qiannan, Anshun City and Bijie City started to grow Roxburgh roses in stone cracks and make products out of its fruits, which not only improved natural conditions but also helped people find a path to wealth.

Ibrahim Thiaw, executive secretary of the United Nations Convention to Combat Desertification, once visited the Roxburgh rose planting areas in central Guizhou. He underscored that this solution for combating rocky desertification has economic value and inspires the world.

This is just one example of the numerous instances where Guizhou showcases the harmonious coexistence of humans and nature. Through years of dedicated efforts toward building a more eco-friendly society, Guizhou was designated the country's ecological civilization pilot zone in 2016.

Thorjorn Larssen, deputy managing director of the Norwegian Institute for Water Research, came to China for the first time in 1993. He recalled that when he first came to Guiyang 30 years ago, the air pollution in the city was quite severe. "It's very impressive to see how the air quality has improved and how fast measures are taken."

According to the professor, poverty reduction and environmental improvement must go hand in hand. Ecological civilization entails incorporating environmental considerations into all forms of social progress.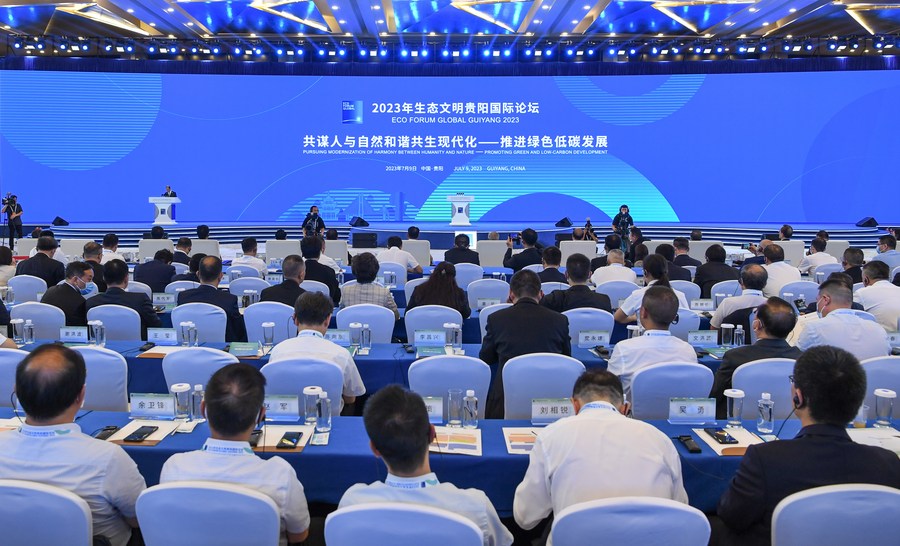 This photo taken on July 9, 2023 shows the closing ceremony of the Eco Forum Global Guiyang 2023 in Guiyang, southwest China's Guizhou Province. (Xinhua/Yang Wenbin)

COMMON GOALS

The pursuit of ecological civilization in China matters to the world because no country or continent can manage environmental issues alone.

In his congratulatory letter to the Eco Forum Global Annual Conference Guiyang 2018, Chinese President Xi Jinping said, "ecological conservation concerns the future of humankind, and it's the common goal of all nations to build a green home."

Examples such as the commitment to achieving carbon peak and carbon neutrality, as well as the promotion of initiatives like the Kunming Biodiversity Fund, demonstrate that China is dedicated to building a beautiful China and shouldering global responsibilities.

"We face roughly the same issues worldwide," said Tamas Hajba, senior advisor for China with Organization for Economic Co-operation and Development (OECD). "It's very important that we measure biodiversity loss and exchange information and data with each other, and this is the way how we improve our own policies," he added.

Furthermore, China's experience, accumulated over generations and in diverse geographical conditions, is valuable for those facing similar challenges.

Solutions in tandem with the Sustainable Development Goals provide a global roadmap that protects the planet but also reduces poverty and leaves no one behind, James George, deputy resident representative of the United Nations Development Programme in China, told Xinhua.

"We are working closely together with China and all partners globally to develop new innovative development actions. Let us utilize this opportunity to share the best practices and new innovative approaches in China that we can share with the rest of the world for mutual exchange and learning for a better planet for everyone," he said.

Michia Moncho, a full-time national community member of the Young Communist League of South Africa responsible for international relations, was impressed by what she saw in China. Besides theorizing "development," what matters is to work with people and show them that ecological civilization is not only going to benefit us for now but for generations to come, she noted during the eco forum.

"I'll take home what I saw here, how China is implementing measures with Chinese characteristics, and we, as South Africans, can implement them with our characteristics," she said.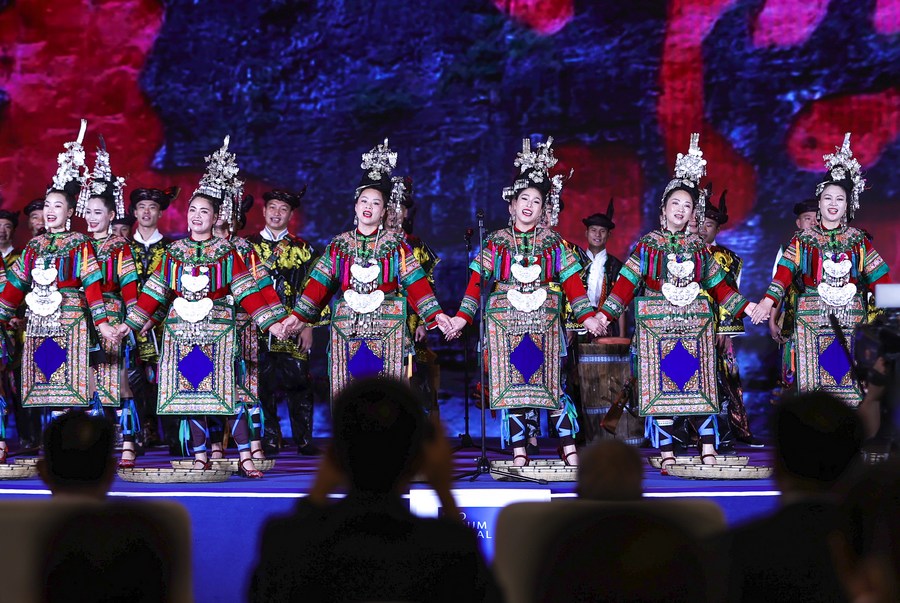 Artists sing songs of Dong ethnic group at the closing ceremony of the Eco Forum Global Guiyang 2023 in Guiyang, southwest China's Guizhou Province, July 9, 2023. (Xinhua/Yang Wenbin)

LEADING ROLE

In recent years, China has been leading in addressing climate change, protecting biodiversity and promoting a green transformation. The green technologies developed in China have benefited other parts of the world.

In his written statement for the World Leaders Summit at the 26th session of the Conference of the Parties to the United Nations Framework Convention on Climate Change in 2021, Xi said it is vital to harness innovations in science and technology to transform and upgrade the energy and resources sectors as well as the industrial structure and consumption pattern.

"We will foster a green, low-carbon and circular economic system at a faster pace, press ahead with industrial structure adjustment, and rein in the irrational development of energy-intensive and high-emission projects," he said.

Erik Solheim, former executive director of the United Nations Environment Programme, told the eco forum that according to his observation, several Chinese companies are leading the way in future green industries, some even being established in third-tier small cities.

These companies, such as those in the electric vehicle industry, "brought jobs, prosperity, and profits in China, while at the same time, it is very good for global environmental progress," Solheim said.

A few days earlier in Camacari, Brazil, Chinese automaker BYD announced the construction of a production base complex comprising three factories, which is expected to create over 5,000 new jobs in the local area. In addition to producing electric vehicles, the complex will process lithium-iron phosphate batteries.

Filipe Porto, a researcher at the Federal University of ABC and a member of the Brazilian Foreign Policy Observatory, believes China is becoming an essential partner for Brazil to meet its decarbonization and energy needs.

In Africa, China has been working with countries to meet their green targets.

"China has been the leading partner in the continent's desired to switch to solar and wind energy," said Cavince Adhere, a Kenya-based international relations scholar.

The expert told Xinhua that with China's help, Kenya is now home to the largest grid-connected solar power plant in East and Central Africa. The Garissa China-built 50MW solar power plant is proving benefits to the country as Kenya now taps over 2 percent of the national energy source from the facility.

Adhere said that through targeted technology transfers, Kenyans in the northern part of the country are now reaping the benefits of Chinese technology with improved access to power.

(Zhang Dailei, Zhang Yuan, Wu Si, Zhou Xuanni, Liu Qinbing, Liu Wanli, Li Hualing, Zhao Yan, Chen Weihua, Yang Yanbin and Xie Jiang also contributed to the story.)